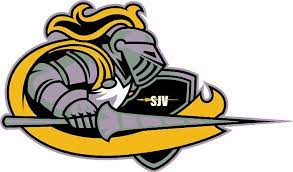 When a player is blessed with all the natural gifts. Everyone has a opinion of what that players the end game will look like one day. They often try to predict what is in in store for the future. It's only natural for people to speculate as to what level of greatness those special players with all those once in a lifetime gifts can and will reach. Enter Ashley Sofikanich of St. John Vianney. The junior forward is one of the lucky recipients of such wonderful gifts. She is one of those rare few, that players, parents and college coaches dream about.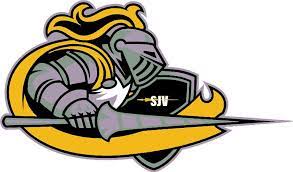 Ashley Sofikanich Is blessed with so many talents I really don't know where to start. Now most who don't know her will immediately talk about her size and length. She is 6'4" with a wing span that defies logic. It's also impossible not to notice her her when she walks in the gym. She has a presence and confidence that is rare in young tall females. She walks with a swag that should put fear in opposition. That's if there smart enough to see what is coming. You see it's not Ashley Sofikanich size that is so impressive. It's all the other tools she brings to the table. All the very stuff a player of her size should not be able to do, that should put the fear of god in the opposition and make college coaches dream of what she can be and mean to their program one day.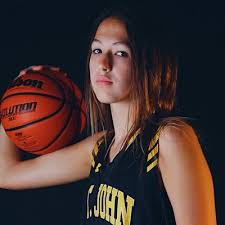 When a player has Ashley Sofikanich size it's always impressive and gets the attention of all, especially college coaches. But Ashley Sofikanich is different than most girls her size. That's because she is that rare tall athletic player. Ashley Sofikanich, would be the topic of college coaches conversation regardless of her size. That's because she is so athletic, quick, and bouncy. If she was a 5'9" guard you would be impressed. She runs the floor like a guard. She is so active you swear she was a small forward in other life. Her quick jumping ability and timing for someone of her size just takes your breath away. These are some of the reasons that make you sit up when you watch her play. But above all this, it's her physical toughness that makes me go… GOOD LORD IS SHE GOING TO BE SPECIAL.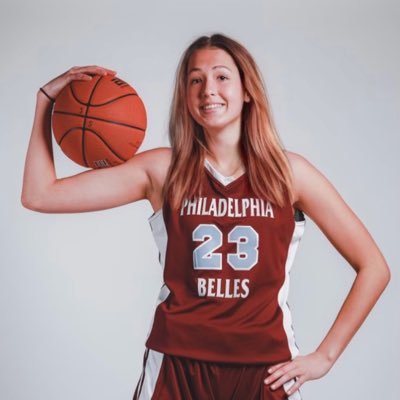 Like so many other great players before her at SJV. Ashley Sofikanich has had to wait her turn. She has spent the past 2 years learning how to win chips at SJV. Learning how to practice, learning how to compete and playing against the best competition that girls high school basketball has to offer. It has prepared her and helped her develop into what we are about to see on a nightly bias this coming season. That because the Ashley will get her chance on the big stage this year. If her performance at NO BOYZ on Friday for example is any indication of what is coming down the pike… you'd be wise to hide the women and children. Because Coach Dawn Karpell is getting ready to unleash a can of whoop ass on the state of New Jersey. Ashley Sofikanich gave us a peek into the future. She ran the floor like a deer for layups and ones. She displayed moves in the post that would make any post coach blush with joy. She displayed hands from the gods. She went after every rebound with a passion you do not teach. She dove on the floor like a 5'1" guard in a 6'4" body. Then to add insult to injury, she PLAYED ON THE BALL at times during the press or when the opponent took the ball out of bounds. Her wing span created a early Halloween horror show. In other word Ashley Sofikanich showed why she has more potential than any player in the state of New Jersey in the 2023 class and folks that's not talk… that's a fact.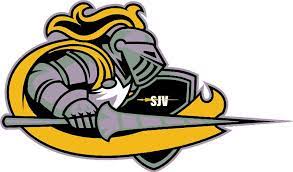 Folks, we all have natural gifts. It's just that some are blessed with more than others. Ashley is one of those blessed with more than others. But it's what she is doing with those gifts that make her different than most. The most common players in basketball are those who have not fulfilled their potential. This will not be the case when it comes to Ashley Sofikanich. That's because plays as hard as any big player I know, this side of somebody named Megan Cahalan. She is as competitive as you can ask a young lady to be. Her body language is perfect on the court. You can tell she has a real love for the game. Ashley Sofikanich also has something else. She gets to play for Coach Dawn Karpell for two more years. That thought should scare every school in the country not just the state. It also should make every D1 school in America happy and make every school non a POWER 5 school sweat. That's because college coaches, parents , fans and whoever can give whatever opinion they want on Ashley Sofikanich, but the fact of the matter is this. A player with her gifts, work ethic and talents is in position to play at any level of basketball they choose. Ashley Sofikanich is holding all the cards and calling the shots, that my friends is a fact and remember .. I TOLD YOU SO!