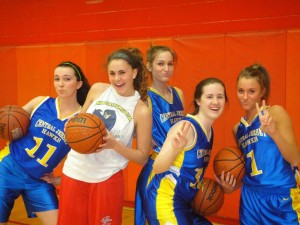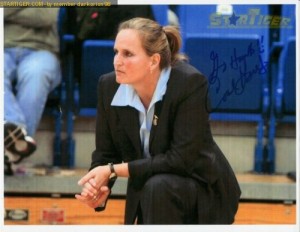 Before becoming the head coach at Fordham Stephanie Gaitley did what nobody else could do..turn MONMOUTH into a NEC  contender. It was the same magic she preformed while turning LONG ISLAND and ST. JOE'S UNIVERSITY into  household names.  She had become a shore favorite among coaches and players. She had built a bond with anyone connected to the shore. Her staff went to shore practices and shore games. She did free clinics for kids both talented and not so talented. Stephanie Gaitley and her staff just seemed to be everywhere.  Coach Gaitley had the best girls basketball conference in America locked around her finger…she also had two of the best players in the state on lock down as well.
When Sam Clark and Kasey Chambers were seniors in high school at St. Rose, they were the toast of the town. They had won the SCT crown,  played and beaten almost every top team in and out of New Jersey. Sam Clark was one of the best players in all of America and Kasey Chambers was First Team All Shore on every list known to mankind. It was a banner time for the two players who grew playing together their entire lives. Both played for the Central Jersey Hawks Mary Beth Chambers team since they were in 3rd grade. Many believed it was just a formality and that both would join forces at Monmouth University.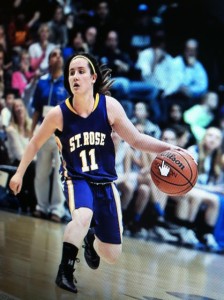 Before the Monmouth men's team became a household name. Monmouth University women's team looked like it would be taking the nation by storm. Coach Gaitley had her pick of any shore kid she wanted. It looked liked Sam Clark a top 100 player would be the first of many to follow. Kasey Chambers would decided before her senior year she would be attending Monmouth. She told anyone who would listen, Monmouth was her dream school. Monmouth appeared ready to jump into the national spotlight. for years to come. …except none of that happened! Stephanie Gaitley left Monmouth for Fordham University and the rest is history. All those Shore superstars that many believed Monmouth would get …never showed up! Sam Clark, Hannah Missry, shore adopted Danielle Padovano and others all went to Fordham and Stephanie Gaitley turned another school into a national power and put Fordham not Monmouth on the college basketball map.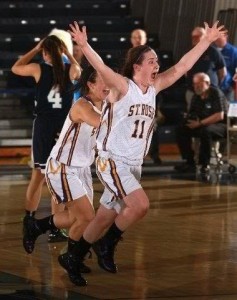 When Stephanie Gaitley took the Fordam job; Sam Clark committed to Fordham and many believe Kasey Chambers would follow suit. It only seemed natural that two would go to college together. But in a strange twist, Kasey Chambers told Coach Gaitley she still wanted to attend Monmouth U. Coach Gaitley told Kasey if she changed her mind Fordham was there with open arms. Things didn't change and Kasey Chambers and new Monmouth coaching staff got married.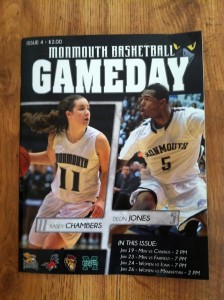 Sometimes a marriage doesn't work. Sometimes it's nobody fault and sometimes things are just not meant to be. when Kasey Chambers decided to attend Monmouth it was thought to be a marriage made in heaven. She loved the school and her teammates.  She was a part time starter as a freshman  and made the All Academic Team. But the marriage between she and Monmouth was not what she expected. Kasey Chambers sophomore year she started and was 3rd on the team in minutes played. It appeared things were going well and her future at Monmouth looked bright. But like any marriage, sometimes things don't always appear as they are.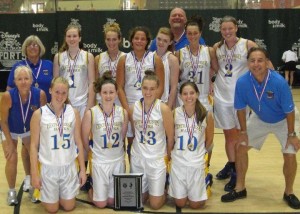 Leaving your dream school is never easy and for Kasey Chambers the decision to leave Monmouth was painful. It was close to home, where her parents could see every game. Her friends could come watch her play. She knew everything about school and the town. But she also knew her marriage with Monmouth was not a good one. She needed to get out, if she wanted to be happy again.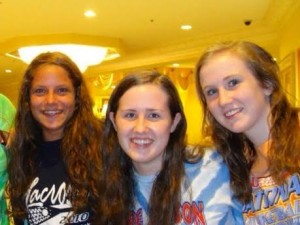 Sara Olson(L) and Megan McGunniess
When current Monmouth player and current leading scorer, Sara Olson transferred to Monmouth, Chambers thought about staying. Its was like a marriage staying together for the kids. She and Sara Olson had been teammates and friends on the Central Jersey Hawks. Sara Olson she thought would give her a teammate that played the game the way she did. The passing, the ball movement and defensive style of play that she was use too. But in the end she knew she had to leave. Kids always are stronger than we give them credit during a divorce…Sara Olson is Monmouth's Captain and best player these days.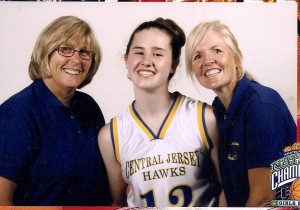 When Kasey "the Package" Chambers left Monmouth,  no administrators or coaches asked why she left, it was one lonely professor who reached out to her. He wanted to know why a student with a 3.9 GPA would not be happy. Nobody else cared to ask and  like when all marriages come to end, all she had left to lean on was her family. Most move on and that's what Monmouth did  and Kasey  was forced to admit her dream marriage with Monmouth  had some how came to a sad ending…
"Just like her mama"
When Kasey Chamber decided she was going to transfer, she knew one thing. She was not going to give anything up on the academic side. So she met with Mike McLaughlin the head coach of U Penn, who loves and supports anything Shore Basketball wise. He was very filmilar with Kasey Chambers.  Mike McLaughlin is a relationship building type coach. He only wants good kids and when he took the Penn job he told anyone who would listen this…. Including yours truly.  Mike McLaughlin is one of the most loyal people I have ever met. His staff shows up to Academic Elite every year, regardless if he is recruiting a player or not. He just got a verbal from Christina Dicindio who is one of the best junior post players in the state. I consider Dicindio a shore adopted player. Everyone knows Dicindio is in great hands..just like Kasey would be!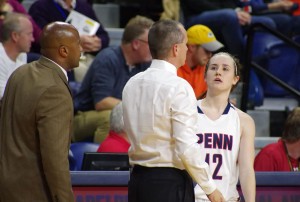 COACH McLaughlin talked to Kasey Chambers about basketball. He told her that U Penn was a great school because of the people. He told Kasey Chambers how he would use her on the court. He talked about being a good teammate, communication, teamwork, accountability,  family and above all else….TRUST AND HONESTY; all the things Kasey Chambers was in desperate need of as a basketball player and student.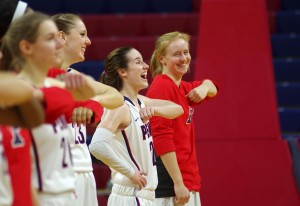 Kasey Chambers spent a year watching her new U-Penn teammates play as she red shirted. She loved her school, coaches and professors. She knew that somehow U-Penn was the perfect place for her. She worked hard all season to learn the U-Penn system while getting a 3.9 GPA in her red-shirt year. This summer she worked overtime to get ready for this season. Kasey Chambers knew she would have to be at top of her game to get time at U-Penn. This was a talented team with a master coach at the helm. When the season started, she was concerned because she didn't start out playing as well as she liked. But Mike McLaughlin is a different coach than most. He believes in rewarding hard work, leadership and players who do the little things. So when he named Kasey Chambers a captain and starter, she was in shock. It seem all her basketball dreams, were coming true. She was now at a great academic school and playing basketball in the perfect environment. Life was good for Kasey Chambers, what she didn't know is that it was about to get even better.
CHAMBERS HAS A REAL HOME THESE DAYS!
Kasey Chambers first college game was against powerhouse and Nationally ranked Duke. She played 27 minutes and she and her teammates gave Duke a run for their money in a 57-52 lost. This is should have been a signal to all that U- Penn had something special brewing this season. Because today U-Penn is 10-2 and last weekend they did the impossible, they beat National powerhouse and the team in the Ivy league, that everyone said was unbeatable… Princeton 50-48. It was a win for the ages, considering Princeton has not lost a Ivy League game since 2008. The next day she got a text from an old friend, it said "I'm proud of you and congrats"…STEPHANIE GAITLEY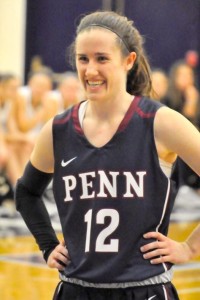 KASEY CHAMBERS IS ALL SMILES AGAIN!
For Kasey Chambers it has been a dream come true season. She leads the Ivy league in minutes played with 35 minutes a night and has a 2:1 assists ratio. Her box score STAT sheet is stacked every night. She averages 6.2 points, 3.4 rebounds and just about 4 dimes a night. U Penn has been everything thing Kasey dreamed about as a kid. She needed to take a detour to find her dream school. She needed to feel the pain of change in order to find her dream school. But more than anything else Kasey Chambers has had to learn ….SOMETIMES YOU JUST HAVE TO BE PATIENCE TO MAKE YOUR DREAMS COME TRUE…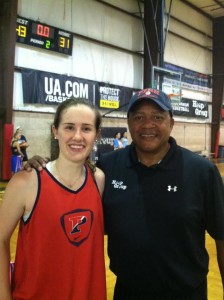 THIS HAT FITS A LITTLE BETTER KASEY!
UPDATE…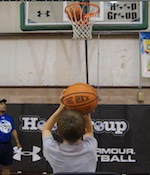 PLAYERS, COACHES AND PARENTS…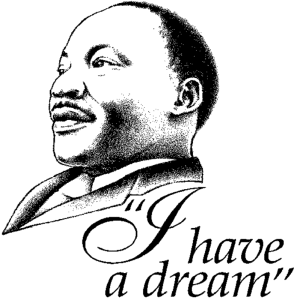 MLK CLINIC IS THIS MONDAY AT HOOP GROUP……. http://hoopgroup.com/headquarters/basketball-clinics/martin-luther-king/