By now most know that other SJV senior has given Long Island University a verbal commitment. She becomes the 3rd SJV senior to commit to a D1 basketball program this year and 4th to get a scholarship. But of all the kids that have given verbal commitments this year, NONE are like GiGi Caponegro.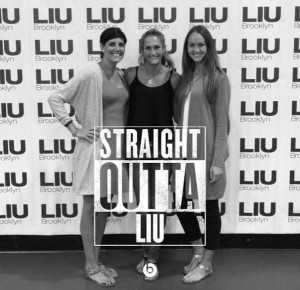 So what did LIU get in GiGi Caponegro? What they got was the most underrated and team player in the shore. They will sign the best available post player in the state. They will sign one of the Top 5 post players in New Jersey. They will sign the best senior post player in the best conference in America.  They will get a player that can be a stretch four or a back to the basket post player. Now they may not know of her ball handling skills and may not  know she could play the three spot if asked to do so. You see GiGi Caponergo is a rare talent and most have never seen all she brings to the table.  In high school you do what's best for the team; if you ARE YOU ARE ABOUT WINNING big games and state titles.
SJV doesn't run its offense though Caponegro. Most nights GiGi is playing the high post. Why? Because she is one of the best passing post players in the state. She rarely gets tons of shots, why? Because its high school basketball and guards dominant the ball. GiGi Caponergo could be the most talented player in high school that doesn't put up big numbers WHY? Becuase she ALWAYS  does what right for the team and is a total teammate. This why she is so loved by everyone. This is why her follow seniors have soooooo much respect for her. She is that girl that knows she could be in the spotlight if she did a dance and made Coach Karpell's life difficult. But GiGi is not about such things and it's why there is nobody in the shore like her….NOBODY!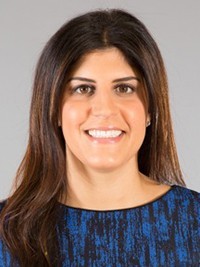 Head Coach Oliver is building relationships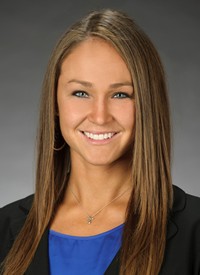 "I want to know every kid in the shore" Heather Zurich
When LIU hired Seton Hall assistant Coach STEPHANIE OLIVER (http://www.liuathletics.com/news/2015/5/14/WBB_0514151146.aspx?path=wbball), they got a coach who learned her craft, from one of the best in Tony "the miracle man" Bozzella. She was part of a staff that produced maybe the biggest turn around by a college in my lifetime. Seton Hall went from a laughing stock to a Top 25 team. Learning from Tony Bozzella clearly has helped her prepare for the LIU job.  Because maybe the biggest thing  he taught her was to hire good loyal people. One trait that everyone Bozzella trained coach has is this…THEY FOLLOW THOUGH ON EVERYTHING, they leave no rock unturned. This  is why when Coach Oliver hired Heather Zurich who was an assistant at UCSB, I was not surprised. It also did not surprise me that the day Zurich took the job she called me and said "we are going to know every shore kid" and then she said I need to know everything about GiGi Caponegro.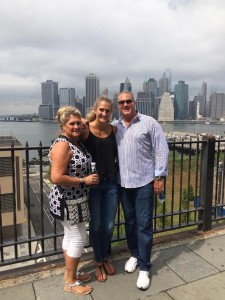 I told Heather Zurich GiGi Caponegro was a BCS talent. I also told her she was the nicest kid she will every recruit. EVERYONE LOVES GIGI and it doesn't have a darn thing to do with basketball. It has everything to do with STYLE AND CLASS. You see GiGI has both of these traits and she gets it from her parents. MARC AND TRACY Caponegro are up front and center people, always have been and always will be. They don't believe in drama and they don't believe the world centers around their daughter. They believe their is enough of the pie for everyone to get a taste. It's the only reason to explain why they would let a talented D1 teammate that plays the same position as their daughter, Zoe Pero to move in with them.. Marc and Tracy believe in working hard and having RESPECT FOR EVERYONE. How else could a kid with GiGi's talent be able to make such hard sacrifices on the court without causing problems. I also told Heather Zurich something else…GiGI could be the biggest recruiting steal of the year… for a mid major that could get it done.
I had a feeling last week that LIU was leading for GiGI's services.  LIU just picked  up a mega star and I don't use these words lightly. Let me tell why; GiGI is the most versatile  post player in the state. I also believe much like Arron Zimmerman who never was fully appreciated in high school, she will go on to be a ALL CONFERENCE PLAYER. I also believe she will be a MAJOR impact at LIU from day one. There is no question her scoring will double and maybe triple at the next level. LIU fans will see things that  are going to shock them.  You know why? Two reasons, first read HER QUOTES  in Jim Rosa article  written yesterday (http://njsportsreport.com/2015/09/20/gigi-caponegro-of-sjv-commits-to-lui-brooklyn/). See she GETS ITS LIKE NO OTHER KID!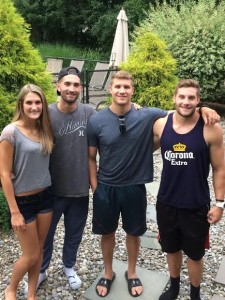 GiGI brothers have helped prepare her for the next level
Now folks, here is the 2nd reason why GiGi will be something rarely seen.  We have not remotely seen what GiGi will become and how do I know this? Are you sitting down LIU coaches? Are you sitting down shore fans? GIGI CAPONEGRO didn't start playing basketball until 7th grade…now sit and let that marinate people.  GiGi Caponegro is still in the infant stage of her development as a player. Now that my friends should scare everyone not wearing a LIU uniform. We haven't begun to see what this young lady will become. Also understand this, her brothers played BIG TIME football at Temple…so she knows what to expect at the next level. She also has played in big games her entire athletic career starting from middle school when she was just a raw athletic skinny girl.
 It doesn't hurt to have Coach Karpell in your Corner
The LIU staff  has come out the recruiting  gate like gang busters. They remind me of what Stephanie Gaitley and Tony Bozella did when they took over programs. They created relationships with the shore big shots from day one. Now LIU has done the same thing by making a HUGH SPLASH… they have now created a relationship with two of the most powerful people in girls basketball. Nobody has sent more players to D1 basketball and college than BETH CHAMBERS and Dawn KARPELL. These two woman are modern day GIANTS in GIRLS BASKETBALL and LIU and just made both their new friends…You know the saying "I have friends in high places" Well LIU has made friends in the highest of places.
 Look GiGi even has old friends like Gilobeth Perez …once a friend always a friend!
LONG ISLAND UNIVERSITY  got better yesterday just by adding GIGI CAPONEGRO to its family. She will bring her classy approach to LIU that most young kids just don't have until much older. She will be a real teammate and friend. Just ask her sister Zoe Pero, the two are inseparable. They understand what real friendship is about. The two now have both fulfilled dreams of playing D1 basketball. They both are more happy for the other than themselves….THIS MY FRIENDS IS WHAT TRUE FRIENDSHIP IS ALL ABOUT!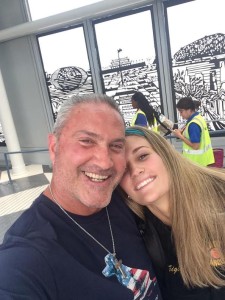 "LOOK DAD WE MADE IT HAPPEN TOGETHER"
GiGi Caponegro will help LIU become a powerhouse program again. She will also be one of the best COLLEGE freshman on the East Coast. People will say in 4 years "wow I didn't know she was this good"  and I will laugh and say "I TOLD YOU SO"…folks please don't question my track record on such matters…JUST DON'T….just like don't ever question the talent of one of the nicest kids in the history of the shore conference …GIGI CAPONEGRO who is LONG ISLAND UNIVERSITY BOUND…CONGRATS GIGI now go enjoy your senior year stress free. NOBODY HAS EVER EARNED IT MORE!
UPDATE
…IT'S A BIG WEEK, FOR EVERYONE. I URGE YOU TO ATTEND POINT GUARD TODAY….4.30 PM
CORE SKILLS THIS TUESDAY AND THURSDAY! SPOTS AVAILABLE