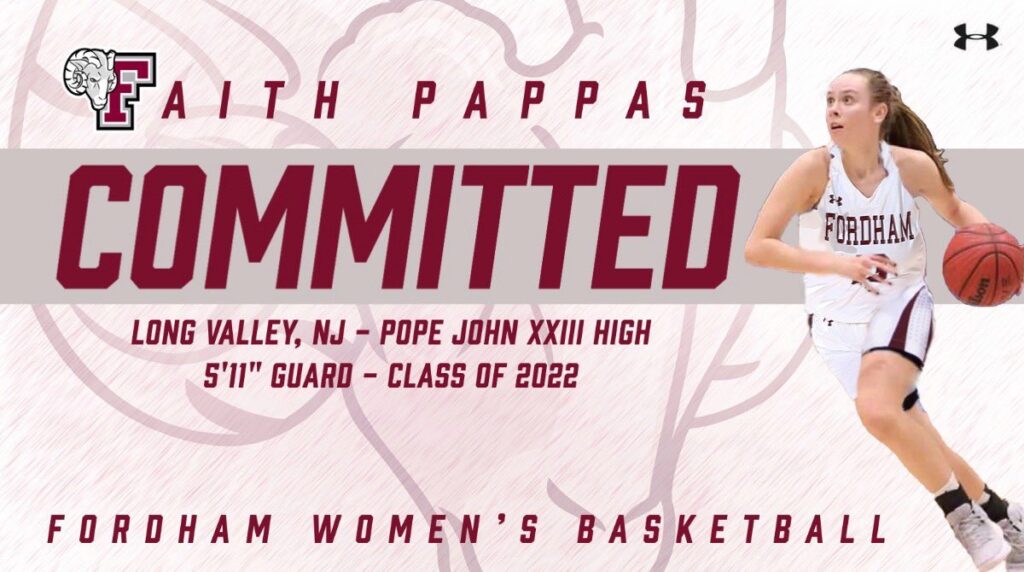 FAITH PAPPAS COMMITTED TO FORDHAM UNIVERSITY TWO DAYS AGO. It may have seemed to come out of the dark of night. The same way Faith Pappas has been marching along in her basketball career in the dark of night. You see Faith Pappas every step of the way in her young basketball career has done so many great things along the way in the dark of night. She has always been the small fish in a big pond. She has willed herself into one of the best basketball players in New Jersey. She has done this by simply doing one thing. Constantly looking in the mirror and asking what is next?…Well FORDHAM UNIVERSITY IS next and they are IN FOR A SURPRISE, because Faith Pappas is going to light up the Bronx, New York!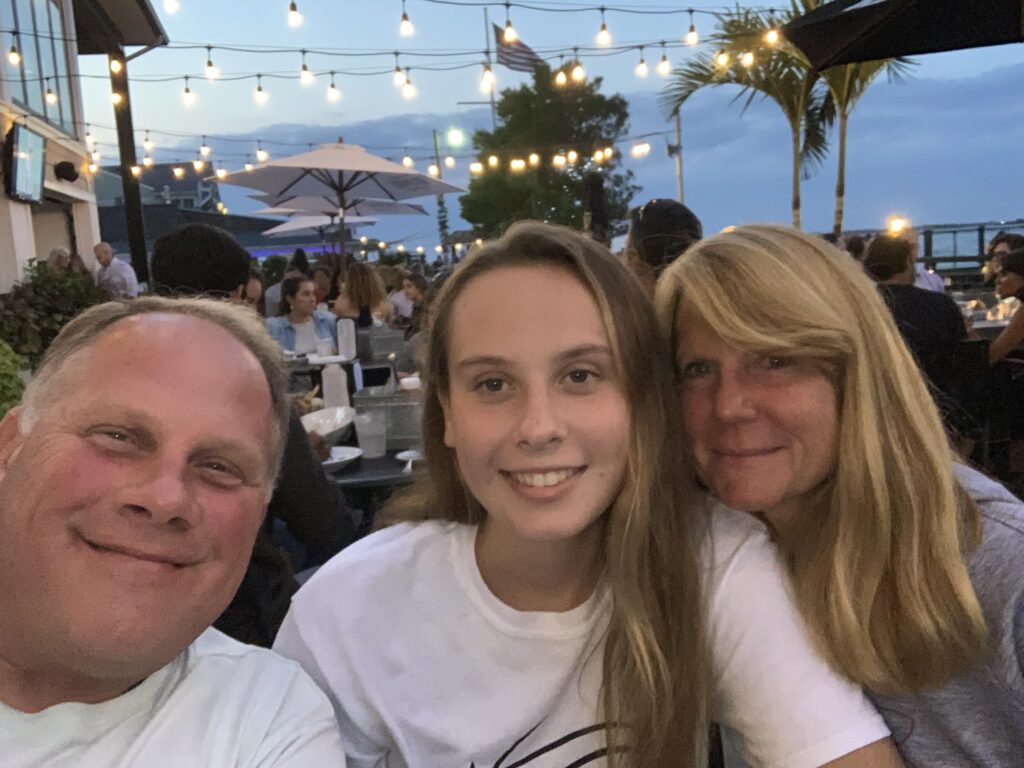 I met Fatih Pappas three years ago as 8th grader. Her father called and asked if she could attend the Girls Academic Elite Camp. I told him, I only invite a few 8th graders. I never want 8th graders in that environment in front of so many coaches, unless they are special. I told him to wait until she was bigger and stronger. He then told me she was okay playing in front of coaches. I then told him, the event was sold out. It was then Jim Pappas said to me "can we come down and watch and if a spot opens can she take it" I said yes never dreaming a spot would open or she would show up. But there she was a innocent wide eyed opened Fatih Pappas. She did not know a soul in the gym. She performed wonderful that day and I also knew from day she would be special. She was 5'9′ with a strong body and a deadly jumper. But it was her mental toughness that I really like. Being a stranger in a new setting and not knowing anyone and not missing beat. It seemed she stepped out of the shadows that day from nowhere to becoming a household name. There was no doubt Faith Pappas was on her way to being a star. A star in demand from college coaches. Faith Pappas was a kid who didn't say much because her game did all her talking.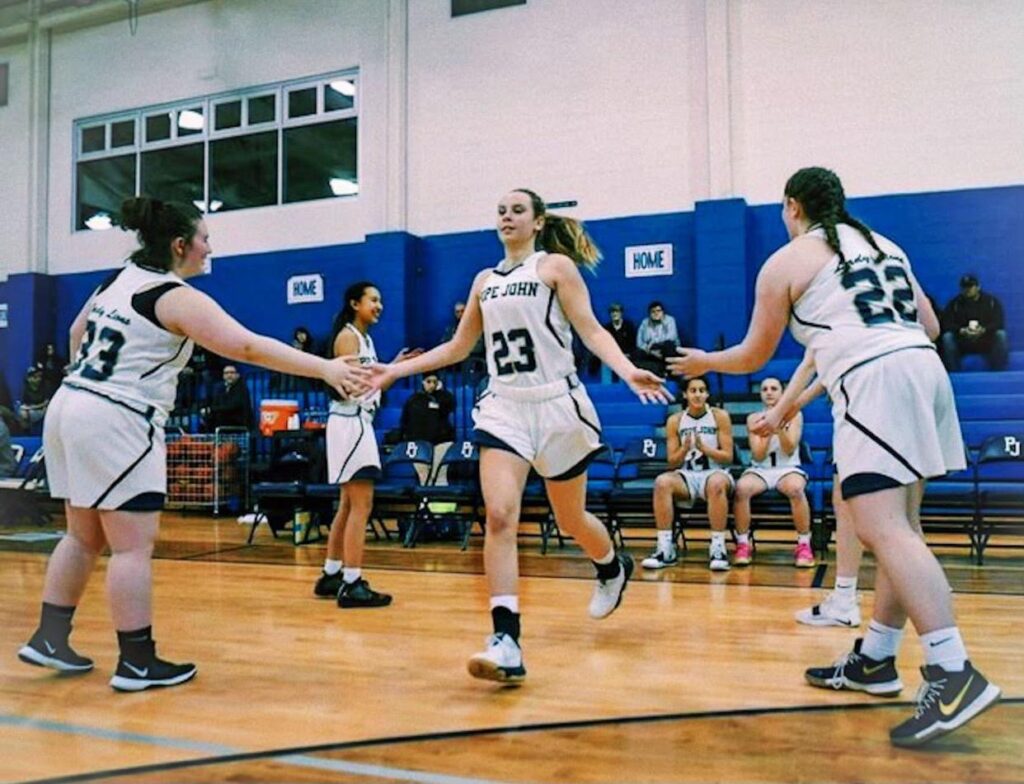 That fall Faith Pappas attended NBS, she had to take hour plus ride to attend. She also showed up at the hoop group for one day clinics and the NBS camps. She was not only building her name recognition. She was becoming a serious problem for all. She proved that competition and talent was something she embraced with a passion. It was her work ethic that we did not know about that surprised everyone. She seemed to be happiest grinding on the basketball court. She loved to compete, but more importantly, she wanted to compete against the best. So that exactly what she did, so she joined Team Miller. Everyone knows that Team Miller plays only the best and their players always develop. So when I saw her in a AAU game lighting up teams with her jumper wearing a Team Miller uniform. It once again seemed to come out of nowhere. Faith Pappas seemed to always be around were the best players were. It was in her blood to compete and she really didn't care how far she and her parents had to drive to achieve their goal of playing against and with the best...she did not want to be a big fish in a little pond. She wanted to be a big fish in any pond. She had no interest in being a social media baller without REAL GAME!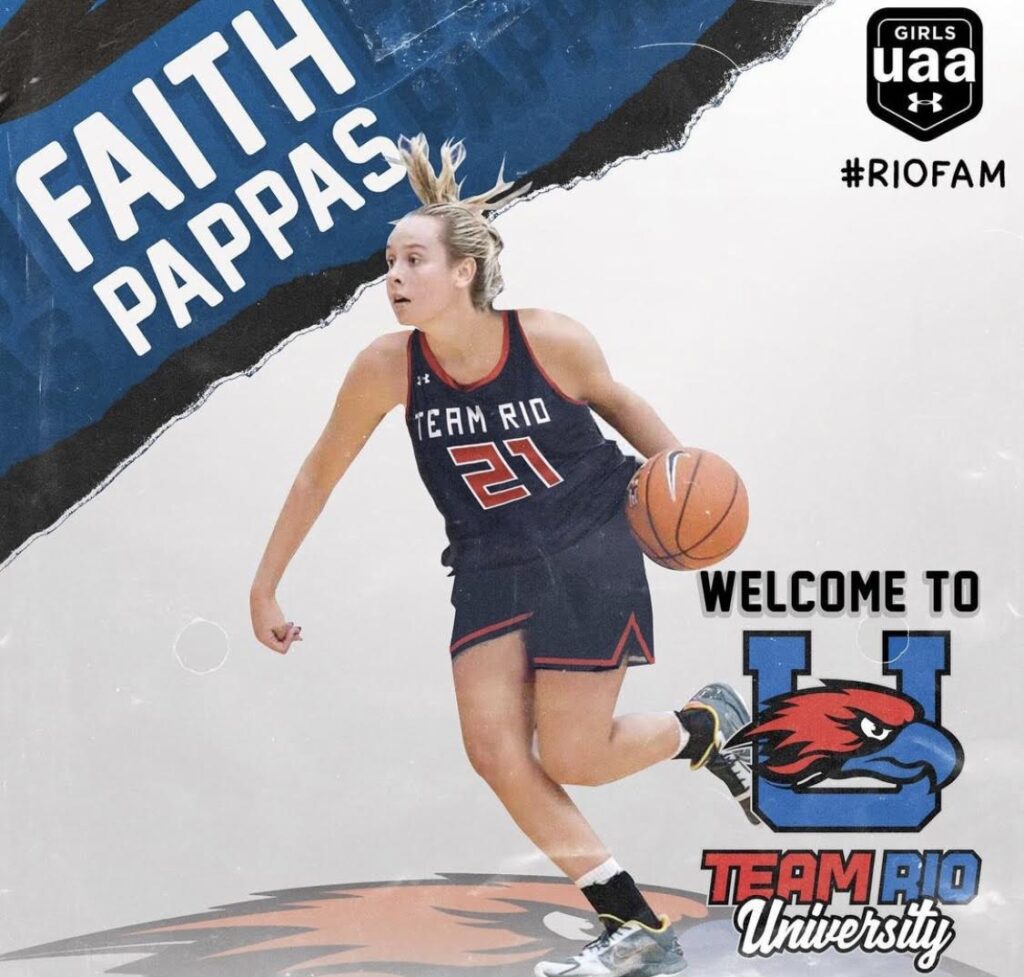 After being named one of the best Freshman in the state at Morris Hills. Faith transferred to Pope John and continued doing what she does better than just about any player in the state. Make jumpers …a lot of jumpers. You see Faith Pappas is that rare shooter. That shooter that college coaches dream about. You know with the great size and body to go along with that elite confidence. So it was no surprise that college coaches started lining up for her services. It seemed everyone was interested in signing the shooting guard. Her stock seemed to grow everyday. But unlike so many other kids. Faith Pappas was not one to live on her reputation. Like all the great ones she wanted more. She wanted to prove that she could play at the highest level of basketball. She wanted to prove was as good as any player in the state. Faith Pappas wanted to be the best basketball she could possibly be… and nothing was going to stop her.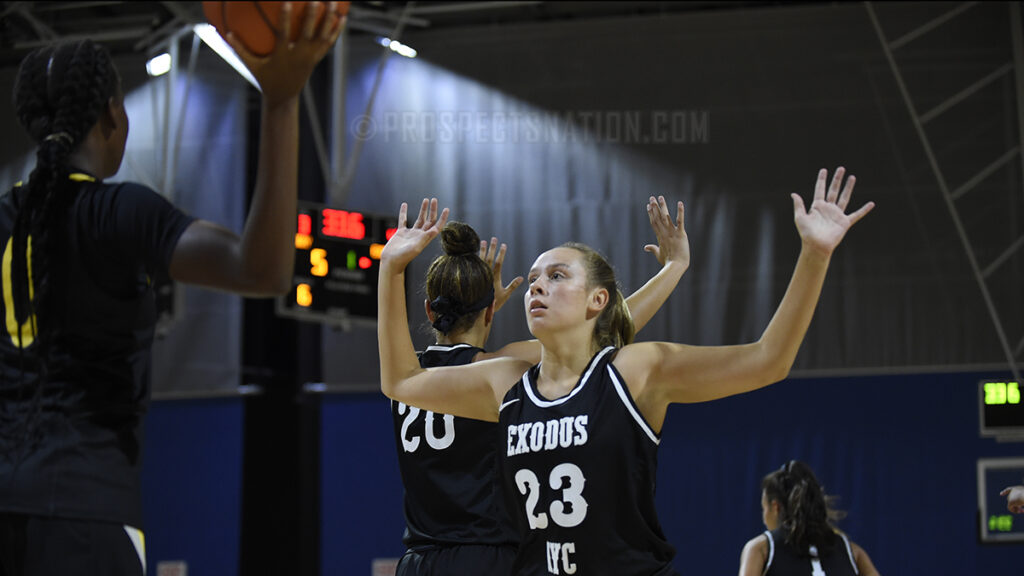 After her Freshman year Faith Pappas made the move to Exodus. One of the best AAU teams in the country. Exodus is where the killers live. The play the best competition and its is a team made up of alpha females. These are the who's who of girls basketball. The players who attend the U- Conn, Notre Dame, UCLA's of the world, the the brand name schools. Exodus is where you go when you want truth. Where there are promises made in the dark rooms. You either ball out or don't. There is no sharing time or minutes promised. This was exactly want Faith Pappas is built for and wants to be part of …Faith Pappas wanted to roll with the big dogs. She needed to know. if she could match her talents with the best of the best. It's exactly what she did playing for U17 as a sophomore. She was excited this past summer to play with Exodus again and that was taken away from her by covid. But how did Faith respond? One day I was doing virtual workouts because that all we could do at that point as trainer and coaches. But just like always out of the dark who did I see? Yup, Faith Pappas working like a woman on a serious mission. Her energy and commitment jumped off the screen. It was other example of Faith coming out of the darkness to surprise us. Except these days nothing Faith Pappas does surprises me…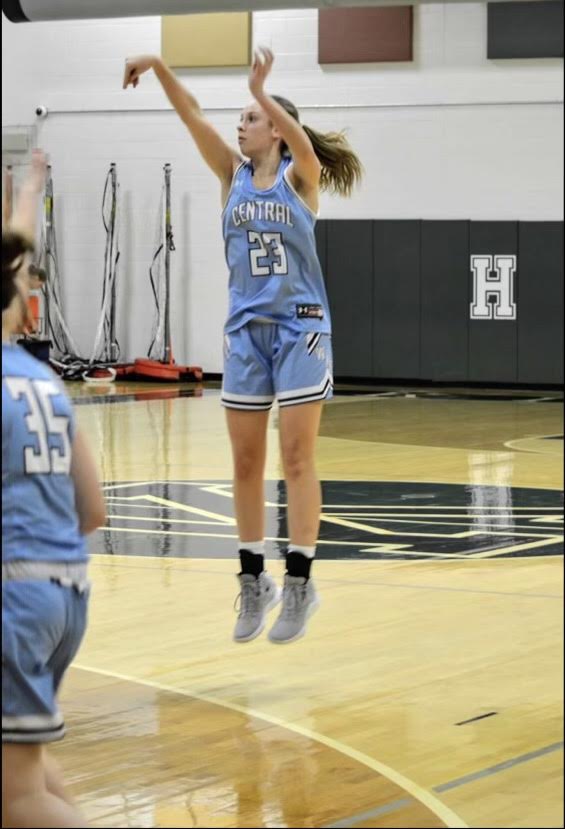 I had conversation with Faith Pappas 2 summers ago. I told her that she needed to upgrade her ball handling skills. Now when you tell a kid that, most times they nod their head and okay. Then go about doing what they always do. But Faith Pappas is not like other kids… ANYTHING YOU TELL HER TO DO…SHE WILL DO TO GET BETTER. She has that thick skins that allows her to accept coaching…hard coaching. It's why when I saw her in the fall of that following summer I was not surprised. She has turned her handle into a weapon. A deadly weapon, which made her a better passer and basketball player. To be honest it was shocking to me because it was such a dynamic upgrade in this skill set. So when college coaches and others would say she is a great shooter. I would stop them in their tracks and say "stop labeling this kid as a shooter, she is way more than that" Fordham University is getting ready to find out they have a well rounded player who gets things done. Faith Pappas doesn't talk the talk she walks the talk… it why Fordham University is very luck these days.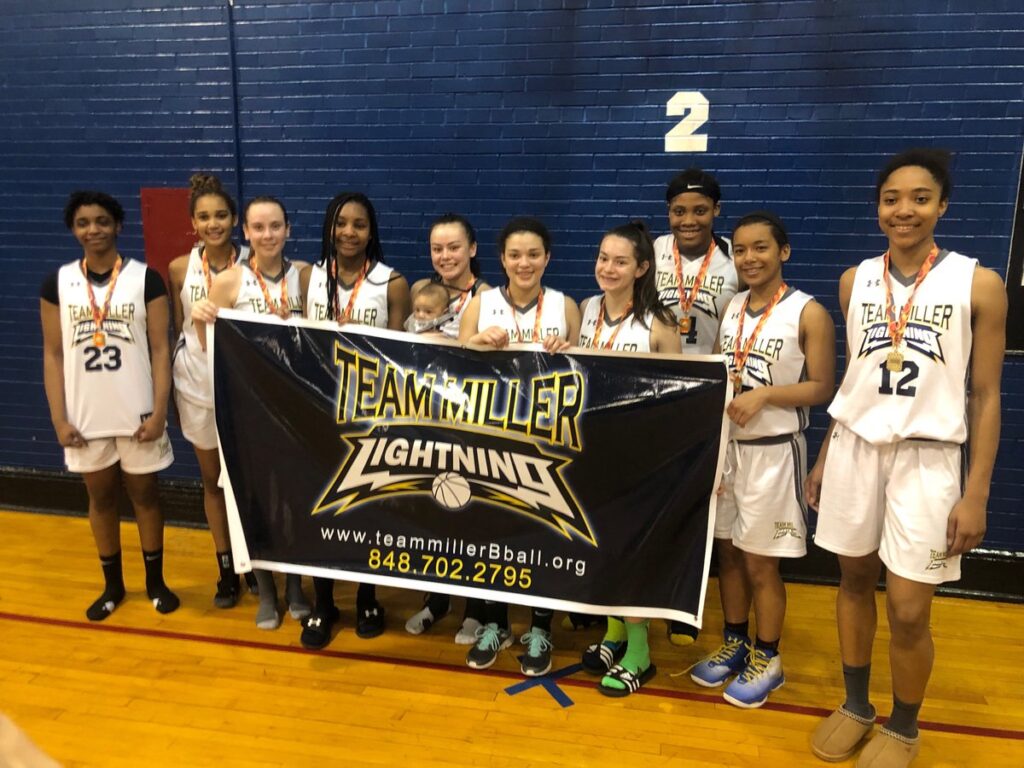 I think that the only way a player can develop, is they must have a passion for this game. But they also have to have people who believe in them. Faith Pappas parents, JIM and SEANA have believed in her every step of the way. They have been her rock. The Backbone of her success on and off the court. The have convinced her that anything is possible. But Coach Kerry the owner of GRIT training has been that angel who has guided Faith basketball journey. His tireless hours and time has resulted in what we see today. A true impact player. Kerry and Faith have formed a bond that can't be broken. It's one built on trust and honesty. Faith has made every right move a kid can make. Team Miller gave her a platform and a place to call home. Without Team Miller Faith Pappas is just another kid looking for people to see her greatness. Team Miller gave her the spotlight. Faith Pappas gave them a star. It's been a journey for Faith Pappas, I just hope nobody thinks it's been a easy ride. Because it has not been. She and her parents had to make sacrifices so few are willing to make. But then again not everyone is turning down tons of scholarships from Big East and High Major programs to play at Fordham University.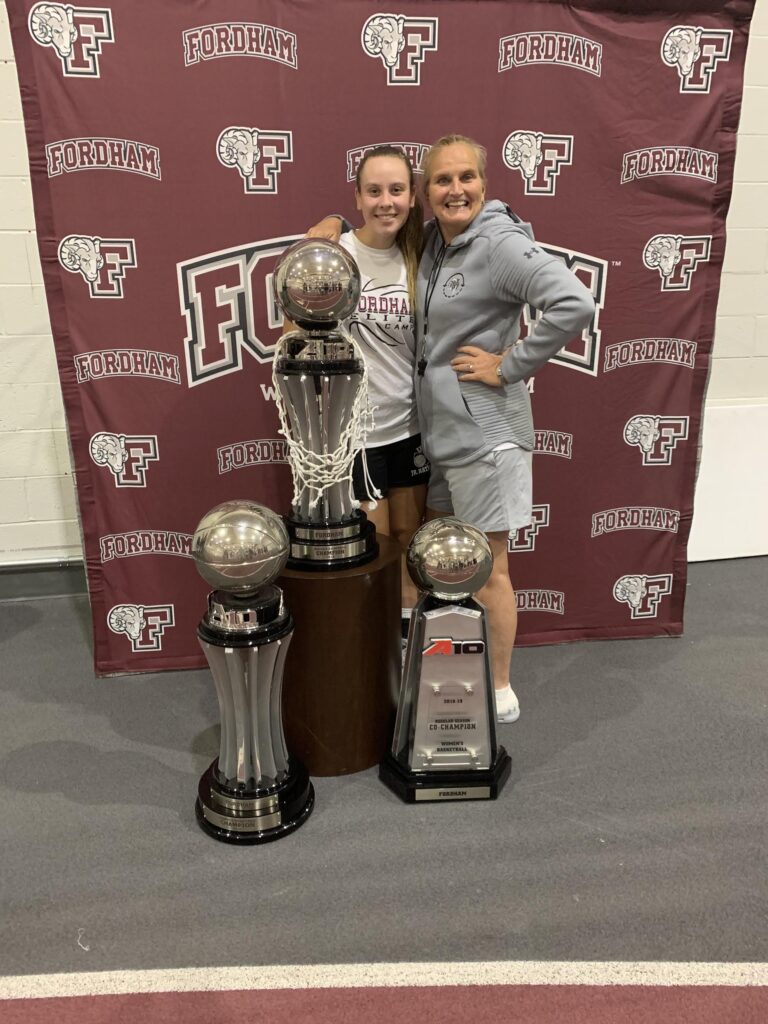 Faith Pappas picked a school she can have a major impact at. She choose a school that plays in big arena's and top level competition. She will be on TV every night. She will play for one of the best coaches in women's basketball Coach Gaitley. She will have a chance to play in the NCAA tourney and win a conference title. These are things kids dream about when they first dribble a basketball. But Faith will also get a top notch education. All these things Faith Pappas has earned. She started from the bottom and worked her way to the top. She had to start in the darkness and find her way to the light. The big lights of the BRONX, NEW YORK….FORDHAM UNIVERSITY OF THE ATLANTIC 10 CONFERENCE….CONGRATS TO A GREAT KID AND FAMILY!