Coach Bruno has turned Donovan Catholic a power house in B SOUTH. His team has lost few games in the Division the past 4 years. His team has been ranked in the Top 10 and they have played in such events as the Battle of the Boardwalk. Coach Bruno has made Donovan Catholic a relevant program. He now has kids who train year round and even get basketball scholarship's. Dana Carbone for example is at Monmouth and his point guard this year Kaitlyn Borghesi has received a scholarship to Georgian Court. It's been great times at Donovan Catholic, since Coach Bruno has arrived. But this year while Donovan Catholic was the favorite to win B SOUTH, he had to know he was in for a battle.
Sometimes a team get knocked down, sometimes things just don't go the way a team expects. When this happens sometimes a team falls apart, the infighting begins. Players, start worrying about things like playing time, who scores the most, who is in the paper or on twitter. But sometimes teams that have won and have pride get off the floor and dust themselves off. Donovan Catholic, this season was knocked down and had to make a choice.
When Donovan Catholic lost 2 of there first 4 conference games; including a home game to upstart Manchester. Most figured their run as the measuring stick in B SOUTH was over. Donovan Catholic started the season ranked in the Shore Top 10 in almost every poll, but by the end of the first of the month season,  their name could  not be found ranked anywhere.  Manchester on the other had becoming the darling of shore. They replaced Donovan Catholic in the Shore Top 10 and more importantly were undefeated in B SOUTH. It would have been very easy for Donovan Catholic to call it a wrap and feel sorry and selfish  a month into the season. But Donovan Catholic has pride as in real pride and 3 very special players.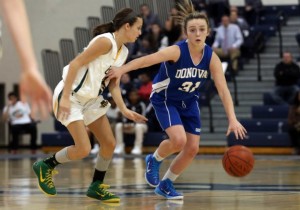 BORGHESI'S LEADERSHIP HAS BEEN HUGE!
Kaitlyn Borghesi is the most underrated point guard in the shore. She does all the little things that never show up in a box score. She is one of the best defenders in the shore. She makes her teammates better and can score big when asked to do so. But it's her senior leadership that has made her special. Borghesi has been part of some great teams at Donovan Catholic. She has played on the big stages like the Battle of the Boardwalk. It was she that got the ball to superstar Dana Carbone. It was she that helped Molly Collins become one of the best freshman in the shore last year. Borgeshi could have packed things in this year…started focusing on her college career. But she didn't because she has pride and she knows what she and Coach Bruno have been though in building Donovan Catholic into one of the best programs in the shore. She didn't want to see Donovan's dominance end on her watch.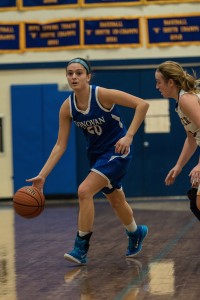 HIRSCHY ALWAYS PLAYED FOR HER TEAMMATES
Alyssa Hirschy is only a sophomore and last year, should have made the  ALL FRESHMAN TEAM. But Hirschy is use to being forgotten and looked over. Last year while everyone was giving so much attention to Molly Collins, it was Hirschy that was 2nd on the team in scoring and three point shots. In many cases something like this would lead to jealously and resentment. But not in the case of Hirschy, she is not the type of kid who needs a who lot of "way to go girl" to do her job. This was the perfect season for her, when things were going bad to go get hers. It was the perfect time for Hirschy to thing about stats, media attention and herself, not winning.  Alyssa Hirschy very easily could have lost her way and helped Donovan sink further into the abyss…but she came to Donovan Catholic to win titles and she never gave into the temptation of "ME". Its the reason last week her performance against Pt. Boro may have been the reason Donovan Catholic is still standing.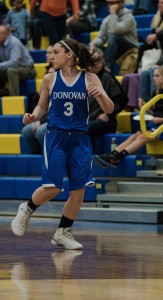 MOLLY COLLINS FOUND THE WILL TO WIN
Molly Collins was one of the best freshman in New Jersey last year. She is a lights out shooter and one of the best passing young guards in New Jersey. She has D1 point skills sets right now and has D1 shooting range. Her future looks very bright. But all that didn't matter a month ago, when Manchester beat Donovan Catholic. It was a signal that things had changed in B SOUTH. Suddenly awards and attention did not seem very important to  Molly Collins. She and her teammates knew that they were in a fight for survival and Molly Collins would need to step up if Donovan Catholic was going anywhere. If they wanted their ranking, and respect back they would have to dig deep and that's what Molly Collins did…she dug deep, maybe deeper than she ever thought she could.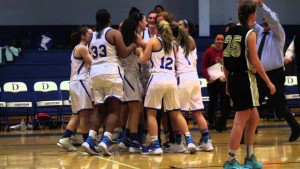 BUXTON WAS SPECIAL ALL NIGHT
Sometimes it hard to see thought the Forrest and sometimes you need help getting home. When Donovan Catholic lost to Manchester in January it looked like their dominance of B SOUTH was over. There were no indications that Manchester was beatable and two games just seem to much to make up in a conference, that seemed to be a two horse race. But for some reason Coach Bruno's team keep hope alive. Then last week something changed, something happen to bring life back to Donovan Catholic. First Melissa Buxton returned to the Donovan Catholic lineup. Next they played Pt. Boro and survived what surely would have been death of any hopes; Catholic had of winning B SOUTH.  They ran into one of the best performances of the year by Megan Hughes who had 37 points and was unstoppable. But champions find ways to survive, Melissa Buxton had 28 points and ten rebounds. Alyssa Hirschy had her best game of the season and had 20 points. But it was Molly Collins who found Melissa Buxton with the game winning assist with .5 seconds left on the clock for the winning shot, it gave Donovan Catholic their swag back…. another their B SOUTH TITLE HOPES were still  ALIVE.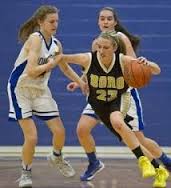 MEGAN HUGHES HELPED AN OLD FOE!
When you are lost in the Forrest, the help you are looking for can come in the strangest places, like from your biggest rival.  Manchester was undefeated when Pt. Boro showed up a day later after losing to Donovan Catholic. Nobody expected much a game. But then Megan Hughes when off again for the 2nd night in a row. She had 32 points against Manchester as Point Boro pulled off the upset of the year. Donovan Catholic was thrown an unexpected lifeline.  Manchester found their ranking and B SOUTH  lead in jeopardy and nobody was happier than Donovan Catholic.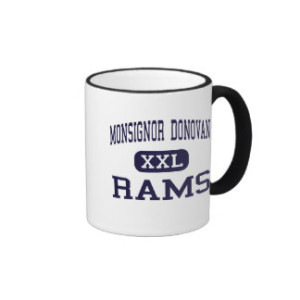 THERE DRINKING FROM THE RIGHT CUP
On Wednesday morning the Donovan Catholic basketball team members woke up and found all was right in the world. Because somehow they had come all the way back from the dead. Coach Bruno had convinced his team that anything is possible when you stick together. Donovan Catholic went into Manchester on the road and restored order in B SOUTH by beating Manchester soundly. Those three special guards I talked about earlier… Kaitlyn Borgeshi, Molly Collins and Aylssa Hirschy all scored in double figures. Borgeshi and Collins had 5 and 4 assists a piece to go along with their points. But importantly they did something that had not done all year. They lead from start to finish and now they have finally caught Manchester in the standing after 3 months. They also may have also regained their TOP 10 RANKING. But more than anything else, Donovan Catholic proved they are champions BECAUSE CHAMPIONS DIE HARD. They are now where they believe they belong, at the top. But it took getting knocked down and then finding the will as a champion to get up off the floor…. TO GET BACK TO THE TOP!
UPDATE
SHOOTING MAINTENANCE..THIS SUNDAY..10:15- 1:15…PARENTS COACHES, PLAYERS…SHOOT…SHOOT AND SHOOT SOME MORE
CORE SKILLS THIS SATURDAY AND SUNDAY