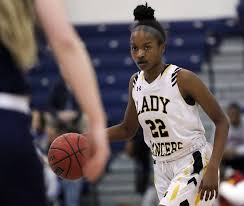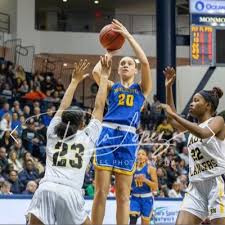 Tomorrow the SCT championship game will take place at Monmouth University. Two teams that have answered the bell all season will do battle for a 2nd year in a row for the biggest crown of the season. They will lots of fun and debate about what the keys to the game will be. But there will be no debate who the two biggest stars of the game will be. Destiny Adams and Madison St. Rose. Both are mega stars but there's more to both of these young ladies, that goes way beyond basketball.
Madison St. Rose is a guard a very special guard. She can play all three guard positions in elite fashion. Destiny Adams is a forward and a once in a lifetime player. That may be the only difference between the two players. Because in a lot of ways both are the same. They are those rare superstars that people like and few are jealous of and most root for. This is rare because it's only natural for for people to root against such players. But once you meet Madison St. Rose and Destiny Adams here is what jumps off the page. They are both humble and willingly share their success with their teammates. They both are typical teenagers except with a special gift. That gift is not basketball…that gift is there humility.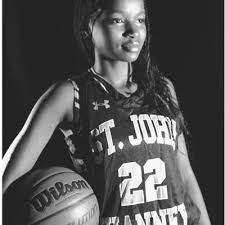 Madison St. Rose has a twin brother. They are close as in very close. He attends old bridge high school and is a good player in his own right. When her brother is around she constantly keeps an eye out for him. She knows her star power can be tough on a twin. It's why she is sensitive to her brother dreams and hopes. In the summer one of the most enjoyable things I experienced was traveling to camp with both everyday. There is a bond their, that goes way beyond a basketball. That bond is love.. a powerful love.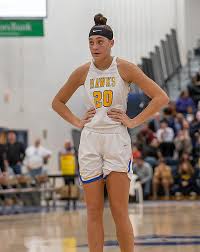 Destiny Adams has a brother as well. Darius is not just a basketball player, but a future superstar. He is mega talented like his older sister. Recently I sat with Destiny and we watched Darius play. He had 30 points. She and her family sat there and cheered Darius on. She says she doesn't baby or take care of her little brother. I laugh because it's clear that she cares more about her brothers success than own. She cheered and supported Darius in a way I only expect from Destiny.. there clearly is bond their… that starts with love.
Both Destiny and Madison St. Rose are highly recruited by the top schools in the country. We never talk about recruiting, it's none of my business unless they have a question. Recently me and the Adams family had a talk about Destiny's recruiting. We talked about a few schools and talked about the things that were important to Destiny. Do you know what is most important to Destiny? Not being at a brand name school. But rather a school when she can make friends for life, a coach she can relate to and trust. But more than anything she wants to attend a school …she CAN PLAY AT… see that's the humility I am talking about. She is not the kid with a ego and says I can play anywhere, I am better than everyone. Now those things may be true…it's just that Destiny doesn't have that type ego…she is humble…and why I and so many other people love her.
Madison St. Rose could care less about all the schools that are recruiting her. Trust me when I tell you this, why? Because Madison St. Rose could end up at the best basketball school in the country, the best academic School in the country or wind up at some school none of us imagined. Why? Well here is a recruiting tip for every college in the country…Madison St. Rose does not get her identity and self esteem from basketball. It just one part of her life. They are so many other things that mean just as much to her. It's why so many of her friendship are away from the basketball court. It's also why I and so many other people love her… like Destiny she has no ego and is humble.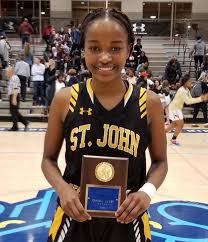 Both Destiny Adams and Madison St. Rose play volleyball for their high school teams. It's part of what makes them well rounded young ladies. They also work on their games. They also embrace coaching and their teammates. I can tell you for a fact, I have never met two young ladies that are more respectful. They have never once put a frown on their face when coached hard. They never look crossed eyed at a teammate. Do you know why? A mother touch has been cast over both young ladies. Both Destiny Adams and Madison St. Rose have proud mothers who expect greatness as people from their daughters. Lisa Adams is a straight shooter, it must be the lawyer in her. She holds Destiny accountable for all her actions. She makes sure her feet are always grounded. Nathalie St. Rose has convinced her daughter anything is possible. She knows Madison is in the spotlight so she watches over her and guide her always. Both women are rising the ultimate alpha females and watching this up close and personal…is a treat!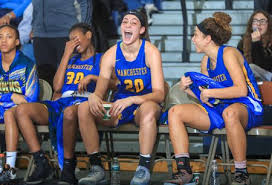 Wednesday night both SJV and Manchester superstars when sensation. They played what can only been considered magical games. Madison St. Rose will her teammates to victory with one of the greatest SCT performances in recent years. Destiny Adams showed her teammates she trusted them and they rewarded her by coming thought all night. Destiny reward them as well with 20 points and 18 rebounds. There's no doubt these two are known for there basketball royalty. But what people should know. Both are teammates from heaven. They truly what their teammates to shine. They take real pleasure out of being part of a teams…Destiny Adams and Madison St. Rose are more than just basketball players….they are so have much in common and nothing bigger than… THEY TOO ARE FRIENDS!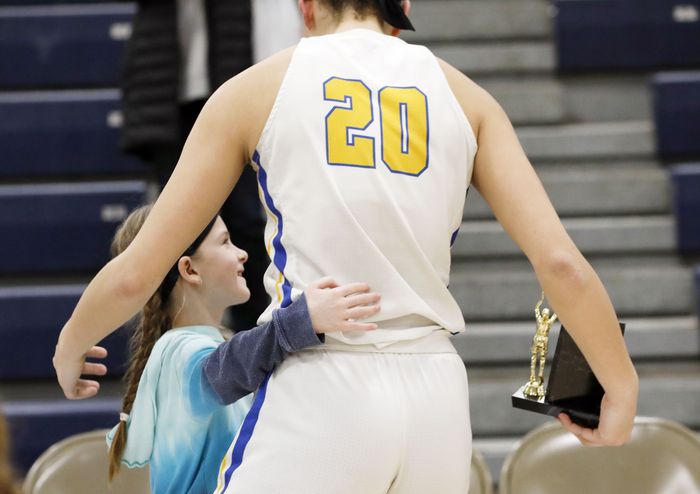 I made a bet with Destiny Adams if she wins the SCT. We are going to a have a little fun after the game. She may try to duck me… it won't work young lady. I have been meaning to take Madison and her Mom to our favorite restaurant. It's right around the corner from her house… maybe that's what I will do it she wins the SCT. Either way I am proud of both young ladies, they both are beautiful people and so are their families… it's why either way….we all win on Saturday…good luck ladies!