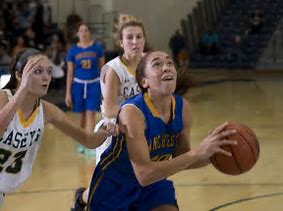 The Shore Conference 2nd round games tomorrow will be loaded with stars. The best teams not only in the shore but the state will take center stage tomorrow. The first round winners will take on teams that will be heavy favorites. Many Shore fans will focus on the top teams and everyone knows who the top teams are. They also will talk about all the stars that make up the SCT. One star's name will not come up, she is one of the best players in the SCT. Yet she will not get the same attention as other stars leading into the event….DAKOTA ADAMS, has been getting it done since her freshman year. Yet we just can't come to accept that she is one of the best juniors in New Jersey.

College coaches search high and low for players that are versatile. They also love players who do dirty work. Dakota Adams, is not just a versatile player who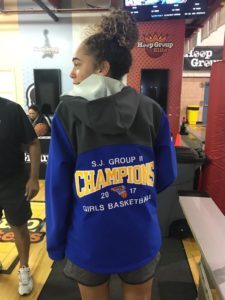 does dirty work. She is a player that will do whatever is asked of her to do. She has done this for Manchester since her freshman season. She has often played out of position or been asked to change her game for teammates. Yet it has not stopped her from being one of the most productive players in the entire state of New Jersey. While most brag about getting a double/double, she averages  a double/double this season. Her 10 points and 10 rebounds are all a result of hard work and activity. Manchester doesn't run sets or their offense though her. She doesn't need them to because Dakota Adams has always found a way to be productive. It no surprise it was when she arrived that Manchester has won it's first state title last year and won its first WOBM this year.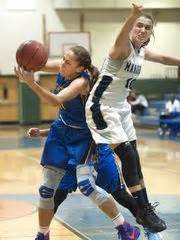 Now most kids who make the Asbury Park Press ALL SHORE TEAM are household names in the Shore. Most kids who drop 13 points and grab 16 rebounds against Rumson are the talk of the town. When you get a double/double against Franklin folks tend to brag about your talents. When you add something new to your game every year, like a sweet jumper, drop set and up and under move, people tend to notice it. It's why Dakota Adams not being a household name is a mystery.
Any player doing the things she has done, would create a real buzz anytime she steps on a court. You may be asking how does a kid gets 17 points and 16 rebounds against Sayreville and it barley makes the paper? When as a Sophomore you get 22 rebounds, you expect everyone to be talking. When you get 17 points and 15 rebounds your the real deal and everyone knows ..RIGHT?  When a freshman get 15 points and 12 rebounds against RBC you famous RIGHT? Nope, not in the case of Dakota Adams and would you like to know why? I'll tell you why,  Dakota Adams is taken for granted and so is all she does on the court. She is not flashy  and makes the difficult look so easy. She is a old school player who plays the game fundamentally sound always. She never makes bad decisions or takes a bad shot. Turnovers? I'm not sure she even knows what they are. Dakota Adams just beats you with her head and talent. One more thing she has …college coaches listen real good. A FIRST CLASS ATTITUDE TOWARDS COACHING AND TEAM SACRIFICE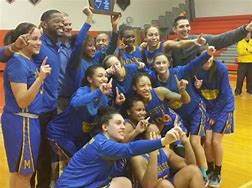 Real small forwards are a dying breed. So college coaches, you be wise to listen to carefully. NBS is the home of the best players and talent in New Jersey. The number of D1 player in the gym reads like a whose, who? So let me be clear, Dakota Adams is the best pure true small forward in the gym every weekend in the fall. I am not talking about a wing player folks. I said old school small forward. You know the type that crashes the offensive boards with force. You know that small forward who back in the day felt rebounds was a major part of there game. She is that old school small forward that can guard a center when called upon, but yet punish small wings and guards in the post. Remember when your small forward was not just shooting 3's, remember when they could not knock down the open jumper, but yet put it on the floor? Remember when you could sic your small forward on guards and big's and still switch on defense? You see these players are really hard to find these days….THEY ARE A DYING BREED. Some small forward these days are basically shooting guards. This is what separates Dakota from everyone else. She, college coaches is just what the doctor ordered and let me repeat these words….she is a mid major D1 lock and how do I know this…just my check record and we have seen a few less talented players  D1 starting in college these days….DAKOTA ADAMS IS AS GOOD OR BETTER THAN ANY OF THEM.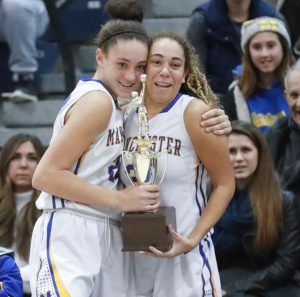 It's no secret that her baby sister Destiny will be called the best player in New Jersey one day. She knows that Destiny sucks up the spotlight and attention on any court that she is playing on. But make no mistake, Dakota is Destiny's biggest supporter and demands her baby's sister best. Dakota, has not had anything handed to her along the way. She wants her younger sister to take the same approach. She also loves playing with her younger sister and I believe(just a gut feeling) they hope to play in college together one day. If I were a betting man, I would say it could happen. For now big sister will continue to do what she has always done…be one of the very best in New Jersey and do it without headlines……DAKOTA ADAMS PERFERS MAKES HER HEADLINES ON THE FLOOR!!
TRAINING UPDATES
POINT GUARD SCHOOL today..5pm
….SPOTS STILL OPEN FOR SATURDAY CORE SKILLS….COOP@HOOPGROUP.COM