Things are changing daily. As we move into the thick of the season. There are some things that have been settled early this year. But there are some things that are going to take to the last day of the season. All I can tell you is what I know right now.
All I know right now that SJV is 5th in the country and if they can knock off Sidwell Frends this weekend. They have a great case to be named the #1 team in the country.
All I this is not worth much of a conversation. Madison St Rose is going to be the first 3 time SHORE AND STATE player of the year. But I also know she is one big win away from being name PLAYER OF THE YEAR in the country. That would certainly end any debate as to who is the greatest female basketball player in New Jersey History.
Well here is something I know. RBR is not going to make the SCT. That's because they now have to shut down Camryn Gardner . I know it's a classy move by JT to protect that kids future. She has D1 offers. But when Josie Munson becomes Eligible. RBR IS A PROBLEM.
I know St. Rose has had a remarkable season. But now that cracklings Rosie is out and Maggie Cavanaugh may be Joining her. St Rose is in a tough spot. They going to need those babies to work a miracle.
RBC is without Justine Pissott. But I already knew they'd play better without her. That's because the ball movement gets better and the team gets laser focused especially Ally Carman. They go into survival mode. Remember the fall when Pissott was out. RBC played desperate like. They have Rutgers Prep this weekend. There lays the problem tho… because against the super powers is when you need Pissott.
JACKSON MEMORIAL is having a wonderful season. The problem is their schedule is to put it nice, not challenging. But on Thursday they get Toms River North. A win would give them instant credibility. But I know TRN may have found a winning lineup. One thing is for sure one of these teams is not going to be happy
I know tonight's Trinity Hall vs Holmdel game is big. That's because the winner will most likely get the 4th seed if St Rose doesn't get healthy and the winner. Could be talking TOP 20.
DEVYN QUIGLEY, I know after watching her yesterday vs Donavan Catholic is going to hard to keep off the All Shore team. She had 17 points and 13 rebounds. She was sensational in a losing effort.
All I know is Donavan Catholic has to get a quality win to move up in the rankings. They got the breaks beat off them vs Manasquan, lost to #12 Cherokee and lost to St. John by The Sea. Those were there three measuring stick games. The problem is there is not a possible quality win left on the schedule. It's cupcakes city the rest of the way. All I know is Donavan Catholic should pick up a quality game…. if they want to move up in the state and Shore rankings
All I know is that RUMSON is cooking right now. Everyone beating them are behaving like it's the changing of the guard. Fact of the matter is everyone was beating them. But not these days. Julia Cosentino is rocking it . All I know is Dave Callahan has his crew rolling right now.
I know Christina Liggio is having the best Freshman year in the Shore since Dara Mabrey some 7 years ago. She has turned the Freshman of The Year Award into a joke. She has been freshman of the week, every week except once.. that's called making a statement. No hype entering her freshman has been fine by her and college coaches. Now the real question is she having the best Freshman Year in the Joe Montano era? You'll have to ask him that one.
ALLI KNOW is this Casey Prior who has D1 offers is going to cause a recruiting war this summer. That's because I kept watching her her get physically stronger and stronger.
All I know is that Ocean's Kaden Clark and Ranney's Hayley Poser have had great Freshman Year's to this point. Posner had 13 points vs #3 in the state Saddle River Day this weekend. Clark has been great night in and night out for Ocean. Both look like locks for All Freshman.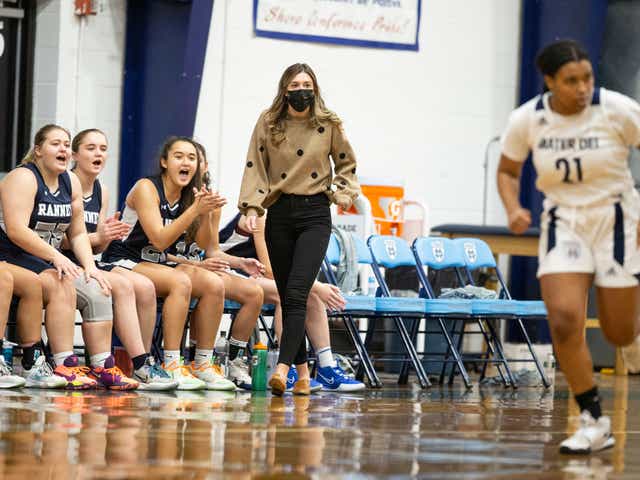 I know that Kaitlyn Linney has to be in the Shore coach of the year conversation. She has Ranney in the Top 10. But more importantly has developed her young players and watched them mature into excellent players. Every kid on the roster is going to play in college. Folks this is Ranney we're talking about… hats off to COACH LINNEY.
I don't believe in Sharing the wealth… we got NJ.com and the Asbury Park Press to make sure every deserving kid gets rewarded. They do an amazing job of making sure each kid feel GREAT AND APPRECIATED 👍 😄
COACH OF YEAR… folks she is trying to be Coach of the Year in the Country… DAWN KARPELL, SJV
PLAYER OF THE YEAR… your kidding right? She come Sunday could be the club house leader for PLAYER OF THE YEAR IN THE COUNTRY. .. MADISON ST ROSE, SJV
FRESHMAN OF THE YEAR… lol don't be silly. She is beating the breaks off the competition… this is a total blowout… CHRISTINA LIGGIO, RBC
TEAM OF THE YEAR… lol … let me think! SJV

a