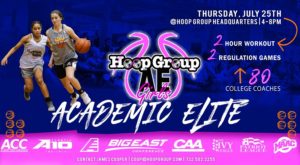 The 2019 ACADEMIC ELITE was just want nobody expected this year. A overwhelming sucess. Many believed that because of the changes to the recruiting  calendar that college coaches would not be able to attend. Many believed players would not attend. Instead 63 colleges attended and 120 kids. This is a testament to the power of ACADEMIC ELITE and it's ability to change lives.
This years event was lacking the star power of pervious years. But it also became a  opportunity for some players to fill the void and that's exactly what they did. Coaches, got a chance to see some unknown talent bust out and make a name for themselves. We saw a number of players walk into the event empty handed only to leave with scholarship offers in hand. The schools in attendance respected the IVY LEAGUE, PATROIT LEAGUE, NEC, MAC, AMERICAN EAST, THE COLONIAL and others. Div 2 power houses and D3 powerhouse like Philly Science and Montclair State were present. All the players in attendance were given the rare opportunity to play on the main courts and shine. Many of these players were on a main court for the first time this summer. They also were playing in front of more coaches than some have seen all summer combined.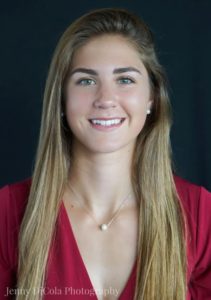 There were some real surprises this year. Like MORGANNE ANDREWS of West Virgina, who was.  Absolutely sensational all evening. The 6'1″ forward dominated the competition with her all around play. So much in fact that the NAVAL ACADEMY offered her the following day and she committed. She was not the only one who walked away with  D1 offers . CATLIN WINGERTZHAN picked a few D1 offers as well. The 6'2″ Foward broke out her bag of tricks. She displayed a sweet touch around the basket and out to 19 feet. But it was her passing and leadership that impressed coaches. She will start the process of visiting schools. Bianca Giordano of Jackson Memorial, picked up a offer and jumped started her recruiting as well. There were a number of player whose lives were changed on Thursday. Kids who have got no name recognition or love, like TAYLOR CRYSTIAN of the  Patrick School. She had coaches from the MAC and D2 powers asking about her. The young lady made a wise decision to attend the event and now her life is about to change. I can't be anymore happier for that young lady.
Folks may no mistake this is a future MEGA STAR!! pic.twitter.com/gbAi3gmcv7

— ellonya Tiny Green (@CoachTinyGreen) July 28, 2019

Perhaps the 3 biggest stories of the night belonged to a couple of rising 8th grader and an 11 year old. TAYLOR DERKACK  is from Colonia High School in New Jersey. College coaches were shocked at her preformance. She had the poise of a senior veteran. She handled the ball against pressure and knocked down three's. Her court vision and feel for the game is way beyond her years. There was not one coach in the gym not dreaming of her signature one day. As one NEC head Coach said " there are a lot D1's she could help right now. Tessa Carman is 11 years old, it's tricky inviting such a young player to such an event. But TESSA CARMAN  is no ordinary 11 year old. She is the best 11 year I have ever seen. When she knocked down 3 threes in one game an A-10 coach said this "it's so strange seeing her out there doing this" Another D1 Head Coach said this "that kid is going to be a Macdonald All American" I believe she  may be the G.O.A.T one day in New Jersey. Finally, Hope Masonious, a 2024 will be one of the best players in New Jersey. She has every skill set a player needs to be dominate. Her IQ has no match for a player her age.
You made the event https://t.co/jIULzdHzic

— ellonya Tiny Green (@CoachTinyGreen) July 26, 2019

There is no question who the best player in the gym was on Thursday night. That honor belonged  to a total unknown by the name of LINDSAY DROZD of HASTING HIGH SCHOOL in New York. She put on a show of shows. Her preformance was so  electrifying that she too picked up her 1st Division One offer (advice Lindsay keep you recruiting to yourself and family). This young lady went mid evil on everyone. She banged out three after three. There she got on the offense glass, then scored off the bounce and in transition. She scored at all three levels and was unstoppable. She out worked and out hustled everyone. If you don't know about her, you better learn about her quick. She is a mega talent and nobody at Academic Elite left that building not shaking there head in amazement. She was that good folks!
She is on the Map ….all it takes is one big moment in front of the right people #PaigeKnutsen pic.twitter.com/vXyO4ItYyD

— ellonya Tiny Green (@CoachTinyGreen) July 28, 2019

The biggest surprise of the night was easily a total unknown. PAIGE KNUTSEN played JV basketball at SJV HIGH SCOOL last season.  She is a 6'0″ 2022 shooting guard. She caught the attention of everyone. She buried jumper after jumper. Then when players ran after her. She displayed a wonderful shot fake, mid range game. Knutsen, was on a mission and guess what? Mission accomplished. She totally raised her profile and showed she is talented and now college coaches know it. She has put herself in excellent position by creating name recognition for herself.
GLP 2020 Jania Hall muscles her way to the basket for the tough And 1. #GRIT pic.twitter.com/YcUps4RLQN

— GLP Basketball (@GLP_Basketball) July 23, 2019

KATHY GILLESPIE coaches the Germantown Lady Panthers AAU program. The women is so classy it's insane. But wants more insane is her two guards. Janie Hall and Jessica Tomasett had coaches where raving about. Both young ladies are clearly D1 locks. There understanding of the game and tempo was impressive. Both players showed they have complete games on both sides of the ball. They both are mid major plus type talents. They along with RACHEL KUHL  showed they are capable of taking over games. Rachel KUHL for my money is the best available senior guard in the entire state. But that  kid that shocked me and had a bucket load of D1 coaches asking about her was  NIAISYA ERVIN of the Patrick School. She was fantastic with her shooting and court vision. One A-10 coach said this " that's a kid getting better it seems every time you see her…SHE's RIGHT.
Thank you @CoachTinyGreen and colleagues for making sure @ellafajardo8 is seen by the RIGHT college coaches! Thank you for your guidance and support! We appreciate YOU! Thank you @HoopGroupHQ for the great coverage! https://t.co/nWjPeDa04w

— Ellen T Fajardo (@ellentfajardo) July 26, 2019

Finally 2022 ABBY FERGUSON, is going to find lots of mail waiting for her next week. She was nothing Shore of sensational. GABBY RECINTO, is clearly going to be highly recruited one day. Coaches love the talent and work ethic of the 2023 guard. She is relentless and Thursday have that on full display. HANNAH ORLOFF'S stock shot up like a balloon Thursday. The 6'3 forward was on top of her game. Showing a nice touch around the basket and out to 18 feet. She just may be the best keep secret in the Shore…well maybe not anymore. AMAYA BRAY of Manchester High School folks is a D1 player, how do I know this ? Because coaches kept asking about all night…even at dinner…BRAVO AMAYA.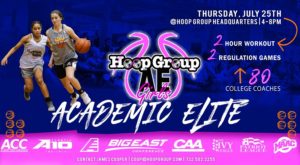 There is certainly to many other kids to talk about. But ELLA FAJARDO and DEVYN SCOTT who has  D1 offers were very impressive as was  JESS REIPE of Marlboro who continues to watch her stock rise. GRACE LEARY of Howell is starting to become a real story. Coaches were all asking about the 2021 point guards status.This year's event was the year of the unknowns. Once again ACADEMIC  ELITE delivered to seniors with no offers only to walk away on the last recruiting period with….A FREE EDUCATION….I LOVE THAT! Many other player got their name in the ears of college coaches…again that's great…
TOMORROW…9am-2pm….coop@hoopgroup.com