There are no guarantee's in sports, that's what makes it so exciting. There are no promises in sports and that's what makes it so heart breaking at times. Playing a sport is kind of like life. You get what you put into it, but sometimes you don't get back in return what you expected. Last week high school tryouts came to a end. Some kids will continue on with their dreams and some won't. High School basketball can be cruel and unforgiving. Your hard work doesn't mean you will always get reward.
Over 50 boys showed up at CBA for the Freshman tryouts. CBA is the gold standard in athletics for the Shore conference and maybe the state. Making any of the basketball teams or any other sport at CBA is a honor and more importantly NOT EASY. The competition for the teams seems endless and of course highly competitive. There are kids who grow up their entire life wanting to play for CBA, Charlie Ruoff is one of those kids.
Some kids are blessed with speed,  height, strength, and all the attributes needed to become a great basketball player. These kids often mature earlier than other kids. These kids have a major advantage on most; at least early in there athletic careers. Some kids are not as lucky. These kids will need a special work ethic and more importantly a love for the game, that makes no sense. Those must eat, sleep and breath basketball. It's the only way they can overcome the physical disadvantages, they have until they catch up physically. But when those gym rats do catch up they become special…. because when all is equal, which at some point it will be, in the case of one gym rat of gym rats. It's those hard earned skill sets, IQ and the ability to handle adversity that wins the day…. Charlie Ruoff has all this and so much more.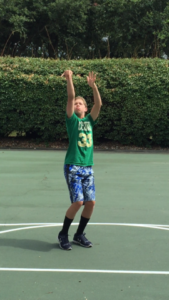 When you see Charlie Ruoff, he looks like a little kid. He has no facial hair and it clear puberty has not found it way to him yet. But they you see his father Kirk, a 6'7″ physical specimen who played football at Boston College and then you know, what is about to come one day. They you see his mother Pam, also a physical specimen long and lean who played tennis at Boston College and on the USTA tennis tour and then you know, what's coming soon. Charlie Ruoff is going to walk into CBA one day, coaches and players are going to say what the hell happened? It' then I will tell them, what I tell all college coaches, when they doubt me…."I TOLD YOU SO".  A little boy who out worked everyone, now not only has off the charts skill sets and a work ethic, he also has become a man physically.
I have watched Charlie Ruoff over the years. I have seen his development, first hand. I have watched how at times he was not given the same love as other kids in his age group. It was then he was building mental toughness that will soon be paying off two fold to him soon enough. I have seen him go from a kid who lacked confidence to somebody who now believes.  I have seen in the gym for HOURS AFTER HOURS working on his handle and shooting. He loves being in the gym, he loves the smell of the gym and the buzz that one gets walking into the gym. He knows he does not have the star power of a Scottie Lewis or the reputation that other young players have. It doesn't faze him, because folks this kid is on a mission. Do you know why? BECAUSE HE LOVES THE GAME…HE JUST LOVES THE GAME UNCONDITIONAL.
When I heard there were over 50 kids at the CBA try-outs I was worried. I was worried because Charlie Ruoff,  looks 12 years old. I was worried that maybe nobody knows he will be a giant one day.  I was worried with 50 kids,  how could the coaches really notice him. I was worried because his parents are former athletes and would not play the political game. You know, have someone make the call, you know that one…the one where a favor and wink is called in, to help a kid make a roster. I knew Charlie was on his on. He would need to make a statement last week with his game. His statement had to say, " I am pretty good right now, but wait a few years and see what you will have on your hands…a "BEAST"  and that exactly what Charlie Ruoff did…make a statement!
Charlie Ruoff finally was told he made the CBA team, but he did not make the CBA team last week. He made that team years ago, when he went to basketball camp, week after camp. He made the team years ago, when he went to training session after training session. He made the  team because his work ethic, is much different, than most boys who play in the Shore Conference. He made the team long ago, because of the times, I would walk into the Hoop Group and he'd be the only boy in the gym shooting. He made the team long ago, by giving up trips, parties and fun things all kids his age do. He made the team by listening and being a sponge and coachable. He made the team when he was not put on so called "A" team, when playing AAU and didn't cry and wine….instead he outworked the world. He did this because he loves the game…you see it's his true love of the game that makes him who is really is…Basketball is Medicine for Charlie Ruoff.
I was happy to see Charlie Ruoff made the CBA team, but I am not surprised. Remember I told you, I was a great recruiter(bragging again). Well here is why I was good at my job. I had the ability to evaluate and see into the future. It's why I am maybe the only coach to ever recruit a D1, D2 and D3 drafted into the NBA. I knew when a kid skills sets, finally met physical development, what would happen next. I also always wanted to know a kids work ethic was, because without this, there can be no development. But more than anything else, I could look into a kids eye and know if they really loved the game, because if anything great is ever going to happen, it all starts right there…with that LOVE OF THE GAME, nothing carries more weight, when predicting a players future…. Folks CHARLIE RUOFF better go invest in a good pair of sunglasses…BECAUSE HIS FUTURE LOOKS..OHH SOOO VERY BRIGHT!
THE HOLIDAY HOOFEST IS DECEMBER 26TH-31TH…SPOTS ARE STILL AVAILABLE