Today's spotlight team is one the features on of the most important coaches in the AAU circuit and one of the best organizations. Lance Miller now has what is to be considered some of the best talent and players in Central Jersey. His 9th grade team has no peers when it comes to the overall talent and many are GYM RATS. They are the defending state champs in their age group and they have to set the standards for all others to follow. TEAM MILLER IS PART OF THE LIGHTING BASKETBALL FAMILY!
Before I start, I would like to clear up a little terminology. When I say a player is a lock Division one player, that means a player has an offer on the table or will have multiple D1 offers at some point.
When I call a player a GYM RAT,  that is a player I SEE PERSONALLY, or on a CONSTANT basic against top talent in the gym. These players get outside there comfort zone and their work ethic is bigger than their ability. These players will be better in college than in high school and can play at a level HIGHER than their recruitment. I believe you build programs with gym rats…they have an added value that recruiters do not get to see. Gym Rats are tough to find as all coaches know.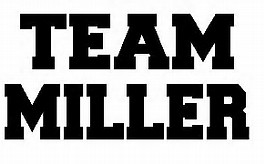 9th Grade Tournament Schedule
| | | |
| --- | --- | --- |
| Name | Date | Location |
| NJ Sparks | March 28-29 | Paterson, NJ |
| Team Miller Pre-Easter | April 4 | South Brunswick, NJ |
| TBD | April 11-12 | TBD |
| TBD | April 18-19 | TBD |
| Greensboro Spring Invite | April 24-26 | Greensboro, NC |
| TeamMiller/Coaches Choice | May 2-3 | Somerset, NJ |
| Hoop Group | May 30-31 | Neptune, NJ |
| Coaches Choice | June 6-7 | Kean University |
| TeamMiller/Team Sharp | June 20-21 | Clark, NJ |
| Black Diamond | June 27-28 | Scranton, PA |
| Blue Chip | July 5-8 | Lancaster, PA |
| Battle in the Boro | July 10-13 | Nashville, TN |
| GNBA Championship | July 23-25 | Baltimore, MD |
| Blue Chip | July 26-28 | Lancaster, PA |
Alexis Adams- 6'1- South Brunswick High School-Freshman- FORWARD
Let me get right to the point. This girl is one of the best young post players in the entire state. There is zero questions in my mind that if she chooses, she could be a BCS player one day. Alexis is a physical specimen, who is very athletic and strong.  She has an up and under move and back to the basket moves. She already plays defense in the post without fouling. She runs the floor like a guard. But what really puts here over the top is her competitive nature and her ability at such a young age to elevate her game against old talented D1 players. She is coachable and has a strong desire to improve…this is a young lady, high mid majors should try to steal and academic schools need to start recruiting now, because she is an 'A' student….this is the total package folks. RARE POST PLAYER WHO IS A GYM RAT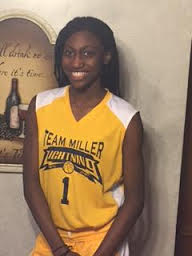 Diamond Miller-6'0″ 8th Grade-Franklin High School- COMBO Guard
​She is only in 8th grade, she is one of the most talented players in the state…RIGHT NOW! Her size for a point guard is rare, but her understanding of the game for such a young player is even more rare. There is no question that she is a future BCS player. She is bigger every time I see her and she's now starting to fill out…bad news across the state, if you play against her. Yes, she is the daughter of Lance Miller, and she is a rare jewel. Long and athletic she is a rare blend of speed, quickness, size and most importantly TALENT.  The 6 foot guard can attack of the dribble of make threes.  She can defend wing players, point guards and even act as a shot blocker on defense…Her impact across the state will be immediate that day she puts on a high school uniform.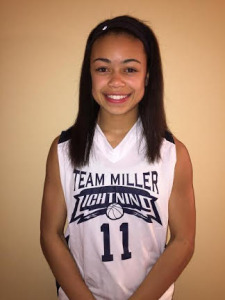 Nicole Johnson -5'5″ Freshman- East Brunswick High School- Point Guard
In the words of Lance Miller  "Nicole is a coaches dream when it comes to point guards".  Nicole Johnson better be on your mid major recruiting list. She had some big nights as freshman at East Brunswick. If Nicole Johnson was in the shore conference, make no mistakes, she would be 1st team All Freshman.  Her quickness and passing skills in traffic is as good as any freshman you will see. But the shooting skills from three point line is really what separates her from so many kids. Her quickness allows her to guard speedy point guards and her ability to get over screens at such a young age is another added benefit. Nicole Johnson most likely  will be named Player of the Year candidate one day. Like her brother, a Harvard grad, she is a A+ honor student. This is a cant miss kid, who mid major plus schools would be wise to start the recruiting process NOW. She is a TOTAL GYM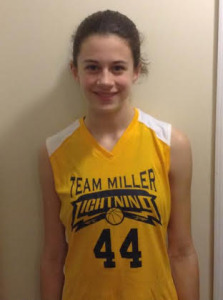 Brianna Maslonka-5'11"- Phillipsburg High School-FORWARD
I just love this kid, I saw her last year and knew she was going to be a special talent. She plays so hard and is so competitive, I also love that she is willing to travel to play against and with the best talent.  Lance Miller says "Brianna has a basketball body".  She is another  long and athletic  player that makes up this stacked crew.  she has shot  Blocking ability and can knock down 15-17 jumps…this is another kid with a wonderful upside. Playing against top competition all summer no question will speed up her development….Lance Miller says "she is a D1 player" I would never doubt Mr. Miller folks.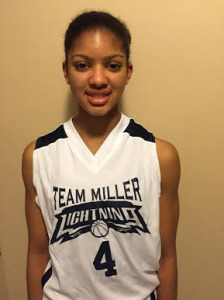 Camille Gray-5'8″-Freshman- Franklin High School-Swing
 I have not seen her play yet, but will see her this weekend. I will give you my thoughts, but here is what  Lance Miller thinks…"Camille sets the bar for pure athletes and intensity growing up with 3 older brothers".  She can knock down 3's and at the basket.  Can guard point guards to centers.  Projected Mid to High Division 1 Player. I am really excited to see this young lady this weekend.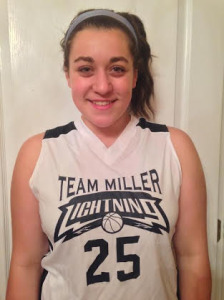 Allison Fisher -5'8″ Freshman – Hunterdon Central High School- Swing 
Lance Miller says-   "Allison brings toughness, grit and a 3 point shot to the table.  An undersized 4/5 in height, but not heart. ". I always  like when young players put themselves in a competitive teaching environments and Fisher has done just this and she hopes it will pay off…LONG TERM.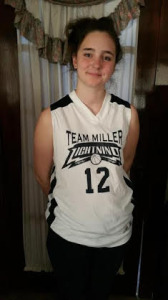 Brooke Moll -5'8″t Piscataway High School- Swing
Brook is the team designated 3 point shooter. Another player who is hoping to develop by playing against real competition. I will watch this weekend.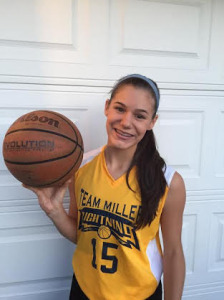 Sara Tavares-5'5″- Freshman-Somerville High School-Swing
 Lance Miller says- Sara is a Pro-Shot Disciple with her jump shot.  Leave her open and it's over.
 Sneaky, athletic and a pesky defender. I will give you more information on her after watching her this weekend.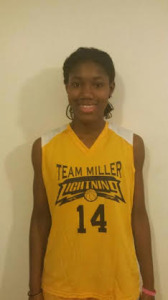 Kiara McCloud-5'5″- Freshman- Franklin High School- Shooting Guard.
 Lance Miller says- 'Kiara is a super athletic raw talent.  Great Defender with explosive speed'. Update after this weekend.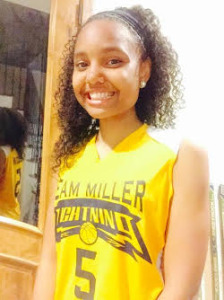 Dyliany De Leon -5'5″ Freshman- Monroe High School – Point Guard
Lance Miller says- 'Dyl is a tenacious defender who is improving daily on her guard skills'. More on this young lady after this weekend.
MY THOUGHTS ON TEAM MILLER /LIGHTING
The RUTGERS PREP TIP OFF TOURNAMENT starts this weekend and will give me a chance to see this crew for the first time since last year. They have a few new faces and I will follow up with my thoughts. Right now, no 9th grade team that I know of has this level of talent. Right now, no group of babies are this deep in talent and can match their length and overall team speed and size. I believe this will be a marquee group this summer for college coaches to watch.
MONDAY- POINT GUARD SCHOOL
TUESDAY/ THURSDAY- CORE SKILLS TRAINING
WEDNESDAY- DEAD EYE GAME SHOOTING
SUMMER CAMP DATES AND DISCOUNTS ARE NOW AVAILABLE