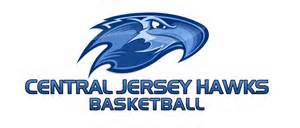 Today's spot- light team is a college coaches dream. They have a D1 player in every position. But what makes this team special is that they have some players coming into their own. These are players with a real upside who could be real surprises one day. They are the CENTRAL JERSEY HAWKS/LIGHTING LAUX     
Before I start I would like to clear up a little terminology. When I say a player is a lock Division one player that means a player has a offer on the table or will have multiple D1 offers at some point.
When I call a player a GYM RAT,  that is a player I SEE PERSONALLY, on a CONSTANT basic against top talent in the gym. These players get outside there comfort zone and there work ethic is bigger than there ability. These players will be better in college than high school and can play a level up HIGHER than there recruitment. I believe you build programs with gym rats…they have a added value recruiters do not get to see. Gym Rats are tough to find as all coaches know.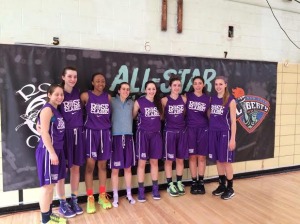 http://www.lightningbasketball.net/girl-teams/11th-grade-whalen/
HAWKS LAUX SUMMER SCHEDULE
March 28th( Rose Classic Brooklyn NY) 3 games
April 11th ( Blue Chip 3 Stripe Tip Off Classic, Philly, Pa) 2 games
April 24th
( Long Island Lightning Tournament) 2 games
April 24-26
( Blue Chip 3 Stripe Pre Season Challenge, Manheim Pa)
May 2
( Rose Classic  Brooklyn NY ) 2 games
June 6
( Comets Tournament, Philly PA) 2 games
July 10-12
( Chicago Nike Invitational NCAA Certified  Showcase)
July 22-25
( USJN Nike Championship Washington DC)
Playing up in U16 division in Every tournament except Chicago.
March 28th( Rose Classic Brooklyn NY) 3 games
April 11th ( Blue Chip 3 Stripe Tip Off Classic, Philly, Pa) 2 games
April 24th
( Long Island Lightning Tournament) 2 games
April 24-26
( Blue Chip 3 Stripe Pre Season Challenge, Manheim Pa)
May 2
( Rose Classic  Brooklyn NY ) 2 games
June 6
( Comets Tournament, Philly PA) 2 games
July 10-12
( Chicago Nike Invitational NCAA Certified  Showcase)
July 22-25
( USJN Nike Championship Washington DC)
Playing up in U16 division in Every tournament except Chicago.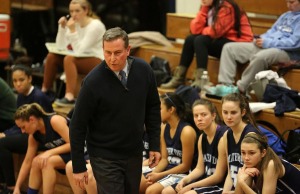 Coach  BRIAN LAUX– The Mater Dei girls head coach two years has been known years for his overachieving teams. Most of his AAU team is made up of St. Rose players and other players that have all played together for years.  He has coached against all of the them for years, this should benefit the players as he knows there weakness and strength. The team is made up of two of the best Freshman in the State and Top Sophomores. This is as compete a team as one will see this summer. Laux's head coaching experience is a real plus for this team as no parents are involved.
DIVISION ON LOCK PLAYERS-(5)
GYM RATS-(1)
BCS PLAYERS-(1/2)
THE ROSTER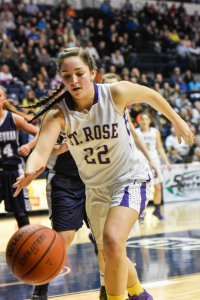 JEN LOURO- 5'8″- SOPHMORE-ST. ROSE- SHOOTING GUARD
One of the best Sophomores in the state of New Jersey. She is the younger sister of First Team All State and BCS bound Guard Jess Louro. Jen Louro was one of the most improved players in the state this year. She is a GYM RAT, who has become one of the best two way players in New Jersey. She has shown the ability to knock down the three as well as get to the rim. Blessed with a live college ready now right body, its no surprise college coaches are asking her to visit there campuses this summer. There are those that believe she will be better than her superstar sister. Right now she is a Division One lock, with an upside that nobody can measure. She will be a All Shore player the next two years…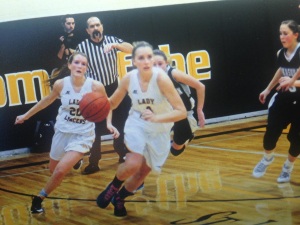 COURTNEY DOBRZYNSKI -5'10-SOPHMORE-SJV- SHOOTING GUARD
She started all season for SJV this past season. She has a top flight basketball IQ and total understanding of her teammates strengths. Her size for a her position makes her a nightmare matchup…especially at the next level. She is a underrated defender because she doesn't have blazing speed. But notice, nobody goes by her off the dribble and she is a first class rebounder on both sides of the glass…REAL NEXT LEVEL TYPE STUFF. She can knock down the mid-range jumper and look for her to show and develop her three point shooting ability this summer. Let me say this about this young lady, her passing skills and unselfish  play never goes out of style and college coaches pay attention, because it funny how she seems to always makes winning plays in BIG GAMES! I say  D1 is in her future down the road, if she continues to work…which I have no DOUBT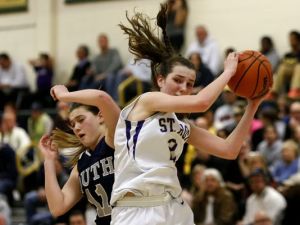 LOVING MARSCHIANO-6'1″-FRESHMAN-ST. ROSE- SWING/FORWARD
She is one of the best Freshman on the east coast, more importantly one of the nicest kids I have EVER DEALT WITH. I have never met a more polite, humble and true teammate in all my years. This young lady has program kid written all over her. Now for the basketball, she can knock down three's at 6'1″. She can put the ball on the ground with either hand. She can make all the passes in the paint or from the high post. She is one tough hombre and that is often over looked. Finally she can rebound in traffic against physical or athletic players. This all adds up to a future BCS player and those BCS schools sniffing around are going to find she will continue to improve because of her ability to accept coaching and her energy level. One of the best players in the state for years to come…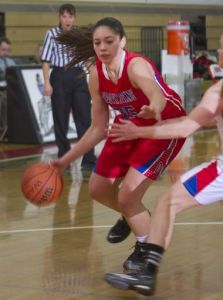 LUCINDA THOMAS-6'0″-FRESHMAN-HIGH SCHOOL UNDECIDED-FORWARD
College coaches and fans this is the most skilled post players I have seen since Top 100 player Sam Clark. One day she will be one of the most recruited players in New Jersey. The SHORE CONFERENCE FRESHMAN OF THE YEAR, put up historical numbers this season. She has the best set of young hands I have EVER SEEN in all my years following the Shore Conference. She can bury 18 footers till the cows come home. But what makes her special is this, she is never out of control. Double teams and aggressive play by defenders does not bother her. She has that rare ability in young post players, to slow down or speed up, while making plays for herself or a teammate. She has every post move in the book, and her post up skills are rare and effective against all. She is a future Player of the Year Candidate who has come from seemingly  nowhere. Expect everyone and there grandma to recruit this young lady over the next 3 years. Along with Loving Marchiano they form the best one, two BABY post players punch on the AAU Circuit in years.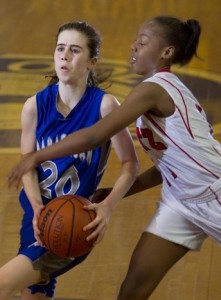 MIKAYLA MARKHAM-5'8″- FRESHMAN- ST. ROSE HIGH SCHOOL- POINT GUARD
When the first phone call you receive on a Sunday morning is from a D1 coach telling you how angry he is for missing a recruits; fathers call …you know that player is special. Let me get right to a fact. This could be one of the most talented true point guard in the shore we have seen for years. I also know if she chooses she will attend a BCS school one day. What most don't know is this… In just a year, she has gotten taller and stronger. In just a year she has developed into a DEEP THREE POINT SHOOTER. This is what separates her from a lot of point guards…older and younger. Yesterday in a scrimmage she hit 6 straight deep threes and I mean deep three point shots in a row. Next her athleticism, quickness and vision is already next level type stuff. Her deep three to beat SJV in the states may come as a surprise to some, but not to her teammates or Joe Whalen. She never changes the expression on her face, but is a real leader by example and get this….cheering for her teammates I nothing new! She has played in some big games already in her young career but more importantly has answered the bell…NO FRESHMAN HAD MORE RESPONSIABLITY DURING THE SEASON… Can't miss future star!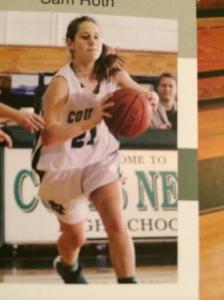 SAM ROTH-5'5″- SOPHMORE- COLTS NECK HIGH SCHOOL- POINT GUARD
Sam Roth continues to develop as went from sub to starter for Colts Neck High School. She gets better each time I see her. She had a growth spell this year, grew 2 inches and has gotten visibly stronger and thicker. Her ball handling and passing skills will jump out at you right away. She is not afraid to challenge guards off the dribble. She can defend both in half and full court. She is an improving scorer. She is a real teammate in the sense she will not take bad shots. But she also will not turn the ball over and this is huge at her size. If she becomes a little better scorer …WATCH OUT. Why do I say that? Because she has the ability to go by almost anyone off the dribble and is tough to keep in front in transition. I love the improvement this young lady has made each year and her upside is one coaches would be wise to pay attention to closely, because nobody knows where this young lady's level will play out in the end, because of her upside…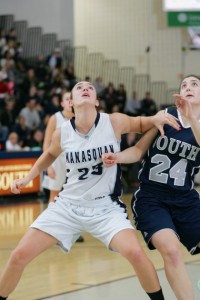 ALEX BALSAMO-5'9″- SOPHMORE- MIDDLETOWN SOUTH HIGH – SWING
I have long said this is a underrated player. She was having a great freshman before injury set her back. This year she helped Middletown get to the TOC and at times carried her team on both sides of the ball. She is physically tough and aggressive on both offense and defense. She is not afraid to take big shots as she proved in the State tournament. She is not afraid to throw her body around and get to the foul line. She is a tough matchup for guards and forwards, yet she can guard both. She seems to only be getting better and better. The ball handling skills took a major jump forward this year. Folks, understand this young lady has played against the best competition for years on the AAU circuit and in high school. She will be a player that will not back down or be intimidated by much of anything. She is a player that coaches would be wise to watch play a number of times…the more you see the more she grows on you.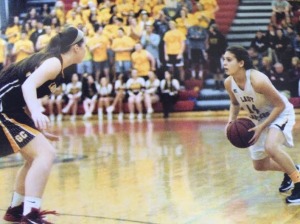 RILEY KEHOE- 5'6″- SJV-SOPHMORE-COMBO GUARD
So here is a classic example of why kids gets lost. She plays at SJV who have 4 D1 guards ahead of her in the lineup. Now there is a double edge sword when this happens. First you get little playing time in real games. But you get to play against the best players 6 days a week in practice. The player gets better but nobody gets to see that improvement. This is when AAU basketball is heaven sent. It doesn't hurt to play on a AAU team with some of the best young talent in New Jersey, because now RILEY KEHOE will get tons of exposure and all those practices at SJV will help her showcase her talents. She has natural quickness and is very aggressive on defense. This could be a real sleeper player for somebody playing close attention. She would be in the rotation at almost every other team in the shore. But what really impresses me about Riley is this…WHEN IS THE LAST TIME YOU'VE SEEN A KID STICK IT OUT UNDER HER CIRCUMSTANTCES.
TEAM UPDATE
ALEXANDRIA PENDERGRASS is one of the best athletes these eyes has ever seen. She most likely will join this team at some point
JASMINE GREENE I have yet to see play and will give you a full update the moment I lay eyes on her..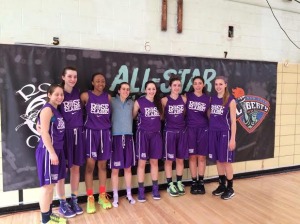 MY THOUGHTS ON THE CENTRAL JERSEY HAWK LIGHTING LUNX TEAM
This is a much see group for a number of reasons. It rare such a young team has so many lock D1 players in DIFFERENT POSITIONS. The Hawks have two of the best freshman post players in the entire state and one of the best freshman guards in the entire state. Throw in THE HIGHLY RATED sophomores you have some of the best young players not only in the shore but the entire state up and down the roster. More importantly all these kids have played not only on winning teams, but played major roles. I also like that they have players like Roth and Kehoe who could one day be a high demand kids. This is the perfect blend of kids. I had a chance to work the Hawks out on Friday, they have great work ethics and wonderful chemistry that you rarely find in AAU basketball. There schedule is set up perfect for the summer. There is ample room for kids to attend Elite Camps in June and they are not playing every weekend…This could become of the most well run teams to go along with the mega talent.
NBS HAS SPOTS AVAILABLE FOR TOMORROW NIGHT AT 6PM…SEE YOU THERE!
s