I have read some crazy stories in my time, but none is more shocking than the one I read yesterday in the Asbury Park Press written by Jerry Carino (http://www.app.com/story/sports/2014/09/30/daisha-simmons-rutgers-seton-hall-alabama-womens-basketball-gill-st-bernards/16493385/). It involves one of the biggest names in college athletics and a young lady who has fought her entire life to better herself and make no mistake.  The odds have been against her and she has beaten them.  But I'm sure she never dreamed she would be penalized for getting her college degree, before her eligibility ran out.
Alabama is one of the biggest names in college sports. The main reason for this success is the football team. A team made up of a whole lot of brothers, you know what I mean: young black males. Many of them come from single parents homes and low income families. When Nick Saban comes into their homes, I'm sure he tells these young men, I will do everything in my power to help you get a quality education. I'm sure he also tells them they MUST do their part, such as, stay out of trouble, be a positive representative of the Tide program and finally go to class, so they can get their degree. If they do all these things, I'm sure Nick Saban, then tells then he will support them in anything they want to do. Now to be honest with you every coach college makes this speech, but do they really mean it?….Nick Saban may mean it but one thing is clear, his AD as well as women's coach Kristy Curry DOESN'T.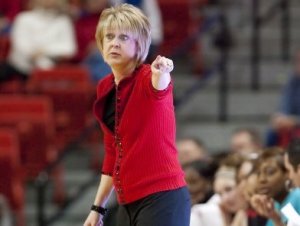 Coach Curry heavy handed approach is Shocking!
I give you Daisha Simmons, Alabama women's basketball star guard and a very important part of Kristy Curry program. Now I won't give you a history of Daisha Simmons activity at Alabama, but read this if want a full re cap (http://www.swishappeal.com/2014/10/2/6884101/daisha-simmons-transfer-alabama-seton-hall-jay-bilas)  because there is no need to in this case. Because this is a story about mean spirited behavior, deception, lack of compassion and Arrogance of the highest level.
Daisha Simmons is like a lot urban kids playing college basketball, she's from a single parent household, who just happens to be a hell of a basketball player. I remember when my good friend Coach Stringer recruited her at Rutgers. Coach Stringer loved Daisha and wanted her to become a strong successful Black Women one day. She wanted Daisha to handle her business. You see Coach Stringer takes little girls and turns them into women. So when Daisha Simmons decided to leave Rutgers I'm sure Coach Stringer was disappointed. But she allowed Daisha to leave and wished her well. Why? Because she understands kids need to be happy to be successful. But more importantly Daisha Simmons handled her business while at Rutgers, she went to class, got good grades, was a positive representative of the school, in other words Daisha Simmons did everything a student athlete is expected to do while at a college, she was NOT A PAIN IN THE ASS…You  see college basketball is a business to coaches and an experience for kids….Coach Stringer understand this.
Don't most of us, praise kids who get their degrees before their eligibility runs out? With everyone talking about the poor graduation rates of African American athletes, Daisha Simmons could be a poster child for all young black kids to model themselves after. Don't we praise kids who shine on the court and have no issues off? Simmons was a star player, who got along with her teammates and fellow classmates.  Don't coaches love kids who are always on time and are never a issue in the lockeroom?  The answer to those questions is yes and Daisha Simmons is just that kid. So when she decided to transfer from Alabama in late May,  Kristy Curry had a panic attack because acquiring a replacement of Simmons ability would be impossible.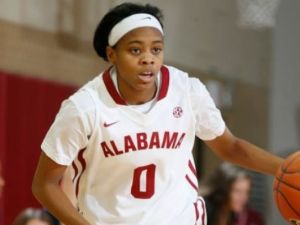 Simmons must feel she in living a  Nightmare
Alabama women's basketball is as important to the Alabama community as frog watching. If you read about the Alabama basketball team in their media guide, they talk about the community service the players do. It talks about all the good Coach Curry does away from the court. They even talk about how the attendance has grown to over 2,000 people a game (I can't make that one up) and they brag about how Coach Curry is a Kay Wow winner. These are all wonderful things, but what they don't talk about is WINNING BASKETBALL GAMES…Because they don't do a lot of that and that's where Daisha Simmons comes into play.
Miss Simmons can help change what they are writing about in the Alabama media guide.  Coach Curry wants to win some games, because she knows more than anyone else after her experience at the once proud Texas Tech program, winning and job security go hand and hand. Curry went a shocking  46-70 (Big 12 Conference play) over 7 years at Texas Tech, which was 258 -89 in the ten years prior to her arrival. Texas Tech went from one of the best women's program in the country to just trying to hold on to there respect under coach Curry. Alabama women's basketball may be a total afterthought to the community but they still want to win, and Curry knows this!
Kristy Curry has coached at a number of schools. She has what many would call a solid background. No final fours or National Championships but a solid controversy free career. But Alabama in her mind is on the verge of a break though in women's basketball, they won there most games since 2002 last season, when they won 7 conference games and won 14 games overall. Now not that I want to rain on there parade but when Colgate wins 14 games its pretty impressive, because of the academic restrictions they must work under…. folks NOBODY is calling Alabama, the Colgate of the south. There fans answered the bell according to the Alabama Media Guide when 3000 fan showed up for a game against U of Tennessee…LOL. Folks Middle Tennessee has that many people at a game when they play the sisters of the blind. When they played Tennessee 14,00 people show up…that's called answering the bell people. This stuff would almost be comical if it didn't involve a young lady's future, who has beat the odds and done everything the right during her time at Alabama. Coach Curry has lost sight of what is important!
Why does Alabama not want to give Daisha Simmons a full release to allow her to play? Because they are being mean spirited, because she has decided her life needs a new path. Why does Alabama not want to give Simmons a release? Because when is the next time they will recruit a kid from this area? Never, because no school would go down this road, and expect to return. Why won't they give Simmons a full release? because they  thought a young lady who has graduated and fulfilled her academic obligations some how owed them something more.  Why did they grant her a partial release? Because of deception, meaning if its not just about basketball, she could still get her education… basically saying to her,  didn't you leave, because of education? Well go get your education. You see they want you to believe they are not preventing her from pursing her academic endeavors, but yet clearly trying to end her athletic career by not recommending she be allowed to play this year. But the NCAA ruined this plan by stepping in and giving her an additional year, regardless of the this outcome. But the biggest reason why they won't give Simmons her release is this…LACK OF COMPASSION. Simmons has two family members who are sick and she wants to be close to them. If she is using this as a way to get out of playing basketball for Alabama…WHO CARES…because her family members are REALLY SICK…shouldn't a KAY WOW winner understand this more than anyone else and encourage her to be closer to her family, regardless of how she feels?
At the end of the day none of this matters and neither does the fact that Daisha Simmons has done everything that has been asked of her by the U of Alabama. Soon it will become about saving face, once more media gets involved …remember Kansas State? Soon this it will become about damage control, soon somebody is going to want to know more about Kristy Curry and why she is behaving this way. Soon a lot are people who matter are going to want answers and not the one like this…
"Given the timing that she wanted to transfer left little or no time for the women's basketball team to make alternate plans to replace her," Alabama director of athletics Bill Battle.
What Bill Battle forgot to also say, was he are going to make her pay for this decision and send a message to everyone watching. This was not going to be a teaching moment or a caring moment ….for Alabama it was a business moment!
I am always shocked how coaches and ADs more and more pick fights that ruin there brands and more importantly in some case cost them their creditability…because remember you heard this hear first…this story is not over and will continue to grow legs…..ESPN, CNN, Football folks and most of all people who care about kids who do the right thing care will get involved…just watch!
Now for the record not every kid who walks in a coaches door asking for a release should not get one. Some times a kid doesn't deserved one because of behavior or tampering. If a player doesn't follow rules, do there best or give it the old college try….They  do not deserve a release. If a player has been recruited or tampered with by another school, a player should not be given a release. But in this case none of those things took place, this is simply about a coach wanting a kid to stay and if she can't have her nobody else will.
Interesting Kristy Curry had no problem leaving Texas Tech to save and better her career! But she has the nerve not to want the same for a inner city kid who had none of the advantages she did growing up. Somehow now Miss "College Graduate" Simmons  who has overcome it all along the way, now has to deal with another road block by someone who has made millions of dollars coaching young ladies like herself.
Coach Curry has no concern about Simmons future goals like the her masters degree or her dream of playing in the WNBA. She wants to teach Daisha Simmons a lesson and make her pay for dear leaving Alabama, and making her job much tougher. But what really bothers me about Coach Curry is this…. Her total lack of concern over the stress this must be putting on Simmons sick mother and dying brother….this my friends is a DAMM DISGRACE...Most human beings would say leave and while bitter get on with there business….
If you are a parent whose kid  does all the right things, you would be wise to look at the background of not just the coaches, but the ADs of the school which your child plans to attend…because not everyone is trying to educate, their are some trying to eliminate!