There is no question that injuries play a major role in the future of players and their teams. This year  4 injuries may change the entire landscape in the SHORE CONFERNCE, because when future D1 players get hurt they are not easily replaced.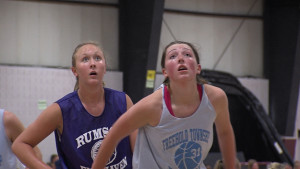 WAGNER IS NOW PLAYING FOR NEC CHAMPS… ST. FRANCIS OF NEW YORK
Tori Wagner is getting to ready to began her freshman year at NEC champion and NCAA tourney team St. Francis of NY. All this was in jeopardy at one time, when she tore her ACL as a sophomore. The same can be said about Jill BRUNORI who has started at Wake Forrest of the ACC since her freshman year. Brunori injured her ACL in her senior year. But what everyone forgets is that both injuries played a major role in their teams fortune's. In the case of Jill Brunori it may have cost SJV a SCT.  Tori Wagner never fully recovered until the end of her senior year, when Freehold finally went on a  late season run. This year the Shore has Four Division One players who will START the year on the sidelines. These players all could play major roles in deciding the SHORE CONFERFENCE TOURNEY CHAMPION.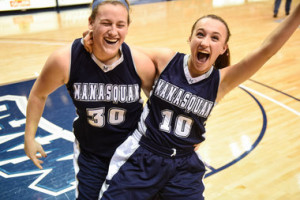 GALVAN(#30) was the missing piece in MANSQUAN'S run to a TOC and SCT TITLE
When Victoria Galvan tore her ACL while training at he NBS camp, it appeared not to be serious. She just running in for a layup and she walked off the court on her own power. But a week later she joined fellow Manasquan teammate Gillian Black on the sidelines for what has become a extended period of time with a ACL injury. Galvan has already given South Carolina a verbal in softball. But she is also one of the best young post players in the state. There is zero question she would be a D1 basketball player, if she choose to pursue basketball in college. Blessed with a great feel for the game and  a soft shooting touch to the three point line. She is one of the best rebounders in the shore and as athletic of a post player you will see in the ENTRIE state. But her injury is a major blow to Manasquan, who has nobody to replace her size. With the injury to Galvan, Manasquan goes from having one of the best front lines in the state to a team in need of size, experience, rebounding and defense. While freshman Faith Mansonious is already one of the best players in the state. She is still a freshman and Galvan would have made her life easier. Galvan also played her best games on the biggest stages last season and without her Manasquan is not SCT or TOC champs. Masonious will now be asked not only to help replace Mabrey up front but Galvan as well. A tall order for almost any freshman regardless of how talented. Masonious who is a natural swing player will be asked to play a lot more inside than expected on both sides of the ball Losing Galvan means Manasquan goes from a TOP 5 team in the state and Shore TOP 3 team…. to a team that will need to adjust AND MORE IMPORTANLY CAN THEY SURVIVE UNTIL JAN WHEN VICOTRIA GALVAN RETURNS?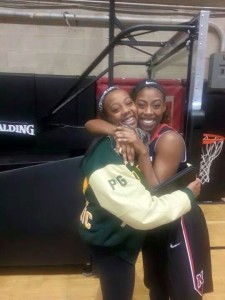 BOTH SISTERS HAD ACL SURGERY THIS YEAR
Junior TIA MONTAGNE was one of the best freshman in all of New Jersey two years ago. She was and still is a future D1 lock player. Many believed she would be better than her older sister who is a star at Northeastern University until tearing her ACL this past year. Tia started at RBC her freshman year and showed signs of greatness. It was thought with last year's incoming freshman class and a year of experience under her belt, TIA and RBC was going to be rolling. But in a strange twist of fate Tia joined her sister on the sidelines with…you guessed it a torn ACL. With that RBC lost the leadership she could have provided the young Casey's. Her ball handling and scoring would have been just want the doctor ordered last year for the young Casey's, who at times needed to work so hard to score. Rose Caverly was asked to carry almost all the ball handling and point guard duties for RBC, rather than share them with Montagne. But when Montagne returns this year. RBC will have two D1 point guards in their line up. Caverly and Montagne make up a special duo of point guards because both can swing to the shooting guard spot. Tia Montagne will give RBC a impact player and more importantly a player who can MAKE PLAYS with her creativity…I am talking BIG PLAYS. She will add something RBC is in desperate need of ….FOOT SPEED and timely baskets when the offense breaks down! She will return at some point and when she does RBC becomes a real dangerous team….dangerous enough to beat ANYONE!
Southern High school has been knocking on the door for years now. They have a great young talent like Sophomore Colleen Brady, a rapily devolping player who could have a break out season this year. She has a real chance to be a Division One player on day. Senior Bianca Nicolini is a full blown star these days. Last season she had a big year and proved she could play with the very best.  Morgan Henderson is one of the most underrated players in the shore. She just knows how to compete and is a player that WILL get things done. Southern is a team knocking on greatness. In the past Southern just seemed to come up short time and time again in a effort to get that program defining win. But future D1  post player, GABBY DAVIS was going to be a seasoned junior this year. She was going to be the backbone to what looked like a special season developing. This group was going to finally have all the parts. Experience, a star guard, a developing baby coming in to her own, a heady underrated player that people would sleep on and that all important stud post player. Everything it seemed was in place to get that ALL IMPORTANT PROGRAM WIN this year. But then Southern's Future D1 post player injuried her ankle this spring. Gabby Davis missed not only the summer recruiting period with her ankle injury but will not return until December. This is desvasting to a team that has been so close in the past. Gabby Davis is a gym rat who spent the spring living in the gym. She was becoming a force and more importantly it looked like Southern could finally run there offense though her. But that has all changed as Davis will not even hit the floor until December. How long will it take her to get back in basketball shape? Can a player sit out  5 months and be ready to go at the start of the season? It may take Davis weeks into the season to get back to 100%. But more importantly how long will it take Southern to learn how to use her? Last year at times they forgot about her and that was expected to change this year. Will they have to start over when she gets back or will they figure it out before its too late?  Southern I don't believe could win the SCT but with a 100% Gabby Davis they could no question KNOCK OUT A TEAM THAT COULD…
Three years ago Senior Emily Uribe of SJV was considered one of the best freshman in New Jersey. After her sophomore year she showed signs of stardom. She even gave D1 Wagner College a verbal…she was that good. Yesterday a D1 coach asked me "what I thought Emily Urbie was going to do"  Yes, things have changed that much for this awesome young lady. One of the most well liked kids in the shore tore her ACL for the 2nd time, this spring. There is no question this was heart breaking news for ALL. Not because now she is in the fight of her life for her basketball career, but because she spent so much time, working SO HARD to come back from the first ACL injury. It seems almost cruel and unfair that such a quality kid should have to go though this again. Losing Emily Urbie does not move SJV off it's postion as the clear favorite to win the SCT or TOC. SJV has so much talent, every player on their roster is replaceable. But Emily Urbie brought more to the table than her basketball skills. She was a program player, a kid who loves her teammates and school. She is a kid that showed you can battle back from anything….and Now she WILL DO IT AGAIN. With Emily Urbie SJV was almost unbeatable and now…OPPONENTS HAVE HOPE!
HOOP GROUP is now accepting registration for the PRE-SEASON PREP ON TUEDAYS AND THURSDAYS…the limit has been set at 45 kids. I highly recommend everyone consider this program to get ready for the season….good luck!