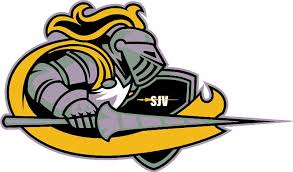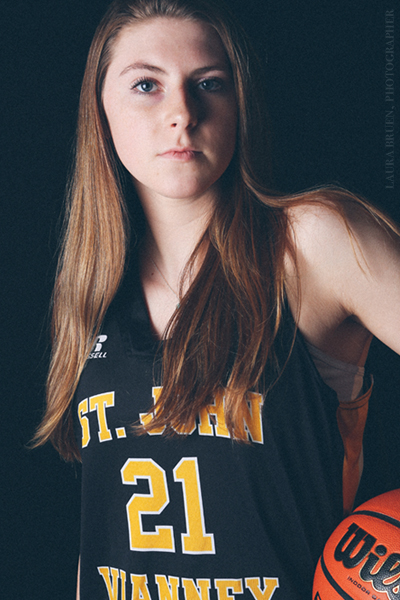 This week school starts for most. This week many kids will start a journey of lifetime memories. Included among those kids will be freshman basketball players from across the state; hoping to make their mark. They will hope to be successful or maybe even stars once the basketball season starts. One of the kids who will NOT be on a new journey is JANIE BACHMANN. She will continue on the journey she started a year ago at SJV. You may not know Janie Bachman and that's okay. Because I do and soon you will know her as well. But for now now, here is a strong message to D1 college coaches … You better recruit her now and OFFER HER NOW (do I have to brag about my track record in such matters). Because Janie will be another SJV GREAT.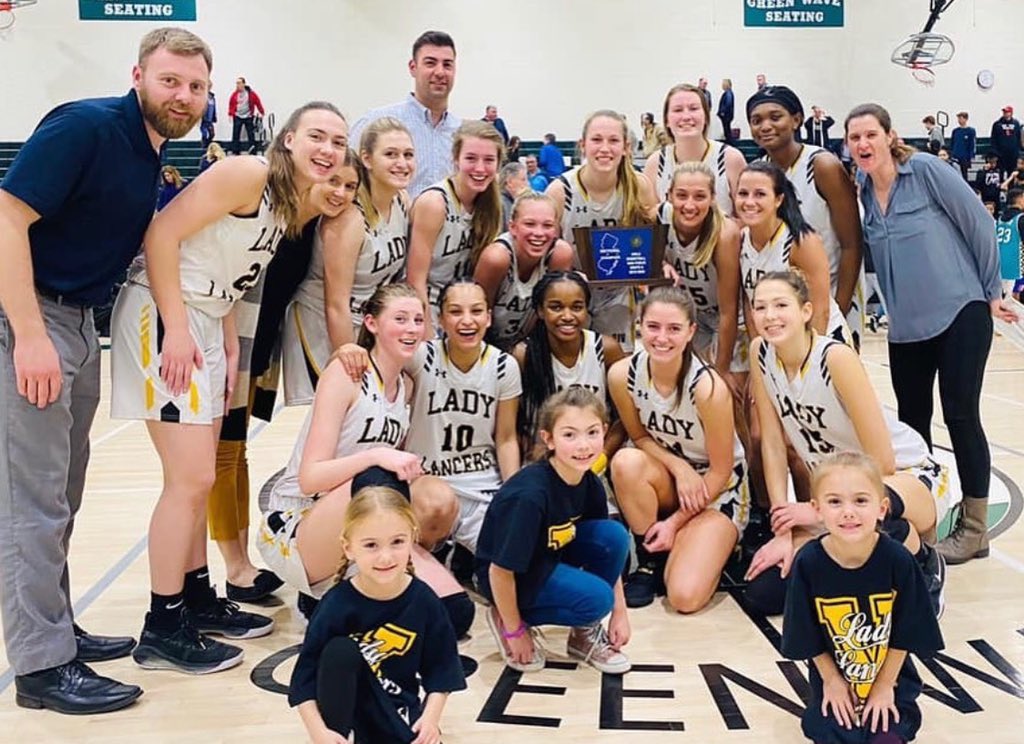 Last season there were some great freshman, one of the best classes in recent Shore history. They scored lots of points. They got lots of playing time. They won awards and got to read their names in the paper. Many became household names. JANIE BACHMANN of SJV wasn't one of those freshman. Instead she spent her time in the most competitive high school environment on planet earth. She spent her time working and playing with a nationally ranked team. Soon to be top 10 in the country this year. She spent last year practicing and playing with the #1 team in the state SJV. She spent her time hearing truth everyday. JANIE BACHMANN spent last season NOT winning awards or getting much attention.. instead she spent her time getting better, isn't that what all SJV kids do? GET BETTER. Janie BACHMANN is just following a tradition at SJV. Learn your craft.. then go kick ass! Maybe that belongs on a SJV t-shirt….because it's truth.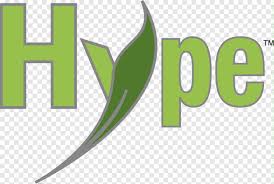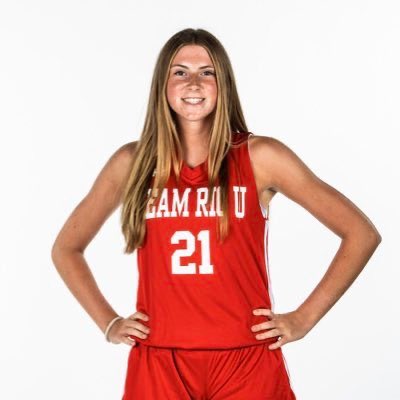 If you don't think Janie BACHMANN was one of the best freshman in the state of NEW JERSEY last year. I only have one thing to say to you… GET OFF THE CRACK! I see them all and Janie BACHMANN would have been in every Top Team in the Shore's starting lineup or top six. That is a fact my friends and she would have made a run for Freshman of The Year. But Janie decided to do what the competitive ones do, what the great ones do. She chose coaching and development over short term hype. You see these days kids are making athletic decisions based on promises of greatness, playing time and points. They live for the hype, their family and friends feed off the hype. At SJV the only promise you get from Coach Dawn Karpell, is there will be free water at practice… well maybe. But you WILL GET COACHED UP.. HELD ACCOUNTABLE.. IMPROVE AS A PLAYER AND PLAY FOR CHIPS every year. You see not every kid is built for this challenge. But this is what separates ST. JOHN VIANNEY from every other program and what separates JANIE BACHMANN👍
This summer JANIE BACHMANN came to the NBS CAMP (Coaches please pay close attention to what I am about to say). All week she just played. There was no crying about not being in the top 20 game. No parents calling and pleading her case. No sucking up to coaches and trying to politic her way through the week. No, Janie showed up and just played. It was this that caught my eye more than anything. Not her insane length and active hands. Not her size at 5'10" and elite quickness for a combo guard. Not her ability to finish better than any freshman in the shore at the rim(coaches by the way it's a gift). It wasn't her vision off the bounce vs pressure or her ability to guard on and off the ball. There are tons of three level scorers these days. Janie Bachmann is that rare 4 level scorer. But that's not what impressed me…Nope, I have seen all that from her before, it was her ELITE ATTITUDE AND WORK ETHIC that brought joy to my eyes. A talented young player who is not full of themselves and willing to work for everything. In the words of the church lady "isn't that special"… it's why ALL SHORE is in her future and why she is a high Major D1 lock…. THE CHEAT SHEET DON'T LIE baby.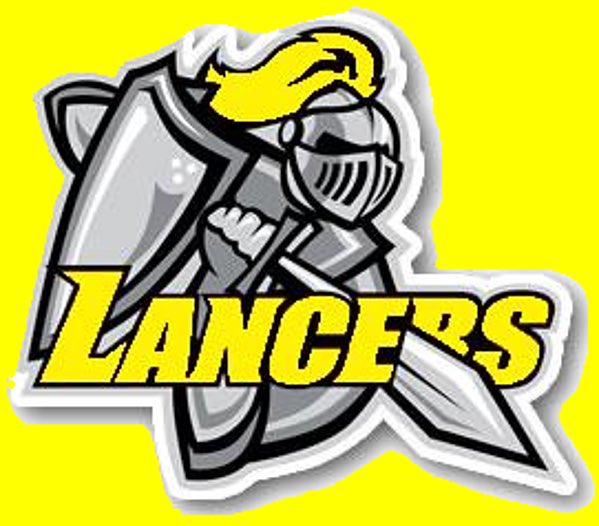 Like most SJV players JANIE BACHMANN sits and waits her turn. Last year, she played the role so many before her have played. She came off the bench to provide energy and pressure on opponents. But SJV was very young on there way to a SCT title. They had no seniors, mostly seasoned juniors and the best sophomore in the state. Madison St. Rose was the state player of the year. JANIE BACHMANN knows every junior and Madison St. Rose at SJV has played her role before her at some point. So her job is to get better everyday. To practice like her life depends on it. Well it does at SJV because if you don't go hard, you will get exposed. JANIE BACHMANN Is already the total package. In fact right now, no other 2023 and I said NONE, with no exceptions in the Shore brings her total package to the table. She see's top competition in practices everyday. She plays against the best teams in the state and country. She is that rare two way player, right now. She is an elite teammate. Her work habits are next level. Now throw in the college ready size and length ALREADY.. and you get one very special player… no other freshman has this environment which to build on. JANIE understands you can't do epic stuff with basic people… it's why she went to SJV!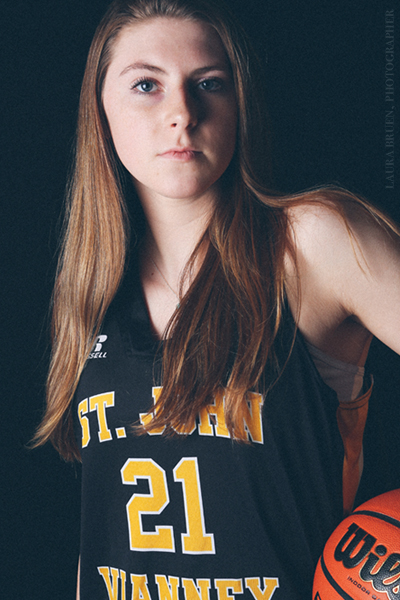 So college coaches here is a little advice. Consider it a PSA. JANIE BACHMANN better on the top of your recruiting board right now. This is one of the rare ones. Mega talented and drama free. She loves our game and plays it with such passion. She plays our game the right way. She checks every box a young player can check and more… she is a future STAR! Remember I TOLD YOU SO🏀
NEXT WEEK
HOOP GROUP FALL TRAINING BEGINS …. (please understand only 25 players per session)