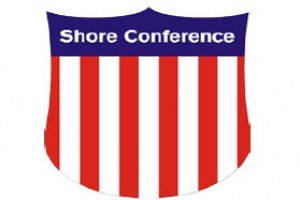 What a night in the Shore conference as we saw great individual  performance's, Babies growing up, upsets and near upsets. Then finally another State Top Ten joined the SJV Double/Double club.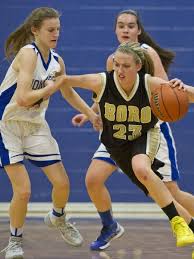 What a week for Megan Hughes
Point. Boro was suppose to have a nice quite season. They were suppose to spend the year getting kicked around. When they beat Donavan Catholic early in the season people were surprised. But yesterday they took things to another level. Megan Hughes is a future D1 player and yesterday Manchester found out why. Hughes scored the first 16 points of the game for Pt. Boro (check the record books). She finished with 32 points and 7 rebounds. So just like that, Pt. Boro cooled off the hottest and most underrated team in the shore with a 60-57 win. Pt. Boro now owns the biggest upset of the year in the Shore. Ally Lassen had a double/double with 17 points and a whopping 14 rebounds for Boro. She has quietly been having a great season. Don't look now but guess who is only a game behind Manchester in B South? Nobody could have predicted this and who would have  predicted Dave Drew would be one of the leading  candidates for Coach Of The Year.

When Tom River North got the news that two of the best Freshman in New Jersey would be attending their school. They had to know things would be different in years to come. Last night things to come came early as TRN beat Southern at Southern. Its takes time for babies to grow. Too much attention and everyone gets upset, too many up and down games and the babies get upset. But yesterday a few babies and big time senior sent a message loud and clear…there is a new sheriff coming to town and you better get ready. It has taken TRN some ups and downs to get to yesterday. But Coach Gillian hit pay dirt last night. In her team's huge  win on the road over Southern. Freshman sensation Jenna Paul had 18 points, Senior Ashley Tutzauer continues to be the backbone, as she had 12 points and freshman superstar Brielle Bisogno ran the show.  Southern has now lost back to back games and could fall out of the Shore Top Ten. Nicole Nicolini had 17 points yesterday to no avail. Guess who is in first place in A SOUTH? TOM RIVER EAST and Southern and TRN are one game back. Southern plays TRE on Wednesday and it could be a 3 way tie come next  week in A South…FOLKS it's all out war to win A SOUTH.
STELLA CLARKE REMEMBERED HER "A" GAME
While Pt Boro was pulling off the upset. Marlboro was looking for that next level win again. It's clear Marlboro will play just about anyone. People this is not a SJV, RFH who are loaded with D1 players up and down the roster. But that doesn't seem to matter to the Marlboro coaching staff, which has challenged their team with a insane non conference schedule, the Mustangs'  have played 7 Top 10 teams in the state. You have to tip your hat to this team and the entire program.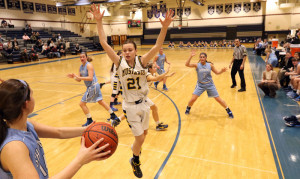 JESS BROAD AND MARLBORO STILL SEARCHING
While Marlbro has played well  at times in these games. They have yet to put a entire 32 minutes together, in most cases they have fell apart late or have had a bad quarter as was the case on Thursday against #7 Middletown South. Yesterday they put together 30 minutes and because of that, it resulted in another lost to a top 10 team. Trailing Manasquan down 4 with the ball and under 2 minutes, Marlboro fell apart down the stretch.Manasquan was not asleep at the wheel and lucky for them. They choose the right night to have their stars shine in what could have been a trap game. Manasquan stars showed up big time, Dara Mabrey and Faith Masonius had 18 points while Stellar Clarke had a Double/Double(15 points, 10 rebounds).  It was a good thing they brought their "A" games, because Tatum Evans lead all scorers with 19 points and 12 boards and Jess Broad had 10 points…Marlboro almost pulled off the biggest upset since David took on Goliath, instead they are right back to the drawing board…. still searching for that program win.
My guess is Dawn Karpell picks up the phone and the conversation goes something like this  "are you one of the top teams in your state or the country?  okay great, lets play anytime, anywhere or any place ay your choosing" SJV this week played RFH at RFH and slapped the #5 team in the state with a double diget lost. Yesterday that drove down to #9 Lenape and  beat them 62-43. RFH and Lenape will not be lonely, because there are going to be a lot of teams joining the Double /Double club SJV is forming.  Kelly Campbell had 24 points last night appears to be will…KELLY CAMPBELL. Lenape suffered it first lost of the season and SJV just keeps rolling. Bye the way Dawn is in negotiations with the Golden State Warriors for a home and home series…rumour is that she is willing to go  on the road twice to Golden State to get the deal done. Step Curry says he wants NO Part of it..in his words "look what they done to every top team they played recently…they CRUSHED THEM".
Stephanie Karcz in 24 hours posted her 2nd Double /Double last night. She had 38 points, 16 rebounds and 11 steals. IN 24 HOURS  Karcz had 70 points , 26 rebounds, 11 dimes, 3 blocks and 21 steals. Now what's so crazy about this…it may not be enough to week player of the week…think it was a big week in the shore folks?  Middletown South just hammered Marlboro and Manalapan this week and they are ranked #7 in the state. Alex Balsamo continues her role as one of the best Robin's to Karcz's Batman, she had 14 points and 7 rebounds yesterday.  Now the bad news, Middletown South is still waiting on test results on Haley Dalonzo who hurt her knee against Marlboro…lets keep our fingers crossed folks.