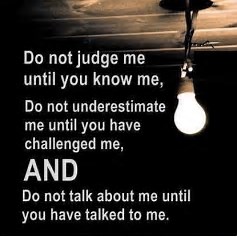 I AM NEVER SURPRISED  when it comes to the recruiting process. Here are a few names Megan McGuinness(All Patriot), Kristen Sharkey (All MAC) Katie O'Reilly (All Patroit) Zoe Pero (All MAAC Freshman Team) , Sara Olson currently playing professionally in Europe, (All Rookie and All MAAC). Sam Gustellla (All MAAC )currently playing professionally in Europe. Katie Sire (D3 All American) This list could literally go on for days. What do all these players have in common. They were grossly under recruited and in most cases had only one offer.
HANNAH SCANLANwas All Shore, All State and just about all everything. She is 6'2″ lighting fast and a left handed post player. Hannah Scanlan was the most under recruited player, maybe in Shore history. She chose Bryant University; how can a kid everyone agrees is a high major at worst be so missed? It's simple, she never trained in high profile settings against elite players. She is not a gym rat, so no reputation was created. She never played for a team that truly featured her during her AAU career.  Finally, piror  to her senior year, she played on a high school team that relyed on jump shooting. All this created a perfect storm for a great player to be missed. Scanlon was just another tall athletic kid. But here is the catch, Bryant asst coach Jonathan Parsons knew something nobody else  did. He watched Scanlan play her junior year on a number of occasions. Then he watched her all spring in her AAU games, HE SAW HER OVER AND OVER. it's why he knew what nobody else did…she was a superstar at his level. He was that rare coach who saw a kid over a long period of time. Coaches inability to watch kids play consistently over a long period of time; lack of information and evaluation are the biggest reason kids are under recruited and valued
HERE IS A FEW EXAMPLE OF UNDER RECRUITED PLAYERS AND WHY…remember.. because a kid has a offer doesn't mean they can't be under recruited.
NICOLE JOHNSON of East Brunswick High School and Team Miller could be arguably the 2nd best point guard in the Shore behind Dara Mabrey, if she played in a conference . Now you go ..NO WAY. I say all the way. Now Johnson has D1 offers on the table. Interesting the offers are from coaches who used to coach on the men's side. Both are older and  simply polished ole heads who know how to evaluate. So why is she under recruited? It's simple, college colleges don't go watch high school games at East Brunswick, pure and simple. Next she is 5'5″ and some coaches fear her game may not translate. She plays on a star studded AAU team and does not get to showcase her many skills. This a case of lack of knowledge and understanding of the player. Like she is a 4.0 honor student to boot. How good is JOHNSON? MARLBORO high school played every single Top team in the state last year. Who do the players say was the best guard they faced….you got it , Nicole Johnson. Mid majors should thank there lucky stars, she is 5'5. If she was bigger, she'd be off too a Power 5.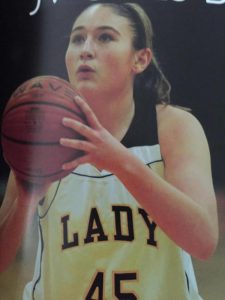 SARA FRUCH OF SJV, all three teammates last year who played ahead of her are starting at D1 schools, signed at Power 5 schools or was on a All Freshman Team in college. Why is Sara Furch under recruited? It's simple no name recognition. She played volleyball her first two years of high school . She played low level AAU until last year. She had zero buzz entering H.S. and  she doesn't fit the part. She doesn't  have the classic athletic looking body. She is not 6'3″ and she has a baby face. She my friends is the poster child for why players get over looked. But on further review.  I had a college coach ask if she could shoot ..lol. I had a college coach ask if she could play with her back to the basket? Pretty funny stuff, just ask the 5 Power 5 post players at NBS, the answers to those questions. Here is more coaches don't know. The  6 '1″ Furch ball handling and passing skills are off the charts. So if she has all this, why isn't she be recruited more? It's simple because college coaches will never see these skill sets on the AAU Circuit or in her high school environment. Because she is far more valuable now as a block player. Her look and appearance along with the lack of  name recognition and more important, long term lack of exposure are working against her, FULL time. Now the good news, come August, she will be in full out demand…anyone want to test my track record on such issues? Didn't t think so.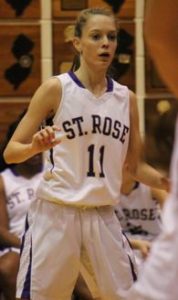 LAUREN LITHGOW, was once considered the best incoming freshman in the Shore, along with Faith Mansious. She also played on the best 2019 AAU team in the state. She was going to be a superstar. But none of that has happened to date. Yes, she is getting recruitment, but it's based on what coaches have heard, not seen. So what happen? It's simple, Lithgow went to a high school with all D1 upperclassmen in her position.  She also was under the impression like many young players entering high school, that she would compete for time …WRONG! But worst she went to a high school that basically only played six players. Meaning she never got a  opportunity to play for two years. Next she was forced to leave her star studded AAU team to play with her high school. Meaning once again sitting behind the very same players, during the AAU recruiting period. Shockingly all this set the ball into motion, the reason she is so under recruited. This is a classic example of things going from bad to worse. But Lithgow is one of the lucky ones. Her talent is so big, its impossible not to notice. She is the fastest player in the state. Her shooting range and quickness are off the charts. Off the ddribble she is scary. Now throw in her ability to defend and you have what could be the total package. She will most likely go from under recruited to heavily in demand. But she could have very easily been missed under the new recruiting rules…BECAUSE SHE HAS BEEN A GHOST UP UNTIL NOW.
EVE CRAWFORD , ask any kid who she is and they will know her. Now ask, where does she play AAU and what high school does she attend? That noise you hear, is the sound of  crickets. So how can somebody with a sick work ethic, who is tough as nails and so gifted be soooooo under recruited. It's simple, it's called being lost in the sauce. Now Eve Crawford has D1 offers, but I'm here to tell you, she is widly  under recruited. There are girls being higher recruited than her, who can't carry her dirty sneakers. She is the ultimate two way wing player. She can guard big wings and smaller wings. She can also slide to the point. She my friends would run though the NEC AND MAAC. Just trust me, I've  had players of the year and All Conference players in those leagues train with me. She takes a backseat to NONE. So why so under recruited? Simple, lack of promotion and lack unfamiliarity by college coaches. This is a great case of coaches knowing a name and knowing very little about the kid. Why? My guess is she is off the grade and not hitting the right events. She is a mega student for example and did not attend Academic Elite for example. Either way, because the recruiting window is so small, not enough people have been able to see her or worst form an opinion…let me help you….A BEAST!
DATES YOU SHOULD REMEMBER…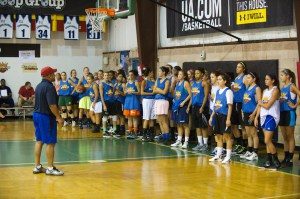 ACADEMIC ELITE IS JULY 29th…over 70 college coaches….. You must have a 3.0 or better….NO ONE DAY EVENT IS BETTER. 732 897-3196 or hoopgroup.com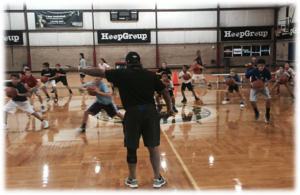 COACHES NBS CAMP DATES ARE UP AND WE ARE ACCEPTING APPLICATIONS ….YOU CAN SIGN UP ONLINE AT HOOPGROUP.COM …if you have a player you believe one day can OR would like to play in college call 732 897-3196 ask for James Cooper….THIS CAMP WILL SELL OUT