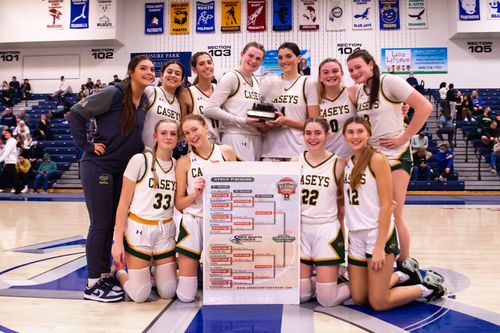 Sometimes the best thing you can do is to do your job. Maybe that's to take care of the ball like it's worth a million bucks. Maybe it's your job to set the tone for all in the building. Maybe it's to score the biggest bucket of the game once again, maybe it's to control the paint on offense but to also do the same on defense, even when nobody gives you a drop of credit. Maybe it's to be super babies or maybe it's you job to just be to SUPERSTAR when it most needed and matters the most… Last night everyone for RBC just did there job and so did there coach JOE MONTANO in Dominating fashion.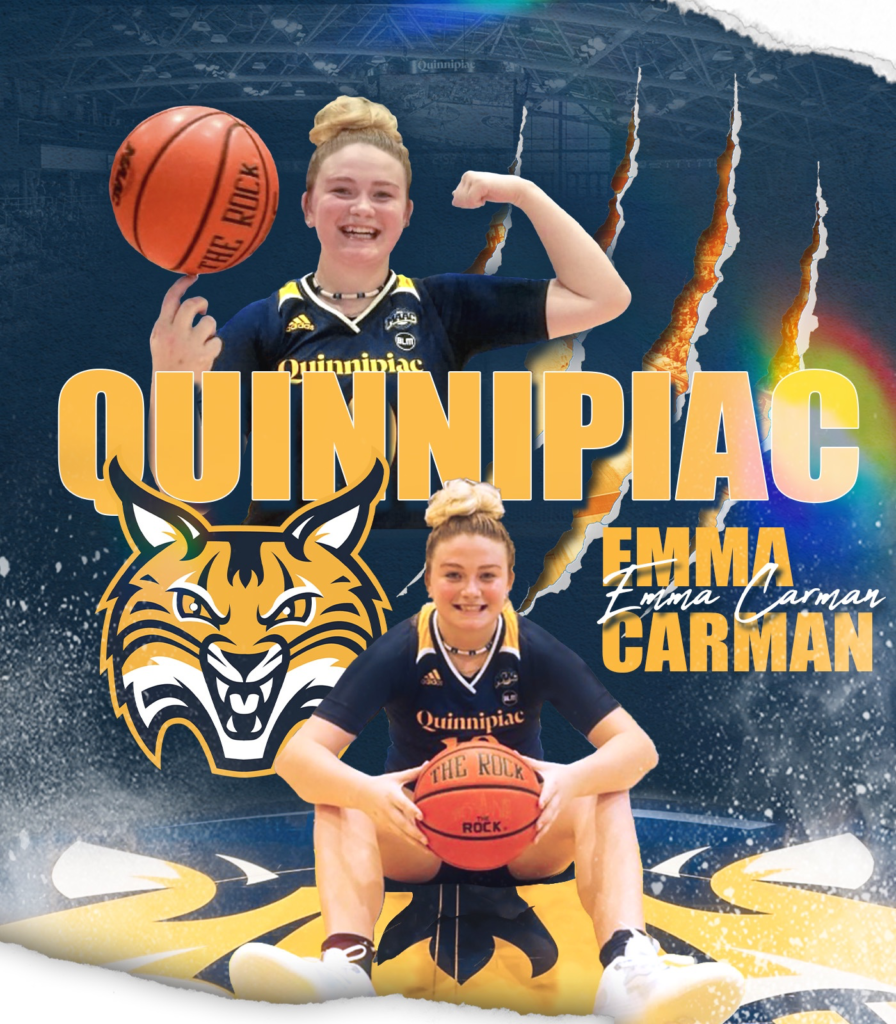 When Quinnapiac bound jr Emma Carman banged out a three to start the night it seemed like a simple innocent start to the evening. Then when she hit her Boston College bound sister Ally in the post with a picture perfect post past. It looked like Manasquan could be a concerned. But when. But when she herself floated to the post and decided to treat the smaller guards from Manasquan like farm animals … there was real concern that came across the Manasquan players faces. Emma Carman had sent a message to the Manasquan faithful. She came to dance and she came with game. A game that allowed her to drift into the backcourt vs the Manasquan full court press and help beat the press. It was Emma Carman who blew the whistle today and said… If we can get along … let's get it on and she got it on for her teammates, fans, coaches and anyone else watching .. because
Every coach Knows you have to take care of of the ball and get your team into their offense sets to be effective . That's child play for any average guard who has played in enough games. What's not child's play is when you Point Guard has been kicked around because of one sub par game. When folks start questioning them. What's not average is when your point control controls the game from A-Z. When they know when to go and when to slow.. when to attack and when to react. Molly Kelly last night was the Maestro and conductor of the merry band called RBC. Every note she played was to perfection. She made Joe montano's offense look like a Symphony. She also played defense like a mad demon on the loose. Last night Molly Kelly was magical and few of any noticed the wonderful music she made all night with her mental and physical toughness.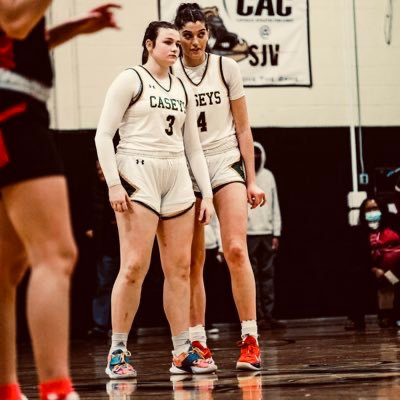 BABIES are unpredictable. You never know when they want to sleep or play. You can't plan when they grow up and mature. Tessa Carman was leading the scorer and rebounder in RBC's biggest win in two years. She has expectations attached her that few if any babies have ever had entering the shore… social media and Tiny Green are hard to deal with. But last night Tessa Carman made it look easy. Last night at times she looked liked the face of Shore girls basketball… that's because she was that good last night. Last night this baby was wide away and wrecking havoc.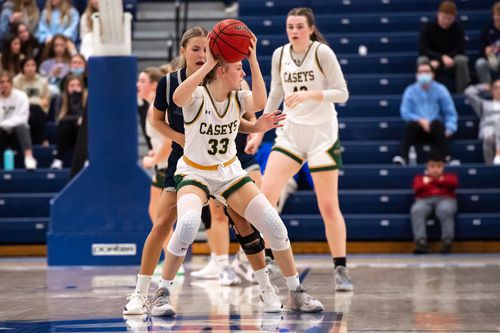 CHRISTINA LIGGIO is trying to take the FRESHMAN OF THE YEAR award, put in in her back pocket and run and hide from the rest of the freshman class. Last night she put the finishing touches on one of the best runs a freshman can put together in the WOBM TOURNAMENT.. when was named to the All Tournament team it was confirmation she is the best baby in the Shore these days. She did what great young players do under the brights lights on a big stage…. SHINE LIKE A ⭐️… These two babies were very naughty last night. It's why when they scored back to back buckets to close the evening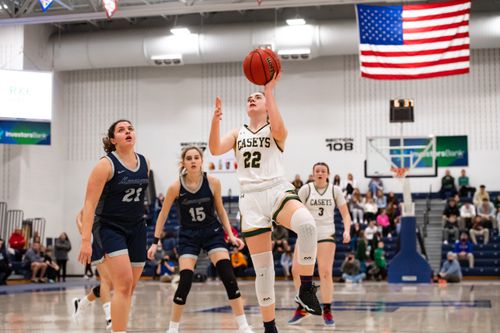 Casey Prior is starting to get a reputation that is hard to shake. It doesn't matter if it's during AAU or the high school season. Her reputation for knocking down jump shots in big moments seems to grow daily. Not to mention her her game is developing right front of our eyes. As she drove past Manasquan guards for bucket at the rim with her left hand or drove with her right hand over Outstretched desperate arms trying to contest her greatness last night. Not because she put the Manasquan guards on ice. She last night gave us the total package. Yes, Casey Prior is becoming known for big shots. The shots tbe break opponents back. Last night once again Casey Prior broke someone's back. When Manasquan was Seeing light, breathing life back into the game, trying to step back in though the door of hope… there was Casey Prior shutting the door with a heart stopping three with 5 mins left to make it a 10 point game. She took the wind and Spirit out of the Manasquan team and fans. Somehow she was not named All Tourney… but that's silly stuff that doesn't truly matter?
ALLY Carman knows everyone is talking. She knows the fear factor she once put into the faces of opponents is gone. In a lot of ways Ally Carman is starting over. Last night she became what we know she can be… a serious issue, and the toughest matchup in the post… she became a problem, a big problem for Manasquan . Last night Ally Carman was a nightmare in the post. She was so good that Manasquan did not have a answer for her…but it was on defense that nobody was playing attention too. That because she put the lane on lockdown. Ally Carman changed more shots than than their Octogon mom last night. Her physicality was brutal at times. She defended smaller, quicker players on the perimeter. She got deflections, tips and rotated to help teammates all night night. This is way she was 1st Team All WOBM.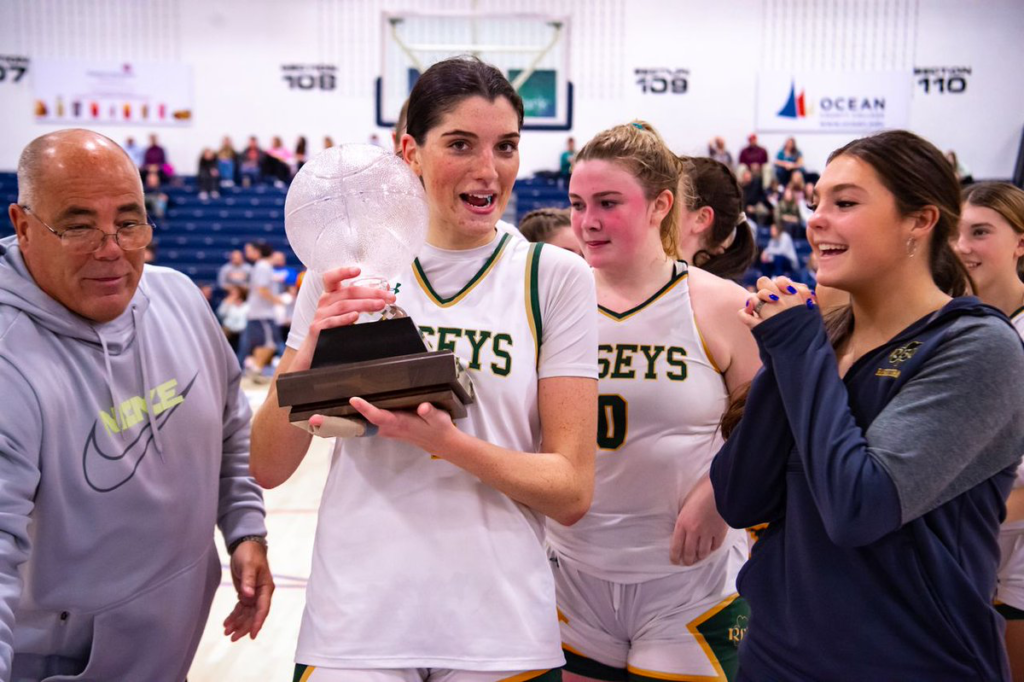 The first time Justine Pissott touched the ball 2 Manasquan players ran to double her. It was like that for 3 quarters. But you seen people look at and judge the 9th best player in the country differently.. wait there are really 9 other players better? I DOUBT IT! So they didn't notice go into defensive mode. They didn't notice her tip rebounds to teammates , they didn't notice the passing to beat the press, the clam and relaxing Demeanor she displayed to settle her teammates down. What they did notice was in 4th quarter it was go time and she went to work. She started with a three from Tennessee and did stop until the announcement was made…. THE 2021 WOBM MVP... it was only then I heard…. Justine Pissott had just broke the RBC ALL TIME RECORD FOR THREE's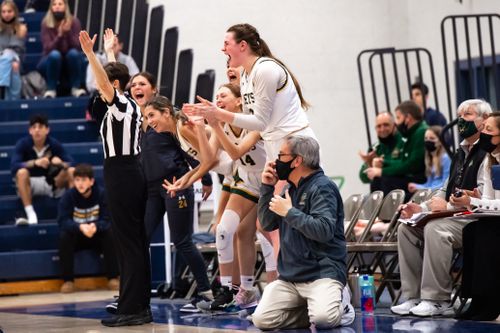 JOE MONTANO is a gift to game time coaching. He was so good last night it was scary. Good coaches know there team. Great coaches don't panic after losing big games. They understand its a long season. They know when to rest their team when they are dead tired even when the opponent in banging loudly on the door.. "let me in". Just like Manasquan was doing as as led Hope Masonious was coming with vengeance. But Great coaches always can feel the heartbeat of there team… JOE MONTANO KNOWS HIS TEAM HAS A BIG HEART…. regardless of what others say … it's why they did there jobs last night because and why they are WOBM CHAMPS FOR THE 1st Time in school history
THERE STILL RBC!