Some kids dream of playing Division one basketball. That dream sometimes is not what they expected, when it does come true. Often a player does not get the playing time they hoped for. They sometimes play in empty cold gyms. The administration sometimes treats the team like 2nd class  citizens. But worse, sometimes the team does not win and basketball  ceases to be fun. For Three former Shore players all their dreams are coming true at Montclair State University...and basketball is not just fun…but a lifetime  experience not to be forgotten.
Sometime in the next few weeks I will make a trip to Montclair State University. I will grab a seat in there little arena. Unlike at some Division one schools, there will be folks fighting for the those seats. The crowd will be made up of students, family members and old timers. The radio crew led by a former Shore guy himself, Sean Martin and crew will be pumped. The cheering and excitement will be a real energy rush. The mascot and cheerleaders will have fun working the crowd up. It will be a good night, because most likely Montclair State University will win. It's what they do at MSU…WIN.  The #11 team in the country will also have the  SHORE THREE,  leading the charge. Seniors Captain Zoe Curtis, 2nd leading scorer Rachel Krauss, and Jr. Superstar Katie Sire.  They have been part of why, MONTCLAIR STATE UNIVERSITY just may be the most  successful college basketball team in all of New Jersey and that's not just talk.
Some kids choose a college for their ego to be  massaged. Rachel Krauss, Zoe Curtis and Katie Sire choose a college for a different reason; to be part of something special. They made a wise choice because what these girls have  experienced in their college basketball careers is nothing short of amazing. All three have played in a Final Four…been ranked Nationally…won Conference titles, played in front of packed houses and of course on TV. Their careers have been nothing but big moments on top of big moments. This year is no different, all three are having dreams seasons, in an effort to get back to the FINAL FOUR. You see at Montclair State University the goals are different. The expectations are different. They are one of the best programs in the country. They are the measuring stick, they only take the best students and people. Then they put them on a basketball court and watch them kick butt. Not many programs at any level have combined the academic  success and athletic success of MSU.
Coach Karin Harvey has been insanely  successful at Montclair State University. She has done just about all their is at the school. Her track record of success this side of Vivian Stringer of Rutgers cannot be matched by any other college coach in the state. But it's when you watch her teams play, that makes you shake your head. You are truly shocked to believe Division 3 basketball could be played at this level. NO DIVISION ONE school in New Jersey would dare put them on their schedule….I said NONE. They play a quick ball moving, uptempo style. They are ants that never stop coming on defense, who grind you up. But more importantly ask anyone surrounded by the program….THEY ARE A FAMILY FIRST. It's clear the moment you walk in the gym. From the administrators, parents, trainers, fans, mascot to cheerleaders. This is the true  definition of a college experience.
This year Katie Sire formerly of  Raritan high school is averaging 14.0 points and 7 rebounds a game. Sire is becoming one of the best players in the country. Last night for example, she had 29 points, 6 rebounds and 3 assists in a win. Many thought she would jump ship to a Division one school; after her banner freshman year. But Sire loves her school, teammates and coaches. She is working on a All American, Hall Of Fame type career.
Rachel Krauss is averaging 10 points a game and shooting 37% from the three point line. Krauss is known for here timely shooting. She has knocked down some BIG SHOTS over her career. I was there to see her breath taking 3 point dagger to beat Rowan in the Conference Championship game.  She has been nothing short of brilliant during her career. The former Colts Neck star was named 2nd Team All Conference last year. She hopes to move up one team this year.
Zoe Curtis must be smiling watching her old Red Bank Reg coach James Young get it done. She was on the ground floor, helping Coach Young build his program. Well I can assure you, James Young is very proud of Miss Curtis. She is lighting up box scores at MSU.  How does 8.1 points, 6 rebounds and two steals a game for the #11 team in the country move you?  No, then how about the  Earth shattering 42% shooting  percentage  from beyond the arc? Not to mention she is a elite defender. Last year she had 18 points and 4 rebounds in the first round of a NCAA Tournament win. Curtis has long been one of my favorites and it going to be hard to replace a program winning kid like her, even for Montclair State University.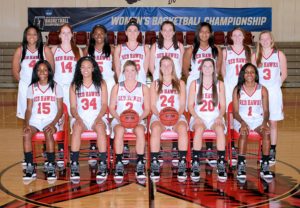 Coach Karin Harvey and her staff with the help of a great  administration…have built a sort of Roman Empire. She has done it with first class facilities and a winning atmosphere. She has surrounded herself and kids with QUALITY PEOPLE. It's this and the MONTCLAIR STATE UNIVERSITY TRADITION, she sells to recruits and their parents. She has no bigger or better Ambassadors for her program these days, than the SHORE THREE. I remember the first time I saw All American  Melissa Tobie, play at MSU, 2 years ago. I couldn't believe that MSU could still recruit such players. It took me back to the days of Hall of Famer, CAROL BLAZEJOWSKI one the 5 greatest college players ever. Somehow MSU had done it again, in an era of ego and keeping up with Jones. Well these days the SHORE THREE and their teammates are the Jones everyone and there mama is trying to keep up with....because they are having a GRAND OLE TIME in the best college basketball environment a PLAYER COULD DREAM OF…
HERE IS THE FULL WINTER TRAINING LINEUP
DEAD EYE SHOOTING AND POINT GUARD WEDNESDAY…CORE SKILLS IT
TONIGHT AT 5PM….WALK IN OR SIGN UP ON LINE
***SATURDAY CORE SKILLS, STARTS THIS WEEKEND***