This holiday season has been full of surprises and the expected. This is the time of year everyone is playing in a Holiday Tournament. It when your also get a real good feeling for what teams just may be looking at special seasons. It's a time when the best players start to separate themselves. It's when the media and bloggers start crowning, players and teams. The politics of high school basketball starts to kick in. But the one thing everyone can't hide from is the performance on the court and right now, it becoming  very clear what to expect over the next few months.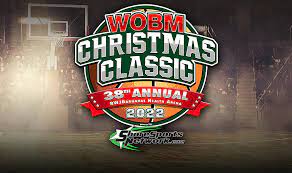 The WOBM has been what everyone expected, the better teams dominating the teams who are trying to make a name for themselves. This year the WOBM will have two champions for the first time. In a effort to make the games and the title games more interesting the WOBM split up the best teams on paper in the event. The result is we have state ranked #10 Ewing vs.  Shore Ranked #6 RFH  in one final. Then in the big girl brackett we have state ranked  #11 Manasquan and  state #8 RBC in the final. Both finals should make for excellent games. But they would have made for a heck of a semi- final round of games. But there are a few interesting stories on how these teams got her. First Ewing took a page out of the Chatham high School play book and pressed RBR out of the gym. For the 2nd time this season RBR was overwhelmed  by a Top 20 team. Ewing pressed and hounded RBR out of the gym on their way the final. Rumson is clearly finding their groove as they jumped all over Wall who started the year ranked in the Top 10 and have not been able to turn the corner. Julia Corsentino has been a rock and her role playing teammates given her real back up. Friday they will get a chance once again to prove there is chips left in there souls vs EWING.  Manasquan was taken to the bitter end vs TRN as Megan Sias had 13 points and 15 rebounds proving to all she is the real deal. But Hope Masonious scored 18 big points and Manasquan lived to fight another day. If Manasquan can get  little WOBM Chip game revenge on Friday;  vs RBC it could give their season and swag a real boost. RBC has yet to have a legit competitive game. All has gone well because Joe Montano had been masterful of keeping his seniors and freshman happy. This Friday he most likely have to make his first real decision about who is getting real playing time and minutes in a real game. Everyone will be watching, if RBC can pass this test, everyone will have a serious problem on their hands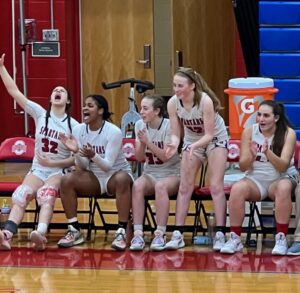 Try and find anything about Ocean Twp on social media or in the news about there start to the season…good luck, you will get scores, times and a few nice words about them winning. Ocean is rolling in a big way and nobody seems to want to admit this. Yesterday they beat the APP #10 team Howell 52-28. Now Howell should not feel bad, because everyone who has played Ocean had gotten the same treatment. These days people are not  happy about their decision to start the season having  Ocean Twp unranked or ranked in the bottom of the top 10. I get the feeling the OCEAN players are okay with the lack of attention. Eli Clark is the best point guard in the 2024 class. Her sister Kayden Clark who had 21 points in the Howell game is one of the best players in the 2025 class.  Leading scorer Jineen Ayyash has returned and their coach is one of the best in the Shore. These are things people are having a hard time accepting.  Ocean Twp next week could be a Top 4 team in the shore, well maybe not….. Either way it's been a happy Holiday season.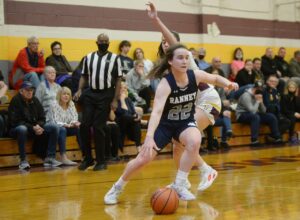 Ranney is one of the biggest surprises of the season. They are 4-0 after knocking off Shore APP Top 10 Holmdel on the road,  in the Holmdel's very own Christmas tournament. They call that gangster and the media and Bloggers are singing their praises with much love and joy. Hayley Posner had 21 points vs Holmdel and is now becoming the talk of the town. Sarah Hughes who had 24 point in a one point win the night before had 13 points and is proving seniors matter. Ranney is knocking on the Top 10 door. Coach Linney is proving is okay to run with those who want to part of something special….Ranney looks very special right now, I mean they did lose to Holmdel by 24 points and have two starters transfer.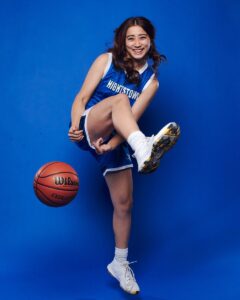 Hightstown moves on to the finals to face Shore Regional in the Shore Christmas tournament. Senior Kyla Glasser-Hyman continues to a problem as she had 29 points. Sophomore Amaya Harris finished with a double double, 10 points and 10 rebounds. Shore Reg will hope to get a chip behind Rylee Drahos. Hightstown and Shore Reg both will be trying to get a early season statement win. Both teams have played light schedules to this point. But the Chip game will put both teams on the big stage and hoping for a big win.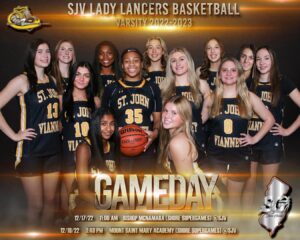 St. John Vianney played state #10 New Providence and once again made it look like a walk in the park. Zoe Brooks reminded everyone the PLAYER OF THE YEAR  is one women race. She was go good that at times it just seemed like a grown women playing against little girls. The game was a strange game in too many ways to mention. SJV led by as many 31 points and everyone seemed to join the party. State Ranked  #7  St. Rose played Union Catholic and got a easy win, but someone forgot to remind everyone that the Twilight Zone Marathon doesn't start until New Years Eve.  My only advice is,  if you looking to see a strange ride, go to Youtube and watch the SJV game and get a copy of the St. Rose game….  Both games rank right up their as two of the all time strange games. Coaches being ejected, questionable behavior by kids, teams trying to lose games close rather than competing. It was all there for those looking for something different… Sounds like the NFL…LOL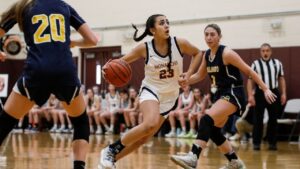 Trinity Hall had a Top 20 matchup with Shawnee and this time Shawnee got  a little revenge and the win. Shawnee became the first team to slow down Nina Emance and it slowed down the Trinity offense. It was the first lost of the season for Trinity who have played a demanding schedule this December. The two teams could be doing it all over again for a third time in 10 days. Both teams are talented and well coached, the bad news for Trinity Hall,  is they know the Shore Conference Top 20 rule. Don't lose or you out, Trinity will have to fight their way back into the top 20.