If you live in the Jersey Shore finding competition is easy to do. If a player lives in the Jersey Shore getting exposure is a little easier than most places. But if you live in other counties it not so easy. Trying to find competition and exposure takes work and it's anything but easy. So a player in some cases may have to rely on AAU. It's why Nia Melvin plays for the insanely competitive 2021 Team Miller AAU team. Nia Melvin is that rare talented kid who coaches dream about.(below her freshman year)

The first time I set eyes on Nia Melvin was in a game vs. the 2021 Shoreshots. She was flat out off the charts that day. The Shoreshots had no answer for her as she almost single handily beat the talented 2021 ShoreShots. She hit jumper after jumper and got to the rim for physical buckets all afternoon. She also found time to set her teammates up for easy buckets. I didn't know what to make of her performance. I had never ever heard her name even in passing. I didn't know if this was a kid having the game of her lifetime or was this who she really was… I just knew on this day, she was by far the best player in the gym by a long shot. I left thinking I need to see this kid play again at some point.
Nia Melvin is one of the most interesting players I have seen in a long time. She reminds of the great Oscar Robinson, in that she does not waste a drop of energy when she plays. There are no extra's or show boating. She just plays basketball with such an even keel. Her emotions are so under control and mature. Watching her mother in the stands explains why? Her mom barley says a word watching her talented daughter.  She plays the game with such purpose it goes way beyond her years. Her ability to feed the post was electric at NBS camp. She helped turn Ally Carmen into the Co- MVP of the week. If you leave her open for a shot, just run back on defense. Her ability to knock down open shots is a gift from the heavens. She is as good of an open shooter as you will find. But it's her college ready body that is what's most impressive. She is that physical point guard all coaches crave. She cannot be bumped off the ball. She is a next level player in the lane against bigs with tough pull ups and physical baskets at the rim. and on defense grinds opponents guards up. Throw all this in and add the next level IQ and you get one of the best 2021 point guards in the state. How good is Nia Melvin you ask? Well if she played in the Shore Conference, she is either the #1, #2 or #3 most recruited point guard…yes she is that good.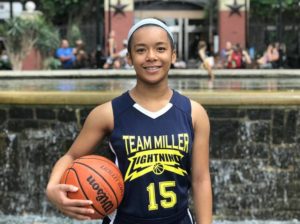 I love the Team Miller organization for lots of reasons but none bigger than they love competition. The Team Miller organization embraces competition like no other AAU program. They rather lose than play weak competition. It's why so many of their kids wind up playing D1 basketball or some level of college. Team Miller kids are insanely competitive and it starts at the top. Lance Miller's program is stacked with excellent coaches. Nia Melvin has one of the best girls AAU coaches around in Chrystal Rinehold. She has allowed Nia Miller to play her game without over coaching her, while playing to her strengths. It clear the impact Coach Rinehold has on the 2021 loaded Team Miller crew. But watching her help Nia Melvin develop is fun to watch. I really believe the combination of playing top competition and having a real teaching culture really shows watching Nia Melvin.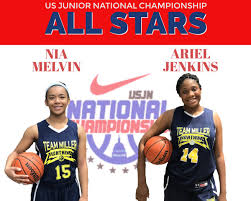 If I had any doubt about Nia Melvin, they were answered at the NBS basketball camp. Folks, it was whose who of guards at NBS this summer. We are talking about P5 type point guards in the building. Nia Melvin took a back seat to nobody, her leadership and performance was electric. But what impressed me most was her work ethic and attitude. She showed up everyday and went all out in every drill, she is totally self motivated. Remember 95% of the drills at NBS are competitive drills. We like a body in front of a player as often  as possible. Well Nia Melvin was a body snatcher because she crushed everything in her path all week. What I like she was able to adjust to any drill that she participated in. Her ability to grasp new concepts and idea's was a clear indication that she will able to adjust to any style of play… it also doesn't hurt when you're competitive nature is off the charts….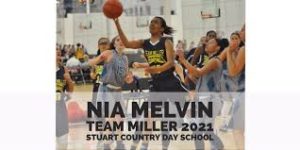 Nia Melvin attends Stuart Day high school. It's a great school known more for its education that basketball. Nia Melvin is a big time student, whose education doesn't take a back seat for basketball. But Nia Melvin averaged 15 points and 4 assist a game last season. She has double/double assist and scoring games. She has played against St. Rose and Christ the King in high school. But Stuart Day, lets'  face it is more about education and the sports is just a bonus. Well Nia Melvin is a bonus as well because she is a special talent and more importantly a special teammate. Nia Melvin is that rare player that doesn't need attention to feel valued…its call self confidence and folks she has lots of it…she doesn't need all the spotlight, she is willing to share it…she is a real teammate!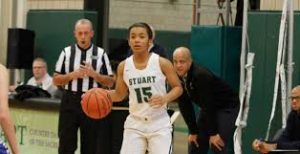 "This is a message to college coaches, if you don't know Nia Melvin, then you better learn her name. I say she is no less than a high major player. She is an impact All Conference type player in the Ivy and Patriot league from day one. But more than all this…NIA MELVIN IS THAT PROGRAM KID AND I DON'T HAVE TO TELL YOU HOW HARD THEY ARE TOO FIND!"
Tiny Green
FALL TRAINING AT HOOP GROUP STARTS TOMORROW