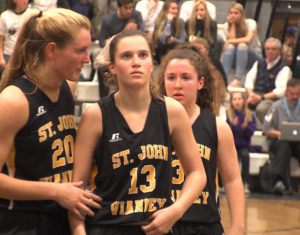 The reason why kids play basketball these days have changed. The way kids work and prepare has changed. We now are in the era, when kids want to know things are in place before they arrive. Young players get a reputation earned or not earned and try to hang on to that reputation. They often duck competition or try to find a home where they are catered to or made to feel special. There will  always be that kid who is never happy, who jumps from AAU team to AAU. They move from place to place looking for that perfect place. But there are always kids who will as I like to say "DO THE RIGHT THING"  they train and only have one goal….GETTING BETTER!….SARA KARPELL FITS THAT BILL.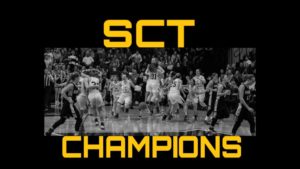 Sara Karpell, is currently a sophomore  at SJV and plays for her mother. She is somebody that had to know all eyes would be on her and her mother last year. She had to know everyone was waiting to see if she would earn everything that comes with playing at SJV. SJV is always stacked with talent and if the truth be told many kid are afraid to be part of their program. They know that at SJV you fight for your athletic life everyday. Young players know at SJV there are NO promises , except one…you will GET BETTER. Every player at SJV gets better because the environment is 100% about accountability. Sucking up to the coach and putting up stats against bad competition will not help you, while playing at SJV. While many freshman last year played for weak teams and had a EASY path to playing time. Sara Karpell had no such option available to her. Her mother only plays against the best competition and believes every kid must be challenged. This could be the reason the SJV  kids go to college and become studs at the next level. This is no surprise, because at SJV you leave more prepared for college than any other program maybe in the county. Sara Karpell is getting prepared, like very few kids because she doing it with all eyes on her.
Last year nobody expected Sara Karpell to  play very much. SJV had 4 of the best guards in the shore returning. We are talking D1 and All Shore players, it was suppose to be a year to watch and learn. It was suppose to be a year were practice was more important than games. But SJV had injuries, too many to list in the guard position. It lead to Sara Karpell being thrown into the fire and in her first high school game against Top 3 RFH she showed; she was ready from day one. It was in her first game that she hit a three at the buzzer to give SJV a half-time lead. It was she that made the biggest play of the game late to  close the door on RFH with a three point play the old fashion way at the rim late. Sara Karpell in her first game, showed she would be special. But it was not until in the biggest game of the year that we knew she was special. She made the biggest play of the season to help SJV finish some un-business and  showed she was ready for prime time. Because against Manasquan, it was her steal and two cold bloodied free throws that sent Manasquan packing. It showed us we were seeing a special player. She proved the bigger the stage …the bigger she played.
But what makes Sara Karpell different than most babies is this; she does not hide. She played AAU for the Jersey Shore Elite with Beth Chambers, her mother could have very easily put a team together for her. Her mother could have protected her and her reputation. But Dawn Karpell not only did not protect her, she put her in the toughest basketball environment that she could find. Sara played pick up with college players and practice against the senior Jersey Shore Elite team and most importantly played up against REAL COMPETITION  on the AAU circuit.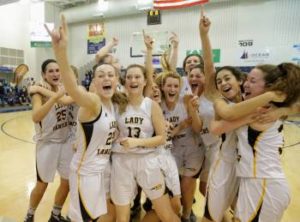 SARA AND SJV SENIORS FINISH SOME BUSINESS…SCT AND TOC CHAMPS
Recently I have seen Sara Karpell in the gym getting ready for her season. Yesterday she came and shot for a hour before Point Guard school. It's clear her practice habits defy her age. She understands pace and effort at practice. But what I love most about her is her competitive nature. I believe this is something that is hard to teach. I always match Sara Karpell up against a D1 upper- classmen. The are older and stronger and I know Sara Karpell wants it that way. But here is what's funny, she never backs down and I mean NEVER. I can tell you no player in the shore has hands on defense…I said none, senior or not. She is a master defender right now, and I believe it goes back to fighting for your life everyday at SJV's practices. But here is what you will see this year, a confident shooter and a player that finishes at the rim. Folks I can count with 3 fingers the guards in the shore that finish at the rim. Sara Karpell is moving into elite status…and she is doing so without hanging on to tails or her last name. She not doing it based on reputation, she is doing by challenging herself everyday.
Somebody asked me what level of player Sara Karpell will be one day? That was a easy answer. I believe that is up to Sara, because coaches love competitive kids with talent. I believe she will be a high major player in time. I say this because she is not a phony, she is willing to work and accept being held accountable…against real competition. But what really makes me believe she will be a high major player one day is this…..SHE IS TOUGH AS NAILS….JUST LIKE HER MOMMY AND DADDY…..
GIRLS TOP 100…OCT 15TH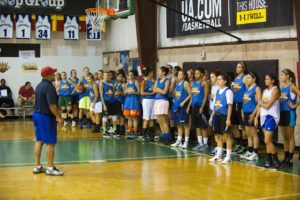 GIRLS TOP 100 WILL BE ON OCTOBER 15TH….YOU CAN SIGN UP ONLINE AT http://hoopgroup.com/clinics/new-jersey-girls-top-100/
COLOMBUS DAY CLINIC…COME OUT AND JOIN US IF YOU DON'T HAVE SCHOOL THIS MONDAY…….http://hoopgroup.com/hoop-group-headquarters/new-jersey-basketball-clinics/columbus-day/