Everyone has heard the words spoken by the late great Tennessee Coach, Pat Summitt. "CHAMPIONS ARE MADE IN THE OFF SEASON." Soon, the first day of practice will take place across the state of New Jersey. That is when true accountability takes place in gyms across the state. Coaches will start the process of creating there teams identity and style. Coaches will start forming opinions and rotations. But long before that day players and teams were responsible for holding themselves accountable. There were no coaches to put demands on anyone. Each player and teams level of commitment in the fall was a personal decision. So today you get the final fall Top 10 ranking before the "OFFICIAL preseason ranking and preview comes out.
So which teams had the best falls and put themselves in the best position to have have successful seasons is based on a few things (listed in order).
Health, was the team whole most of the fall
Showing up, was the team committed as a group
Training, did the team train as a group and individually as well
Did they adjust to adversity in the fall
Chemistry, did the team have a drama free fall
Player development, did players get better
New player impact on the court, did you transfers and freshman impact the team in the fall workouts and games
TOP 10 FALL GRADES are based on the 8 point factors mentioned above along with each teams "KNOWN TALENT LEVEL"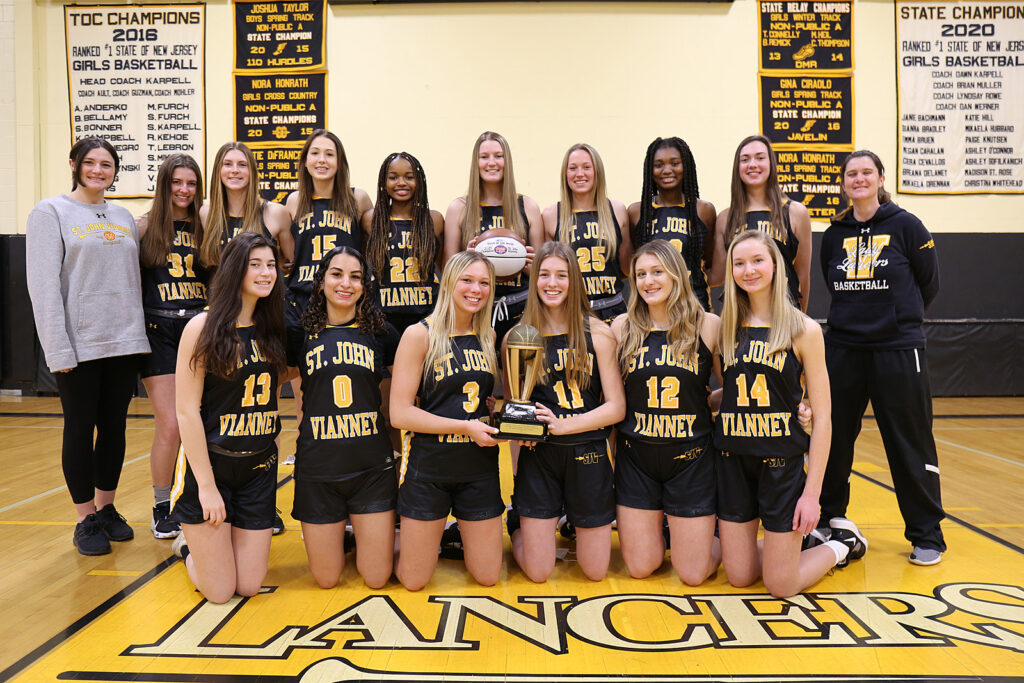 SJV is the clear favorite in the state. But one thing is very clear, the intimidation factor for now is gone. SJV for the first time in 4 years may be beatable in some teams eyes. The improvement of a number of players is a must if SJV hopes to run it back in both the Shore and state. They still have the best coach in the state in Dawn Karpell and the best player in the Shore and possibly the state in Zoe Brooks
THE CONCERN IN THE FALL – While SJV looks will start Nationally ranked and #1 in the state. They have to know the gap has gotten smaller between them and the real contenders. That because of many issues. SJV has always had stars in the waiting for years. But those players have always been gym rats. The entire SJV frontline played volleyball most of the fall. Zoe Brooks and Janine Bachman are not just gym rats but stars. Julia Karpell will need to step up in a big way. Bri Delaney will need to get healthy. She has practiced and played very little with her teammates in the fall. The biggest questions is can Madison Kocis and Aleena Dinker give SJV a shot in the arm? The truth be told, SJV has so much talent and and basically 4 weeks to put things in order. So everyone will have plenty of time to get their stuff together, get healthy and adjust to the new season. While the fall matters to most programs, it's impact on SJV is not as important as it is to others.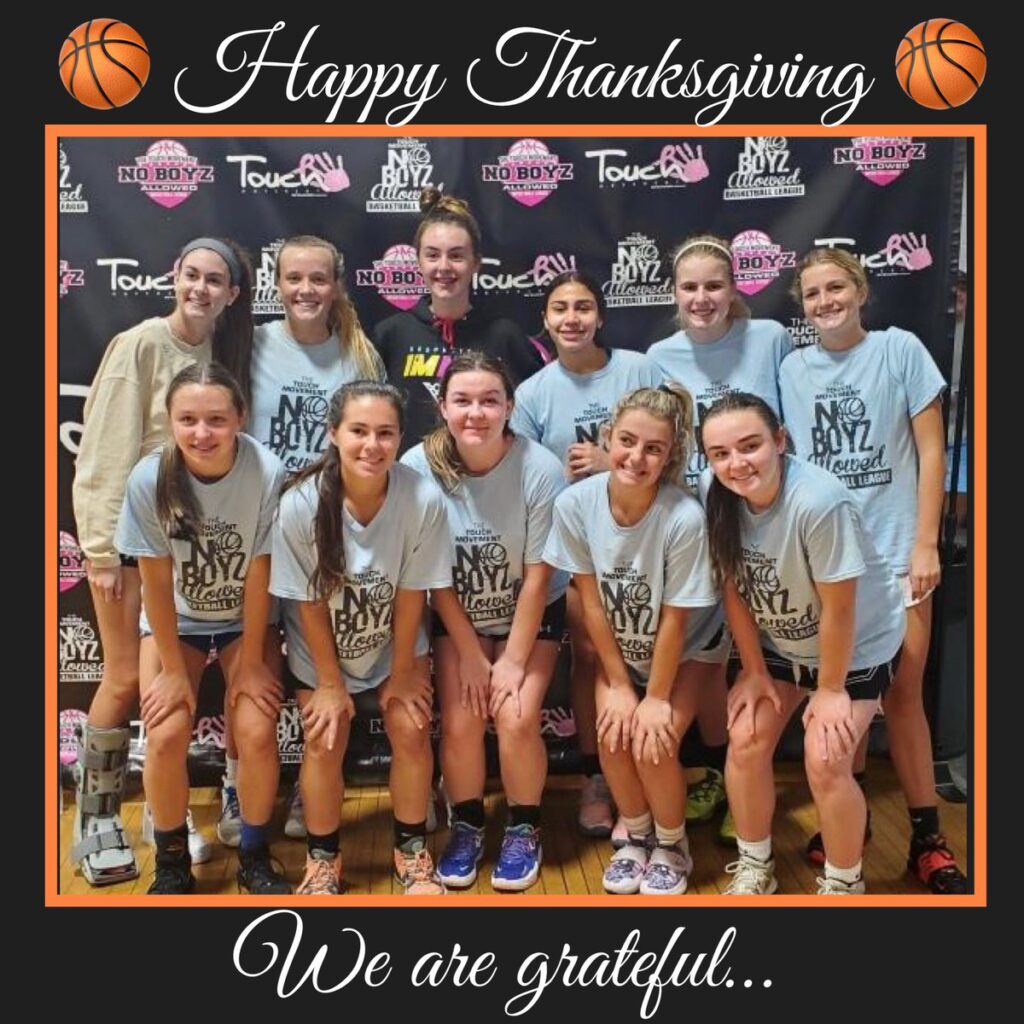 St. Rose may have done more with there fall season than everyone. That's because while some of their kids played two sports, the bulk of their team loaded with seasoned D1 talent and young D1 talent played, practiced and trained together. There young freshman and inexperienced players benefited greatly. They all got major minutes and great responsibility all fall. They played in both NO BOYZ ALLOWED AND THE HOOP GROUP FALL LEAGUE. They then hired a coach to train the team twice a week. Maggie Cavanaugh looked like she was in prime time form. Cracklings Rosie began to Crackle as the fall came to a close, she looked sensational, while returning to her gym rat ways. The returning freshman from a year ago, clearly are being pushed by this years incoming class. Jada Lynch started to show real flashes of greatness. Brooke Missry will play a major role and is the most prepared of the freshman. Bella Alvarado is proving to be a serious weapon with her motor and defense. All three are battle tested having played high level AAU, while also training in highly competitive environments. Shannon Looney while inexperienced may be the biggest surprise of this group one day. Coach Chambers has to feel very good about all the quality minutes this group played this fall. Cassidy Krusie has clearly become a future star and D1 player. Emily Cavanaugh is still mega talented. Julia Whesper, Lizzy Mitchell and Caroline Conforti, showed that they could have big impacts a season ago.
THE CONCERN THIS FALL– This group was clearly on mission this fall. But there are two things that stand out like a sore thumb. First last year's freshman class as a group saw little gym time in the fall because of injuries. Julia Whesper who was a part time starter and Lizzy Mitchell were locked into the soccer season. How long it takes them to find there games has to be a minor concern. Next how good is St. Rose really been this fall? No team took the fall games more seriously and played to win more than St. Rose. That can work two ways, it can give a team a fall sense of wealth or build confidence. Lastly TANAIYAH DECKER while a major game changer across the state rankings, will have to sit 30 days. How long will it take for her to mix with her teammates is a concern.
FALL GRADE- 9+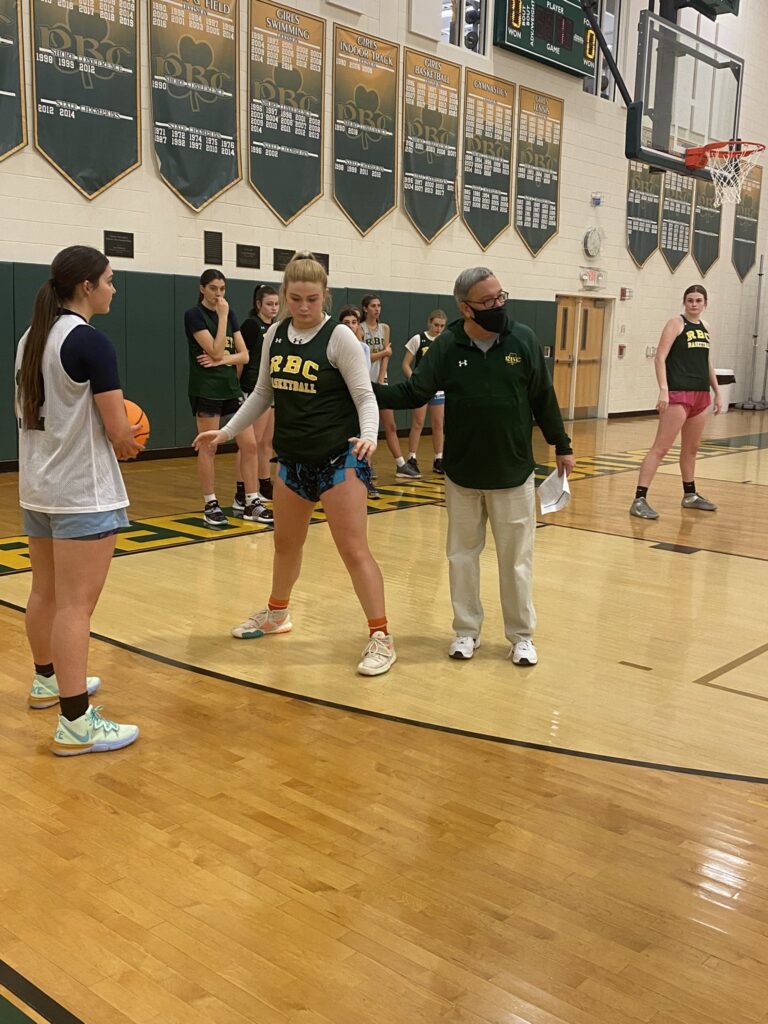 RED BANK CATHOLIC
This very well could be the first RBC group in recent years that puts fear in the hearts of opponents. They are young, hungry and led by seasoned seniors. This year may be everyone's best chance to knock off RBC in the next few years. There fall has been sensational and eye opening. Especially for the RBC freshman. But the real news is sophomore Christina Liggio looks like a mega star in the making. Last year's Freshman of the year, will no doubt make a run at ALL SHORE. Her fall has been nothing short of amazing, just ask the D1 college coaches lining up to sign her. Meanwhile fellow sophomore Tessa Carman has shown flashes of being one of the most dominant players in the conference. Senior Emma Carman, Casey Prior have lived in the gym all fall and look ready to have monster seasons. Molly Kelly has displayed real leadership for her younger teammates all fall. This team is insanely deep and talented. They have the tools to play any style. There team chemistry has been exceptional and nobody has more gym rats or D1 players. Joe Montano has been at his the best this fall at preparing his team and building chemistry…he has been flat out MASTERFUL.
THE CONCERN IN THE FALL – First who is taking the big shot? Next who is there go to player? Everyone is waiting to see who is going to play and which parent is going to drop a stink bomb into the mix first. Trying to play 11 players is not easy. RBC had two teams in the fall league, so everyone got playing time and played nice. Next the seniors all have played major roles and got lots of important minutes in the past. Keeping them happy will be very important to team chemistry
FALL GRADE- 9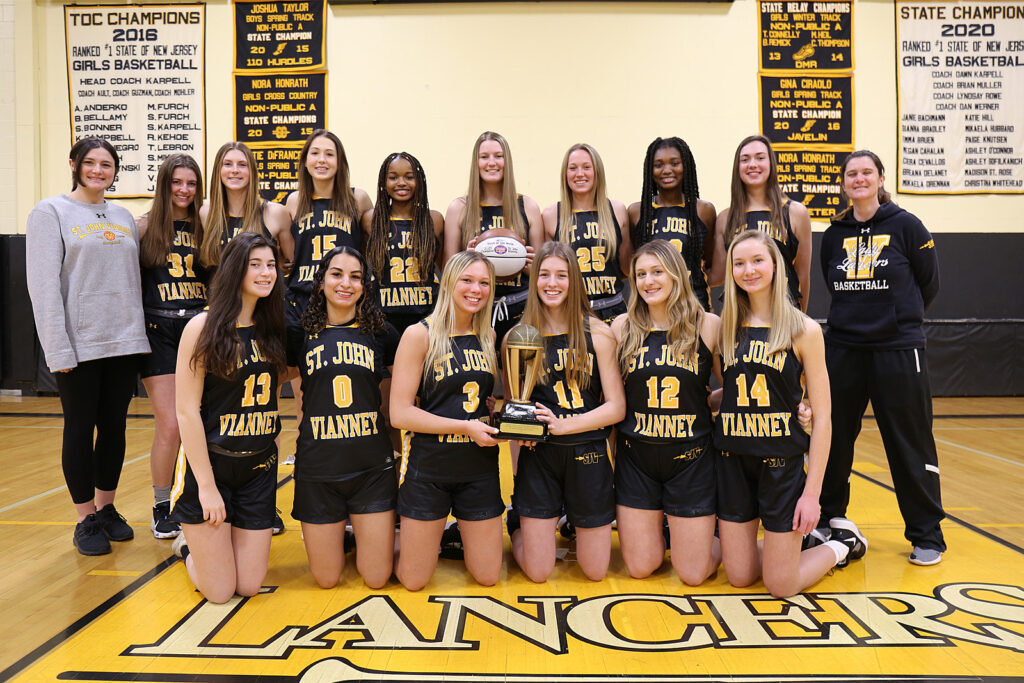 They are a program on the rise. That's because this fall Coach Matt McCarthy got his kids living in the gym. HIs team's off season looked more like the brand name teams as RBC, SJV and the Rutgers Preps of the world. TRINITY HALL has committed kids. They also have the 2nd best guard in the conference in Nina Emnance who has committed to Harvard. They have a future D1 player in the Swiss Knife in Siobhan Stapleton who has been nothing short of wonderful all fall. Last years starter, Lilly Riggi showed that her upside is special this fall. Trinity Hall is beginning to look and act more and more like a elite program. While in the Hoop Group fall league on most nights they had there entire roster. But the real story is that Trinity Hall has injected there roster with talent. TEGHAN DRENNAN, GRACE FEENEY, NIAMH STAPLETON, BRIDGET RIGNEY, MADDIE QUINN, LIZ PAOLELLA and WHITNEY HOBSON led a talented battle tested freshman group this fall. While RBC will get all the headlines, the Trinity babies may get all the playing time. This is a talented group of babies. This crew had the type of fall that can help a program get to another level.
THE CONCERN THIS FALL –The biggest concern has to be, this team will now have a target on there back, can they handle this?. Next there are talented D1 upperclassmen but no seniors. The schedule is vicious and dangerous for their babies trying to gain confidence. Who is going to give them scoring nightly after Emnace and Stapleton. Finally while this is a team who got in the gym. The real question is did their prime time players get in "REAL" competitive environments in the off season….NOT TRAIN BUT PLAY. This step up in competition and expectations demanded this.
FALL GRADE- 8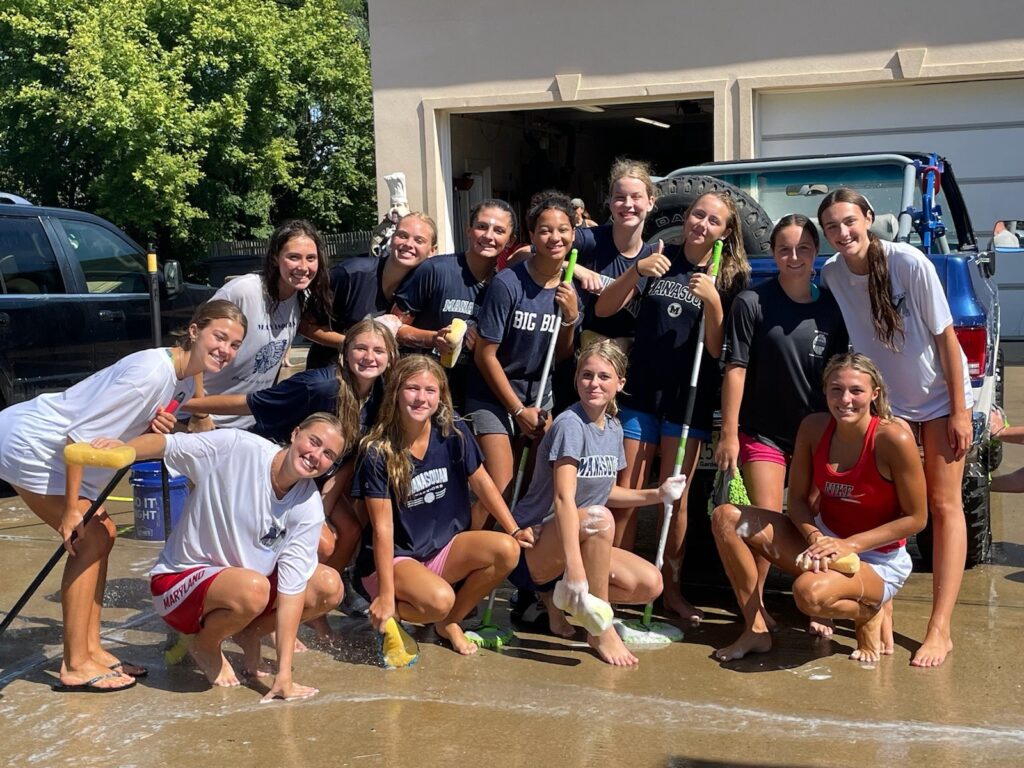 MANASQUAN HIGH SCHOOL
Make no mistake they have enough talent to be a contender for a SCT CHIP. But they will need a few breaks. They clearly have the size, speed and talent to challenge and compete with SJV. This team has Katie Collins the most improved player in the Shore. Rylyn Orlando there best two way guard showed flashes all fall as a guard ready to take a prime time role. Mckenna Karlson showed this fall she can be a star at any moment. Hope Masonius got better and more dominant each week this fall. Olivia Shaughnessy showed she is really to play a major role this year. She had an outstanding fall. There is a solid freshman class that may need a year. But sophs SHANNON HEINE, SHEA DONNLEY both look ready to make major contributions. Manasquan once again has 2 of the best 5 players in the Shore in Collins and Masonius. They also have a coach who has won just about everything in Lisa Kukoda. Now throw in Carlie Lapinski after 30 days and you get the big picture. They were easily one of the most improved teams in the Hoop Group fall league.
THE CONCERN IN THE FALL – There is no hiding it. This team had chemistry issues this fall. Mostly due to so many players having new prime time roles. Who the offense will run though was not clear. But that's were Lisa Kukoda impact comes in once the season starts. Her teams are notoriously known for sharing the ball. While nobody will call this group gym rats. They are known as hard workers and must find a blue collar approach that at times was missing this fall.
FALL GRADE- 6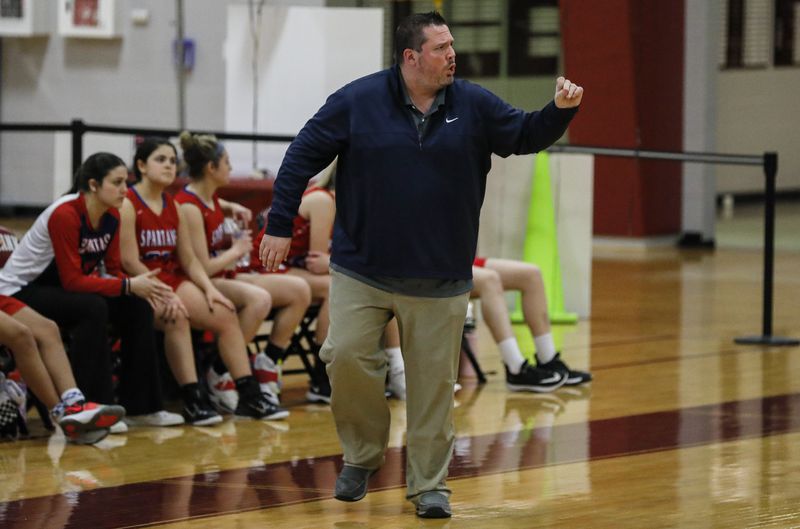 No team took more advantage or had a better the fall than OCEAN TWP. While D1 players Eli Clark and Kayden Clark were outstanding. Janeen Ayyash can make that same claim as well. Now throw in 6'0″ rebounding machine Gamila Betton and you have 4 imposing players known as the 4 HORSE WOMEN and they are a major handful. While she won't get the credit of the other starters. Sofia Chebookjian had a excellent and productive fall. This fall Ocean Twp they beat everyone and that includes RBC TWICE. Eli Clark has provided real leadership. The core of the team are mega gym rats. They have a unmatched competitive nature. They don't have the rep or history behind them. This may allow them as they did this fall sneak up on teams. They simply could not have asked for anything else this fall.
THE CONCERN IN THE FALL – They have zero depth to speak of that could make a difference. To make make matters worse. Janeen Ayyash and Gamila Betton are both out and may not return for weeks. Something this crew cannot afford. It put a real damper on a great fall.
FALL GRADE- 10

There had a fall that reminded us of the days before Abby Ferguson and Katherine Martini. A year ago Holmdel broke the lack of commitment and competitive nature label attached to them in recent years. They trained as a team and most of their players showed up for everything team related and the fall Hoop Group fall league. There entire team showed up on most nights. But it's been the complete opposite this fall. But the good news is there three core and most important players are in the gym. Allison Cannon should have everyone excited, she is not only a D1 player. But her growth has been mind blowing. Cannon looks like a future mega star. But this group also got a major Boost from McKenzie Teevan who has now stepped up in a major way. The 6'4" Teevan is finishing the fall with a major push. All shore guard and gym rat ALEXANDRA LOUCOPOULOS, was been training and playing 6 days a week. She clearly is on a serious mission.
THE CONCERN THE FALL – Holmdel had a big roster and mix of experienced and inexperienced players a year ago that lived in the gym. That simply is no longer the case. ALEXANDRA LOUCOPOULOS and Allison Cannon are as good of backcourt as there is in the Shore. TEEVAN could be a star in the making.But after that nobody on this roster has spent major time in the gym. How deep can they go into the bench is a another concern once REAL games start. Next, they have a new coach in Jessica Venturell who will hope to figure it all out in the next two weeks …
FALL GRADE- 6

They played in the Hoop Group Fall league. The core starters Juli Corsentino, Dylan Cahill and transfer RAQUEL GUIDETTI participated each week. Corsentino and Guidetti look like a superstar backcourt at times. Cahill looks more ready than ever for a banner senior season. This three will be the backbone of the bulldogs. But 1st Team All Freshman Sylvie Notine will now join her teammates as the fall wraps up. Coach Dave Cahalan loves this crew and says this is the 2nd best team he has coached in the post George Sourlis era. Most of RFH players do not play and train by themselves in fall. So we won't get a feel for want to expect until January. But that may not matter because once again the RFH non conference schedule is crazy. It acts as there pre season in a lot of ways. Dave Cahalan will duck no one and remember this about all his teams….THEY GET BETTER LATE IN THE SEASON!
THE CONCERN THIS FALL – will they be in physical shape and how long will it take to get there basketball legs? Don't we ask these same questions every year and then they are always one of the best conditioned teams in the Shore. I'm not sure if the Fall really means a hell of a lot when it comes to this program. Freshman Erin Reid who is expected to play a major role was injured. But she is expected to be back for the first day of practice.
FALL GRADE- 5
You can read into the RBR'S fall so many different ways. They freshman guards Rylie Wheeler and Kristen Connors got valuable mins. Both freshman will be heavily counted. The fall was a way for them to see high school competition. Kristen Connors has turned herself into a gym rat, from the start and what looks like she finish the way in the fall. Riley Wheeler has made a major jump this fall and she too appears to be ready to play right out the gate. She showed All Freshman signs this fall with her performances at times. Zoe Gulley appears to look like she will get first crack at the vacated point guard position. She too is a gym rat and showed a real upside this fall. Camryn Gardner will need to get fully healthy between soccer, injures and visiting D1 school. She has missed much of the fall. But when she has been available, she has looked like a first team all Shore type player. She was breathtaking at times. Josie Munson has simply been off the charts good since committing to NYU. The 5'11" senior has been just about unstoppable and living in the gym it seems working on her game. She has put in a fall to remember. First Team All freshman Caroline Polloway has made major steps forward this fall. She has proved she is ready to move to the next level. RBR played in the Hoop Group fall league but barely had enough players some nights. That's because of multiple sport players and injuries.
THE CONCERN THIS FALL – There were some ugly moments for RBR this fall. But isn't that the case every year in the fall? RBR has been knocking on the door of the elite program for years now. They just seem to one step away each year. John Truhan is a master coach, but even he knows his programs lacks off season gym rats. His coaching has always closed the gap with more talented teams. But this year's point guard issues are real and his players have as a group not been in competitive environments from start to finish. They have dipped in and out of legit competition, in the fall. Camryn Gardner has 4 weeks to help put it all together and may find herself playing the point guard position once again.
FALL GRADE- 5

Wall has talent and lots of it, Emily Tvrdik proved this fall she not just better. But much better in every area of the game. Marissia Amite is finishing off a fall to remember. Now she is much more than a rebounder and defender. She can score and looks every bit like a D1 player. She has played against the best of the best this fall. Shayne Eldridge is flat out a walking bucket. She has made the gym her home all fall. This core has been nothing short of sensational this fall. They got off to a late start but once they got up and running. They have been a group that should strike fear in every team in the shore on any given night, based on their work this fall
THE CONCERN THIS FALL– It's a old story, not enough of the team has been in the gym outside of their three core players. In this case it not injury or other sports. That has to be a red flag with a team with so much potential. They are like a lot of teams will try and finish the fall strong and hope they can play catch up during the season.
FALL GRADE- 5+