Today I kick off the Spring AAU TEAM SPOTLIGHT with the U17 NJ RISE. They are a team full of untapped recruiting talent. The roster is stacked with talent up and down the roster. There is players for all levels of competition from D1 to D3. They have mega students on this roster as well. Many of the plsyers have come from highly successful high school programs. Many of the players in the program have been part of this organization  for years.  This team could be the surprise group of the summer of tho hs play out right. Thsts because it's a highly skills group who have all faced top level competition  at one time or other.
THE TRACK RECORD
This is a team that brings a lot to the table. They have elite shooters, elite defenders, ball handlers and good size, throughout the roster. They are a team with players whose names are all over the post season awards giving out by various outlets. While they may not be a group loaded with so call gym rats. Make no mistake this is a group of hard workers and serious grinders, once they get in the gym. Most of the players on this roster have played against the Top teams in the state of New Jersey.   The return of Hope Masonious  gives this team the one thing it's been missing STAR POWER. Hope Masonious gives them instant star power and should draw in college coaches, particularly Division 1 coaches. Their Coach Ali Napolitano  has tons of experience at every level of basketball. This is a team that could steal the show this summer. They have a lot of unknown and under appreciated talent. The perfect recipe for a hustling coach trying to make a name for themselves.
Before I start I would like to clear up a little terminology. When I say a player is a lock Division one player that means a player has a offer on the table or I believe will eventually have multiple D1 offers at some point…key word being "multiple"  MY TRACK RECORD IN THIS AREA SPEAKS FOR ITSELF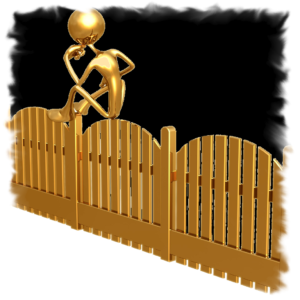 Fence sitters  are players without a D1 offer that can land on either the D1 side or the  D2/D3 side of the fence based on their summer performance.
When I call a player a GYM RAT, that player is constantly in the gym, outside their team practices and comfort zone. The player seeks competition outside their AAU environment and their work ethic is bigger than their ability. GYM RATS don't train alone, they train with killers. These players train against high level competition. I never call a player a Gym Rat, unless I have personally seem them against older elite competition and PERFORM at a high level while doing so. They are not just in the gym at every turn and seem to always be around. BUT THEY CONSTANTLY DO MORE AND ALWAYS EXTRA. These players will be better in college than in high school and can play a level HIGHER than their recruitment. I believe you build programs with gym rats…they have an added value recruiters do not get to see. Gym Rats are tough to find as all coaches know. But remember  just because a player is not a gym rat. IT DOES NOT MEAN THEY ARE NOT HARD WORKERS. There are hard workers and then there are GYM RATS…Learn the difference.
                     LIVE PERIOD SCHEDULE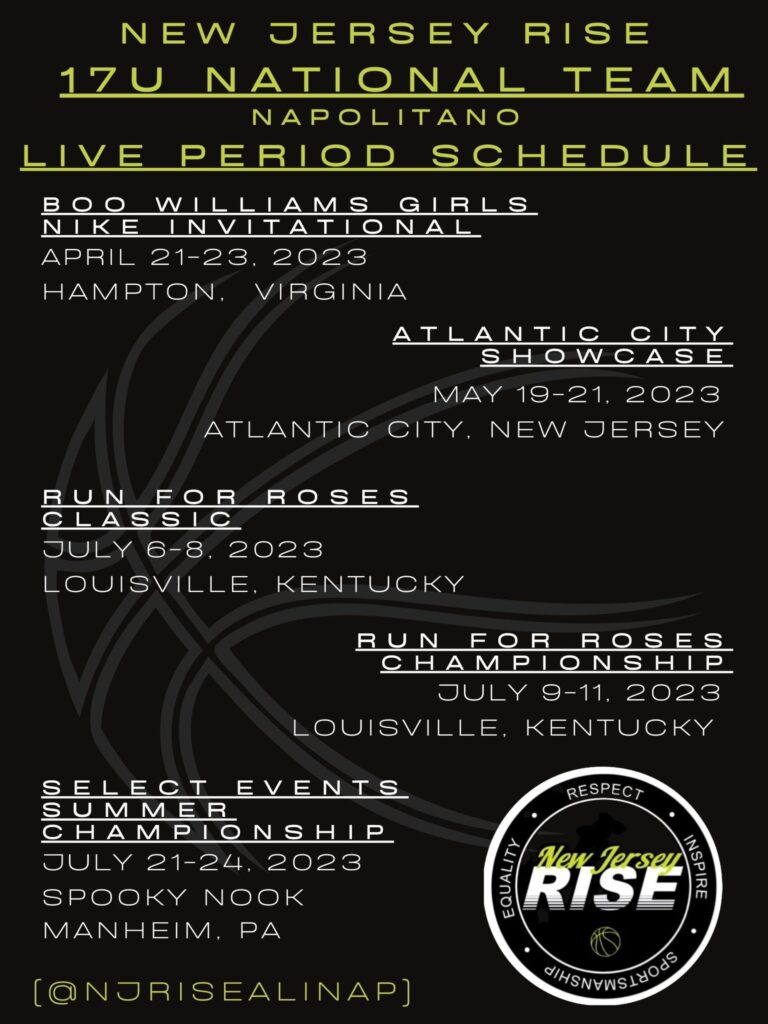 THE COACH
AAU Coach of the Week ALI NAPOLITANO of New Jersey Rise https://t.co/XifCdkR20N

— NJ Ladies Hoops (@NJLadiesHoops) March 17, 2023
Ali Napolitano inherits a group, which is a mix of kids from last years u16 team coached  by Rise Director Ellen Masonious.  Napolitano has players from  throughout the Shore and South Jersey. Ali Napolitano  takes  over the coaching duties with a reputation  has a true teacher and developer  of talent. She is known for developing teams that play as a group and get better as the summer rolls around. Ali Napolitano is a former college and high school coach with a  long time successful AAU background. She is well know in AAU circles and brings name recognition to college coaches. She has coached and developed  a number of players who have gone on to play in college at every level…P5..D1.. D2 ..D3 and high academic  schools.  She has also  built a reputation as excellent shooting coach. Her daughter, Cindy held the state three point shooting record
                                    THE ROSTER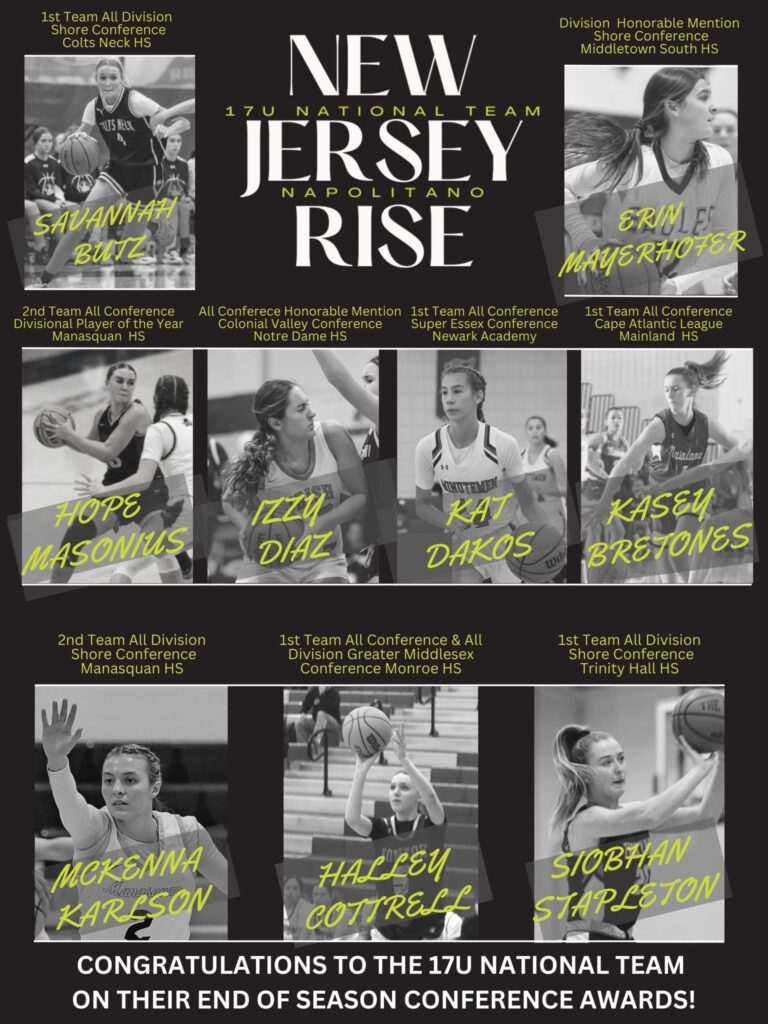 THE TALENT BREAKDOWN

CURRENT DIVISION ONE LOCK PLAYERS (2)
Possible  D1 players (4)
Special note- this team has (2) DIVISION 1 fence sitters
GYM RATS(0)
CURRENT POWER FIVE PLAYERS (0)
HOPE MASONIUS- MANASQUAN HIGH SCHOOL- WING- 5'9- '24
🏀 JSZ All-Zone Public Girls Basketball Team Profile: Hope Masonius, Manasquan

Masonius proved she was one of the Shore's best by contributing in every facet of the game. Meet JSZ's All-Zone Basketball Team ⬇️

📽️: https://t.co/khk898MXY0@SquanGirlsBBall | @SquanAthletics pic.twitter.com/JLtdDTRztb

— Jersey Sports Zone (@JSZ_Sports) March 21, 2023
HOPE MASONIUS-
This may sound silly but she in vastly underrated. While she has multiple high major offers, she has not reached her recruiting high mark. She is highly skilled and blessed with a remarkable IQ and feel for the game. Her passing skills are only exceeded by her crafty balling handling skills. She is absolutely masterful below the foul line. She can finish in traffic or use her elite two foot pull up jumper. Nothing fancy just pure effectiveness. She gets on the boards and understands how to fill lanes in transition.  She has a college body and a college attitude. Despite constantly playing with a target on her back, she seems to always respond. She has an elite attitude. This is a mega talent and must recruit impact player, who has played against and with elite top 50 type competition. She is one of the best players in the entire state of New Jersey a d will be a leading candidate  for Shore Conference PLAYER OF THE YEAR next season.
MCKENNA KARLSON-WING- MANASQUAN HIGH SCHOOL- 5'9″- '24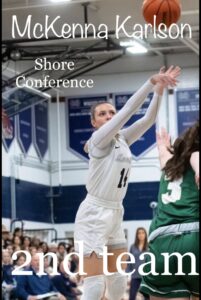 — McKenna Karlson (@mkarlson13) December 17, 2022
Start with the fact she was named to the HOOP GROUP ALL DEFENSIVE and MOST IMPROVED  TEAMS. Next she is a future D1 lock. That's because she is a two way next level player.  She can guard all three guard positions and undersized post players. Because she has a college ready body right now. Throw in she is  one of the best baseline drivers in the state due to a downright dirty first step. She is blessed with a deadly three point jumper and this is the reason she is a IMPACT PLAYER AT THE NEXT LEVEL FROM. DAY ONE.  She is wonderful in transition because of the toughness of her handle,  reliable  vision and decision making. She brings a next level off the charts competitive nature to the table.
"I never had anyone guard me like that before, I'm so sore today"  that from a Power 5 player.
I believe she will be one of the true gems on this years recruiting  circuit. Come the July recruiting  period she will be in all out demand by D1 schools….DEM BE DA THA FACTS FOLKS!
HALLEY COTTRELL- WING- MONROE HIGH SCHOOL- 5'8″- '24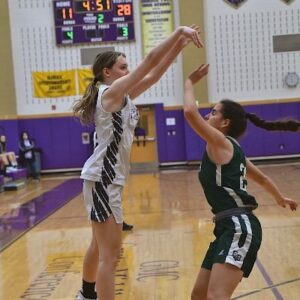 Here are some of my highlights vs Edison. My teammates did a great job of finding me some open looks!
(7 for 11 from 3pt) https://t.co/b6oin8EPDC #hudl @NJRiseAliNap @CoachAliNap @newjerseyrise @TinyGreenNBS @CoachVogtman

— Halley Cottrell (@HalleyCottrell1) January 18, 2023
HALLEY COTTRELL
They say shooting makes up for a multiple of sins. Well then Halley Cottrell is in  good shape.  That's because she is a deadly three point shooter with range. This past season she had 49 three's for Monroe high school. This despite being faced guarded and game planned all season. Less knowledge able people will call her a spot up shooter. That would be a massive mistakes. She is brilliant  at reading how to come off screens. Her quick release make her shot faking a thing of art. She has a reliable handle and a strong body. The 5'8″ Cottrell has a winning attitude and unselfish style of play. She is an sneaky  effective rebounder (56 this past season). She was named 1st Team All Division and helped her team reach the Sectional  finals. She had a season high 7 three's in a game this year. She is clearly a emerging talent. Her future level of play will certainly involve  a scholarship, it's simply what level of play.
KAT DAKOS- COMBO- NEWARK ACADEMY-5'9″ – '24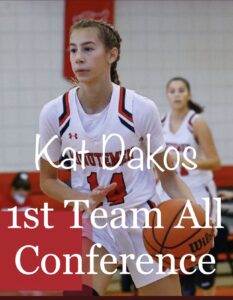 Love playing for this team!!❤️🖤 @LizBona1 @newjerseyrise @NJRiseAliNap @CoachAliNap https://t.co/cciyqWhKiR

— katerina dakos (@DakosKat) March 3, 2023
KAT DAKOS
She is long, thin and wiry strong. Do not let her frame fool you. She is tough as nails. She reminds you of  RBC guard Addy Nyemchek. Her quickness and lenght gives everyone problems. She is wonderful in passing lanes and rotating to help on defense.  If you want a stat sheet stuffed, she cam do it. 27 three's, over 400 points, 148 rebounds, 78 dimes and 66 steals. I think that alone says enough. None of this surprises me because at one time she was part of the NBS family before moving on to bigger and better things. Like being  named 1ST TEAM in the highly competitive ALL LIBERTY DIVISION.  She is slippery and dangerous  in the open floor.  Her  handle makes her evasive and difficult  to guard in the half court. She gets to the rim and "LIVES" at the free throw line…real next level stuff. She is a mega student, calling all high academic  programs. This is a must see recruit and another sleeper on this roster.
SIOBHAN STAPLETON – SWING- TRINITY HALL HIGH SCHOOL- 6'0″- '24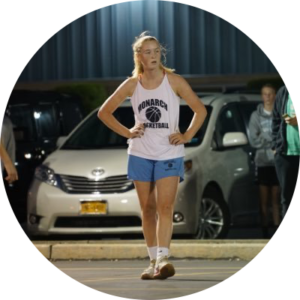 And here's some from Chicago- we went 3-1. Another great tournament with my NJ Rise team!! https://t.co/RThN4G1Tlp @newjerseyrise @EllenMasonius @mattkmcc

— Siobhan Stapleton (@SiobhanStaplet8) July 19, 2022
SIOBHAN STAPLETON
She is a Swiss knife and one of the most versatile players in the the state. She is a former 1st HOOP GROUP 1ST TEAM ALL FRESHMAN MEMBER. She is not a box score junkie so her value at times gets lost in the hype world. She is named 1st team all division this past season. Her ability to  guard all 5 positions in high school is no shock. That's because she will be able to guard 4 position in college. She is an excellent passer and screener. Her ability to rebound in traffic is a gift. She is a reliable three point shooter. She is excellent against pressure,  she can move to the point forward position with ease.  She has a college ready body and mind.  She is an off the charts student. Ivy's and Patriots would be wise to follow her closely. That's because you don't get the full picture….until you see her stats in full do you understand!
ERIN MAYERHOFER- COMBO- MIDDLETOWN SOUTH HIGH SCHOOL- 5'5″- '24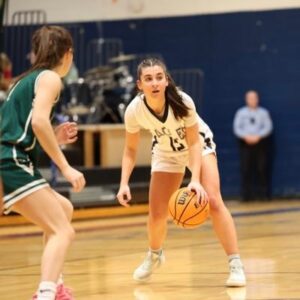 Check out my highlights from USJN Richmond..had a great season with my team!! @newjerseyrise @NJRiseAliNap @CoachAliNap https://t.co/rSCGF9jB8Y

— erin mayerhofer (@erinmayerhofer1) July 29, 2022
ERIN MAYERHOFER-
She is coming off a wonderful high school season in which is had some big nights. Scoring in double figures on multiple time during the season, which included 43 deep bombs on the season. She has an excellent handle and is blessed with real quickness and speed. She is a tough hard nosed on the ball defender. Mayerhofer can play the point or shooting guard do to her shooting ability. Named honorable mention in the insanely talented Shore Conference, she had a season high 19 points and 18 points on multiple occasions. She is a player who is hungry and could be a surprise this summer.
KASEY BRETONES- COMBO- MAINLAND HIGH SCHOOL- 5'8″- '24
https://twitter.com/NJRiseAliNap/status/1637923630846754816?s=20
KASEY BRETONES-
The combo guard is explosive and talented. She is one of the best guards in South Jersey. Her ability to score is a gift. She scored 450 points last season. She was PLAYER OF THE YEAR IN, Cape Atlantic Division.  She was name 1st Team All South Jersey. She scored double figures in 20 games last season. She was model consistency from the start of the season until the end.  She is also a pit bull on defense. She has strong athletic body and a mix of quickness and strength. She made 100 free throws last year. A true sign of a key who understands how to get down hill. She saves her best for the best competition. Her games in the Conference tournament and state tournament were show stopping. She has a sensation handle to go along with a wonderful imagination. She is a player with a real upside and big future.
SAVANNAH BUTZ- FORWARD- 6'0″- COLTS NECK HIGH SCHOOL- '24
Had a fun time competing in the Homdel Holiday Classic with my girls! Check out my highlights!! @NJRiseAliNap @CoachAliNap @CNHSAthletics @cnhs_girlsbball https://t.co/ctTqZcTud7

— Savannah Butz (@savannahbutz) January 7, 2023
SAVANNAH BUTZ-
She is a tough hard nosed player with a nose for the ball. She wrapped up 158 rebounds last season for Colts Neck. But she is also a serious lane defender, who had 27 blocks on the season. She is very mobile and bouncy. She scored 256 points last season. But two things coaches who be wise to pay attention too. She has 16 three's and walked to the foul line 127 times and made 96. But it what she did towards the end of the season that has to have the Rise excited. She has multiple big scoring games down the stretch  including a 22 point in the state tournament. She is reliable passer and willing screener. She has a basketball body and with excellent timing around the basket. She was named 1st Team All Division in the strong "B" North Division of the Shore Conference. She is no stranger to elite competition. Last year playing against, SJV, RBC and Ewing. All Top 5 teams in the state. SAVANNAH BUTZ  is a player that should draw interest from college coaches across all levels of play
NBS CAMP DATES…. REGISTRATION HAS STARTED!
HOOPGROUP.COM