With the New Year comes new beginnings and nothing is more new than what is going on at Long Branch High School. Shannon Coyle has given an entire group of girls hope, not just for today but for the future as well….she has allowed an entire community of  girls to dream.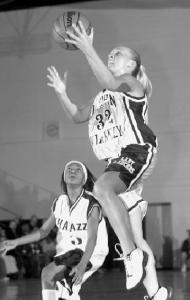 Coyle was a star at SJV
If you don't know much about Shannon Coyle most likely you are out of the AAU loop or you know very little about the history of  SVJ. Coach Coyle has been the coach of the powerhouse CENTRAL JERSEY CARDINALS high school team for years and was a star at SJV. Shannon Coyle has been  a winner everywhere she has played or coached at, that's why when she took the Long Branch job I was a little surprised. You see Long Branch girls basketball team has not had much success over the years. Its also clear nobody has taken them serious in a very long time….BUT COACH SHANNON COYLE HAS CHANGED ALL THAT.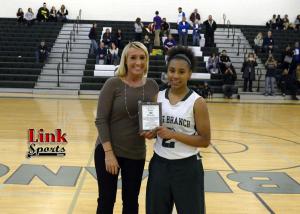 Coyle is now developing new stars like Angelique Gathers
Shannon Coyle has coached and helped developed players like Kelly Campbell, Gigi Caponegro, Emily Uribe, Courtney Hagaman and sleeper stud Emily Calabrese of Rampo High School( College coaches she is the real deal). Her AAU teams have always played the best competition and they always found ways to win. Coach Coyle low key firm approach with great players was just what the doctored ordered when she and Kristin Somogyi joined forces to form one of the best AAU programs in New Jersey, the Central Jersey Cardinals. But when Shannon Coyle arrived at Long Branch High School last year, she knew it was a different ball game. But she had the confidence she could build a program when others did not think it was possible. Right now, Shannon Coyle is on track to become the Shore Conference Coach of the Year in a blowout, because nobody is doing what she is doing these days. Its a New Year and the Long Branch kids are taking full advantage of the new start.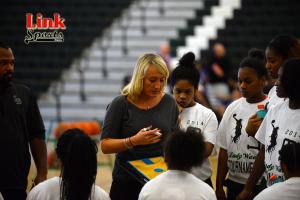 Coach Coyle believes in her kids in they believe in her
When Shannon Coyle took the Long Branch job I told her it was not going to be easy. She asked me if any of her girls come to to the hoop group to play. I told her not to my knowledge. But more importantly the grammar school kids did not seem to be around much as well and for good reason. The high school team was not very good and the youngsters had nothing to look forward too. Shannon told me she wanted to get her kids playing…I SIMLED AND THOUGHT…SHE HAS NO IDEA WHAT SHE IS STEPPING INTO. I have long felt Shannon Coyle would make a stud college recruiter. I thought she was taking a big unnecessary risk with a great reputation that she had taken so long to build. I felt it was just a matter of time before a Division one college job would come calling. Last year it seemed I was right as she won 8 games her entire first season.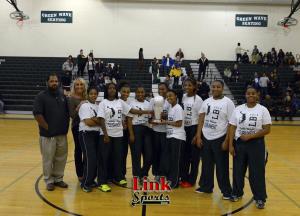 Long Branch winning ways are just starting!
This year I ran into Shannon Coyle and she told me, she wanted me to get in the gym and maybe work with her kids…I said of course. But in my mind I didn't think there would be a chance in hell I would see those girls. The history was they did not train as a group and played rarely during the off season. But later in the fall something strange happened, Long Branch was in the Hoop Group fall league. I thought that was interesting, because I couldn't believe she could possibly get those kids to play in the fall. I saw Shannon and said congrats on getting them in the gym. She told me that she was working on winning the parents over and she needed there support and was getting it. She then told me her kids where doing work outs and that  she was happy the kids were buying in. Shannon Coyle was not letting anyone define who or what her kids could do. It was clear she believed all they needed was something nobody ever gave them… a chance, guidance and support.
"This tournament has been a good run from our team, it just shows the work that they have all been putting in over the summer and fall," Coyle said. "All of our players have been improving, and to finally get the result is what is fun and exciting."…QUOTE- COACH SHANNON COYLE
Shannon Coyle did something that is rare since taking over the Long Branch job. She didn't worry about what took place before she arrived.  She tuned out the negative people. She didn't concern herself with what others thought of her program or kids. She gave every kid a clean slate and she made sure her players knew she believed in them. Shannon Coyle meant it when she said that Long Branch can be turned around. You see having only been part of successful programs in a way it may have blinded her to believe she could win anywhere.
Before the season started Long Branch went undefeated in scrimmages, but lets be honest those are just scrimmages…or we thought! Because Shannon Coyle crew got off to a shocking start to the new season when they beat Central Jersey Group 4 Champ, Colts Neck. The last time Long Branch had a win of this magnitude was so long ago nobody even bothered to look it up. Anyone who knows anything about Shore basketball had to be shocked by this win. You heard the excuses, Colts Neck couldn't make a shot, they were flat and it was one bad night. Nobody was really prepared to give Long Branch credit for the victory it had to be a fluke.
Shannon Coyle could care less what anyone thinks about her team,  she believes her kids can play and she knows she can teach. I myself thought maybe this was just a aberration after the Colts Neck win. But something jumped out to me in the box score. It was not one player that was solely responsible for the upset.  Che"kasha Andrews had 15 points, Carmair Brown had 10 points, Ryasia Cunningham has 12 points, Angelique Gathers had 15 points, Hydeinah Moore had 8 points and 8 rebounds. Quayniece Page chipped in 3 points and had two steals. Folks that is what you call a team victory. This is also how you build a program, you make everyone feel a part of the success….Shannon Coyle is smart like a fox folks and Colts Neck found that out!
 "The program has lost for so many years, and they players really wanted to change that." QUOTE -COACH SHANNON COYLE
Now its not unheard of that a team with no reputation and success surprises a better team and then goes to back to being what they really are… a bad team. Im sure many felt that Long Branch had there day in the sun and all would return to normal . You know lots of losses and kids having nothing to look forward too or play for.
"They just really believe in themselves," …. QUOTE -COACH SHANNON COYLE
Now in most cases people may have been right. But Shannon Coyle is not like other coaches, she enjoys a win as much as the next coach. But Coach Coyle knows one win does not make a season. That's why her team instead of getting blow out in games like in the past, started returning the favor as they blew out their next two opponents by 30 and 17…who could ever imagine Long Branch blowing anyone out of a game? Nobody except Shannon Coyle and her band of dreamers. Che'Kasha Andrews, Carmair Brown and Ryasia Cunningham have carried the scoring load but if you look at a box score, again you will notice they are a true team Gathers, Moore and the Page girls fill up the box score as well on any given night. You see when you have lost so many games over the years….You don't care who is the leading scorer or who gets credit…all you care about is winning and Long Branch is doing just that right now WINNING.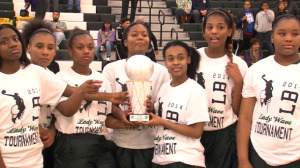 LONG BRANCH AND WINNING CHAMPIONSHIPS….TOGETHER!
The Holiday season for Long Branch in the past has been a way for other teams to get a easy win. You know invite Long Branch to your tournament and everyone goes home with at least one win. Long Branch was your local punching bag. So this year  when Long Branch entered the Lady Wave Tournament nobody except Shannon Coyle and her band of dreamers seriously expected Long Branch to be in the final more less win it. Well Long Branch did win the tournament for the first time in god knows how long. They did it they way they have been doing it all  year as a team. How unbelievable has this run been for Long Branch one newspaper had them in the consolation game. Its no shame because in the past, that newspaper would have been 100% right to expect them to be in the consolation game.
It's a New Year and Long Branch has a new coach a kind of SUPER COACH, they have new goals, like WINNING TITLES. But above all Long Branch has a new identify and it has everything to do with PRIDE….
CORE SKILLS TRAINING STARTS TOMORROW AT HOOP GROUP..(.I have a funny feeling some Long Branch kids just may show up!)