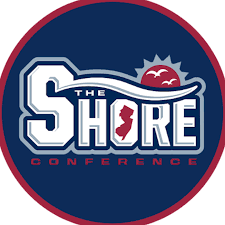 There were two big games last night. Both started and ended differently. Both games came down to something very simple. Being prepared for the moment. The winning teams last night both were prepared for the big moments . The moments that decide games.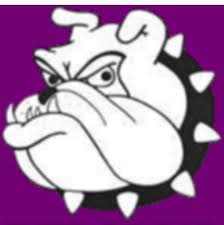 HOLMDEL AND RIMSON had all the making of a great game. You had two hot teams. You had a team in the Top 20 in Holmdel and you had a team that was once in the Top 20 in Rumson. it looked like we were in for a great night of basketball. But looks can be Deceiving sometimes.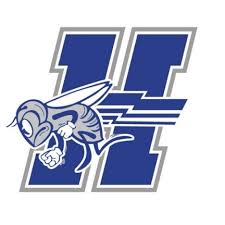 Last night got real early for Holmdel. Thats because sometimes we forget, it's role players and their matchups that ofter determine the outcome of games. The so called role players for RFH didn't win their matchups last night. They dominated there matchups right out the gate. They jumped on the Holmdel role players and never looked back.
FRESHMAN Sylvie Notine and Senior Grace Colucci  made quick work of Holmdel last night. The first 3 Possessions of the night they banged out threes. Abby Ferguson had Julia Cosentino under control and Miss Martini had the RFH front line under control. But some sometimes a game gets to big for others. It's why they call sports and you get to fight another day. Thats what Holmdel needed to do after 5 mins into last nights game!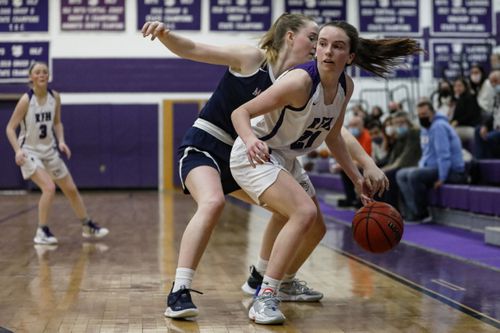 While the Homdel role players missed wide open shots and free throws. The so called RFH role players Sylvie Notine and Senior Grace Colucci ran wide in the first 5 mins. Losing there defenders easily for wide open shots and easy buckets. The end of 1st quarter it was 20-8 and RFH never looked back. That because then Dylan Cahill joined the party and started knocking down three's . Charlie Rosen started dancing in the lane finding teammates for easy layups. There was no need for star power at that point but Julia Cosentino then joined in just to let her teammates know if a star is needed she'd be around. There was no need for her because by halftime this game was a wrap. Freshman Notine finished with a career high 15 points and Grace Colucci  with 10. What you won't read in the box score was how they closed the door on the Holmdel guards on defense and ended this game personally in the first 5 minutes. They were prepared last night to win there matchups and they did in grand fashion.
JACKSON MEMORIAL was hoping to make some noise last night. Gain some respect and creditably. They were 11-1 and were at home vs there Division Rival TRN. They knew a win would make them a legit Top 10 team. TRN has been a Mystery team. There were high expectations before the season. But things have not gone as expected. But a lost to Jackson Memorial last night could have been the last straw. So both teams laced them up and only one would be smiling at nights end.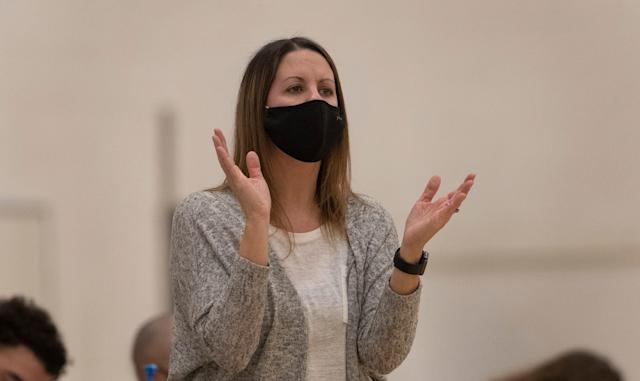 TRN Coach Vickie Gillen is loyal to the bone. She is committed to her kids espicially her seniors. She is Appreciative that they stayed home and played for there home school. She knows that many of her kids will not play in college. She knows that in many cases this is some kids last basketball Hurrah. So she wants to make it rhe best experience she can give them.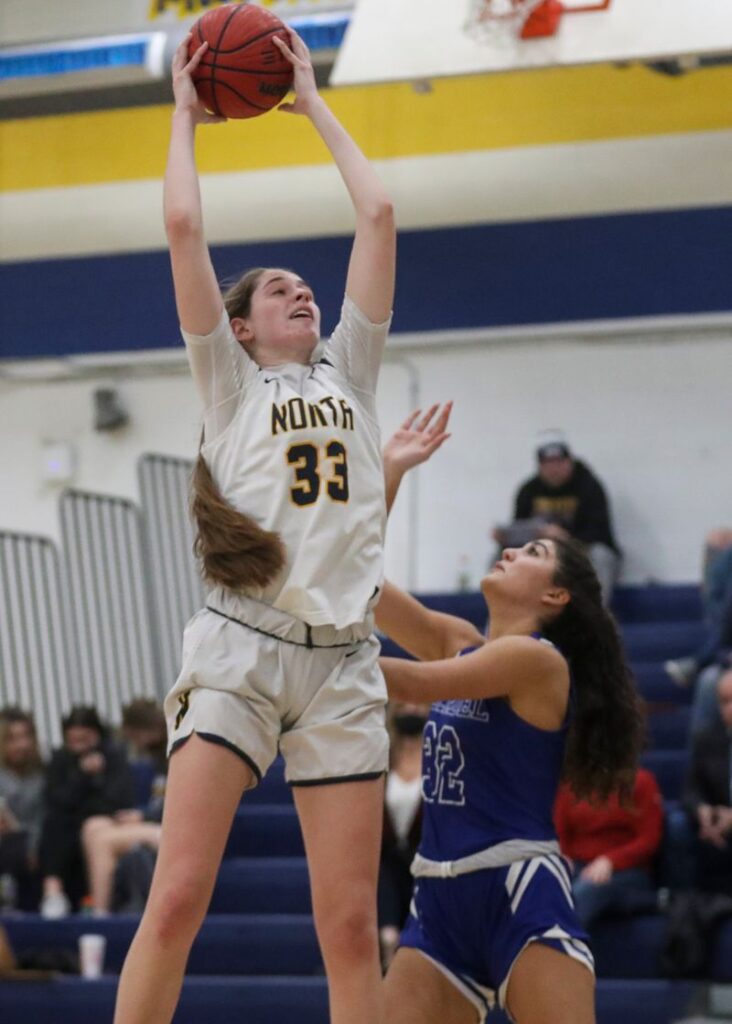 Gia Pissiott has lots of basketball left to be played after high school. She off to D1 Navy. Arliana Torres will be heavily recruitted one day too and has lots of basketball in her future. . Together in the fall the two carried TRN. But once the season started. The offense focused shifted. Pissott became a screener and the 3rd option on offense. Arliana Torres saw spot time. Last night Coach Gillen decided with starter and leading scorer Julia Grodzicki able to play only limited mins, she'd let Arliana Torres loose. Even allow her to play though her mistakes and give her extended min. She then decided she would finally feature her D1 player Gia Pissiott. The result was a big 2nd half by both and a 42-39 heart stopping win. Gia Pissott had 17 points .. 10 rebounds… 6 blocks and 5 dimes. Arliana Torres finished with 8 points and 4 dimes and 3 steals. She also made the two biggest plays of the season with just over two mins. She stole the ball and scored and one. Then she stole the ball again and found a wide open Pissott for a layup to give TRN a 4 point lead which they would hang on too. Sidney Howell had 7 big points and JACLYN BENVENUTO chipped in with 8 points. TRN may have found a winning lineup and offensive philosophy.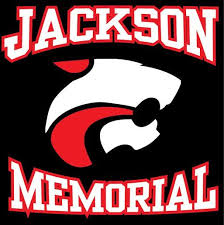 Now Jackson Memorial got there wake up call last night . They had a chance to tie the game or win it with 8 seconds remaing. But they had not been in a close game this year. They had not played competitive competition. In other words they were not ready for the moment. Its why there invounds pass was thrown Completely out of bounds touching no one. It was a disappointing way to end a well fought entertaining game.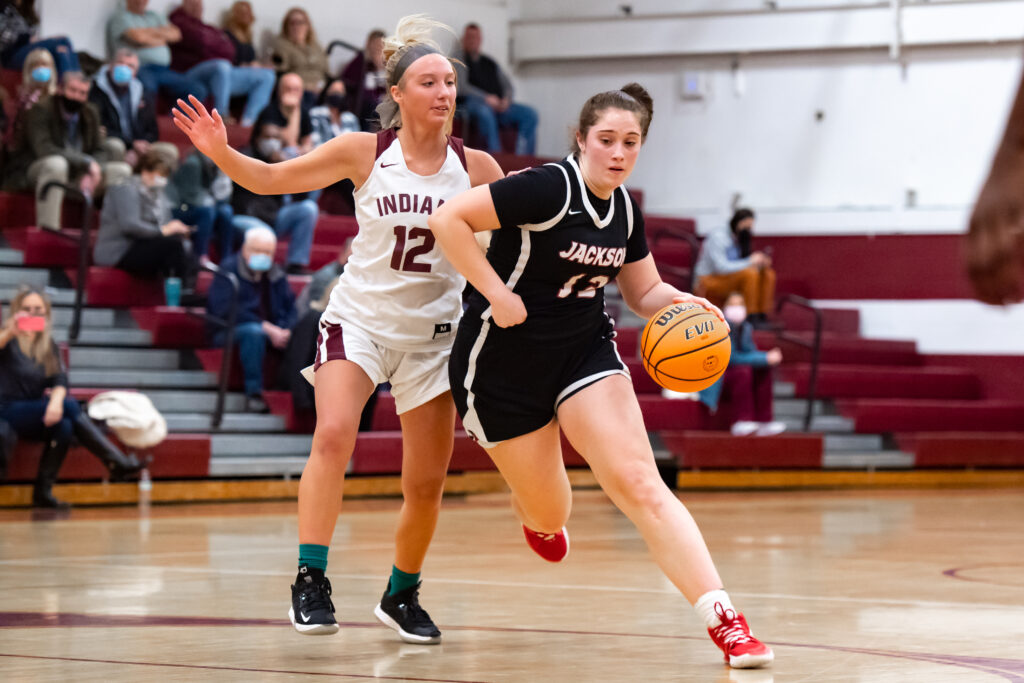 But was not disappointing was ZOIE MAFFEI's 17 points and 7 rebounds. it seemed every time TRN tired to run away and hide, there she was pulling them back. She was outstanding from start to finish. CHLOE MESSER hit big shots all night as well and finished with 11 points. While the book will show a lost. What it won't show is how hard the Jackson team played and how competitive of a group they are. The home crowd was loud and electric because of the energy there team played with. In two days things just might be a little different when these two meet again. Now that Jackson Memorial is battle tested and understands how to close… WATCH OUT!