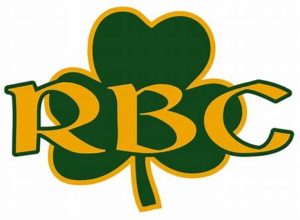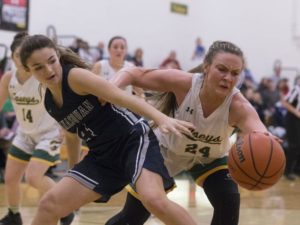 It's been four years of watching Manasquan celebrate for Katie Rice, Rose Caverly and Hayley Moore. But it's been that way for just about every other team in the state. Manasquan has been blessed with some of the best talent in Shore history over the past 5 years. So it was no surprise when they ran over RBC earlier this season. But Katie Rice, Rose Caverly and Hayley Moore have senior pride and last night in what could be their final chance to beat Mansquan, they did just that…but they needed a little help along the way.
In RBC's  first game against Manasquan, they could not hit the broad side of a barn. Manasquan played an extended zone and RBC never found an answer offensively. Last night JULIA SETARO put to rest any doubts that RBC could make shots. She made three bombs in the first half and helped put Manasquan in a hole. Then RBC got some real baby love as Freshman Sophia Sabino was brilliant. She got to the rim and banged out jumpers liked a seasoned vet. It appreaed RBC could run away from Manasquan. But the player who is on a entire different level than everyone else was having none of that. Dara Mabrey went showtime on RBC and opened her wonderful bag of tricks. She hit pull ups,  three's and got to the rim. But more importantly she held Hayley Moore scoreless in the first half. Dara Mabrey single handily prevented RBC from running into the sunset and leaving Mansquan in the dust…more importantly somehow Manasquan who had times aprreared ready to get knocked out, trailed by on a Duce 29-27.
In the 4th Masonious and Mabrey got  absolutely silly. They hit jumpers, got fouled and make sick dirty passes. They even got a six point lead at one point. Put some how along the way, the made a costly mistake. Dara Mabrey went back to face guarding Hayley Moore and Sophia Sabino went back to  torturing Manasquan. Sabino showed why some of the biggest schools in the country are recruiting her. She did everything, like knock down three's and was  virtually unstoppable at getting to the rim. Time and time again she got to the rim for a bucket or a foul. Manasquan simply did not have a answer for this baby. She was now becoming a angry toddler and behaving very badly to the Manasquan faithful. Mansquan could not shake RBC and Katie Rice appeared to get every rebound and give her body up for her team. She dove on loose balls and became a woman possessed. Meanwhile Hayley Moore stepped to the foul line and made it a one point game with 1.51 left in the game. It was with 1.16 left, the player who was not around in the Manasquan massacre of game one, who made perhaps the two biggest plays of the night.
RBC was down one and had a easy chippie or they thought and Fab Eggenschwiler blocked the shot that would have given them real breathing room. She had earlier made a Huge driving layup. Eggenschwiler was just what the doctor ordered, her 5 points was nothing compared to her rebounding defense. She set the table for the big finish.. When Rose Caverly walked to the line and made two free throws, it gave RBC its first lead since early in the 3rd. Instead of being down three, they were up 58-57…but with 55 ticks remains and the best closer in Shore history, everyone was waiting to see what would be next.
Next never happen because Dara Mabrey never took the shot. What did happen was Manasquan fouled the magical baby hoping the pressure would crush her, they hoped the moment would be too big. But Sophia Sabino is no  Ordinary  baby. She was " ICE" and buried two free throws giving RBC a three point lead with 38 ticks left, plenty of time for the TRI ANGLE OF DEATH. But Katie Rice had seen enough over 4 years. So when MANASQUAN missed it was only natural she got what appeared to be her 100th rebound on the night on the way to another double/double….she was fouled and walked to the line and closed it by making two..she also sent a message to the state….DONT EVER DOUBT THE YANKESS
,