SUNDAY marked the day of some of the state's best, clashing head to head to try and claim a win for their respective teams. Not only this, it was also 5 games that each contained one shore team and one non shore, so it was almost individual wins as well as conference vs conference bragging rights too. The Shore Conference took home 4 out of 5 in the showcase this past weekend, so I think we could all applaud for that. Anyway there was some great basketball, so let's get into the details and turning points of the game, as well as players that changed the game. Then we will close up with an all showcase 1st and 2nd team, as well as my personal MVP, Defensive player, Hustle player, step up player, etc., and the Best Team award for the team I felt had the best play at the showcase this weekend. So first let's start with game 1, Middle Town South (no. 7) vs Newark Tech (unranked)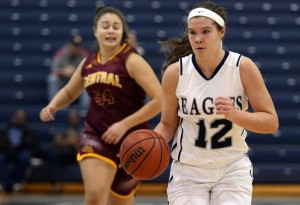 Midd South vs Newark Tech: A little to close for comfort for the no. 7 Middle Town South in my opinion. Abbey Lawrence from Newark Tech High School was a key reason why Newark Tech was as close in the game as they were. I don't know the exact stats, but I could guarantee Abbey was the leading scorer for her respective team, and really carried them farther than I expected. Did I expect Newark Tech to get blown out? No of course I didn't, but the way they hung in with our no.7 team in the state came to a sly bit of surprise to me. Alexandra Balsamo for South in the first half really dominated, and stayed calm, cool, and collected when the game was at its hectic points. She has proven time and time again that she can take over a game at will, and demonstrated that her 3-point range for a 4/5 position is very good. Now the second half, it was all about Midd South's main girl Stephanie Karcz. Her leadership came through in the second half, and she showed that her senior experience and IQ can help her bring her team right back into the game. She is a glass cleaner when it comes to NJ Girls Basketball, I have never seen anyone dominate the glass the way she does. Her post play has gotten to a superior level over the past few years, and she is a force to be reckoned with down low. One reason why she is so tough is because of her body frame, and how strong she is compared to these other girls which really comes advantageous to her at many points throughout the game. This game was very scrappy, maybe a little dirty at times, but it made it fun to watch and observe on. Midd South 60 Newark Tech 47.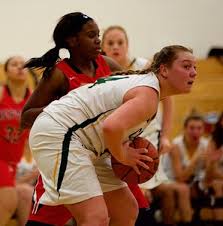 Red Bank Catholic (no. 19) vs Ramapo (no. 20): This game in my opinion came down to a battle of effort, urgency, and desire to win the game. Both teams were evenly matched at each respective position. Maureen Coakley was battling down low with Emily Calabrese, as well as Amanda Hart battling up top with Olivia Kraebel, and so on. Both teams ran a fluent offense, cleaned the defensive boards, pretty much had a lot of identical aspects to them. In the first half it was all about the big girls, but more specifically Emily Calabrese. The Casey's really didn't really have much for her defensively in the first half, and they didn't attack her enough offensively to get her tired or in foul trouble, which was really a key turning point as to why this game turned out the way it did. With Coakley in some foul trouble early, they didn't really have a second option to slow Calabrese down, and I was awfully surprised that RBC did not go zone when Coakley was out. Then second half it was a huge turning point for Maureen Coakley. Keying in 23 points for the eventual 52-39 win, she really broke through and showed us a Mo we haven't seen in a while. She's worked extremely hard this off season, so I give her full props to the efforts she has put in to get better. Other key players in the game were Katie Rice (RBC), Amanda Hart (RBC), Reilly White (Ramapo), and Hayley Moore (RBC).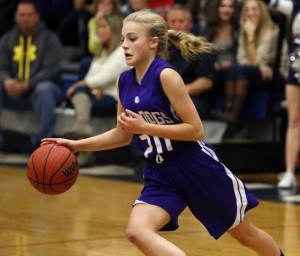 RFH (no. 8) vs Saddle River Day (no. 14): This was a classic game off great starts and bad finishes vs bad starts and great finishes. Saddle River came out with a bang with senior Dani McMahon killing it from the 3-point arc, and played solid defense keying in a lot of steals for her team. Saddle River came out to a 9-0 start to begin the game, but as the game went on RFH inched back in more and more and more. When RFH was really peaking and started to come back in the 3rd quarter a main reason why they came back was because of sophomore Tori Hyduke. She has some of the best handle and point guard skills in the whole state of NJ and was clearly unstoppable in this match up. She was a little passive and tense at first, but when she let loose and started to play aggressive that's when RFH was tougher to handle. The main turning point in this game for RFH was Stephanie Lesko, the senior 6th man for the hosting Bulldogs. She ran her lanes very well, rebounded the ball exceptionally well, and was probably the best 3 point shooting big in the gym on Saturday. Another key player was freshman Michelle Sidor for Saddle River Day. I thought she was a senior based on the way she handled the Bulldogs pressure, but in the end RFH's depth and hunger got them this win. 60-43 RFH topples back to win over SDR.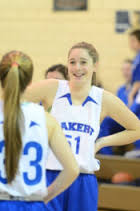 Manasquan (no. 3) vs Gill St. Bernard (no. 5): Dara Mabrey, arguably the best guard in the shore, out for the count in this one with an injury. This was most definitely a huge factor in this game because of the fact that Gill St. Bernard applies some of the best ball pressure in the state, and Stella Clarke having Dara by her side would have cut down a lot of turnovers and released a lot of stress for Clarke. Alexia Allesch was huge for Gill St. Bernard as always, and for Manasquan it was all about Faith Masonious, a proven freshman in the state basketball scheme. There wasn't much to this game that was surprising. I don't know if it was a fluke but Bernard just executed, hustled, defended, and worked harder than Manasquan did, and this is what really resulted in this win. Dara Mabrey plays a huge catalyst for this team, and without her Manasquan obtains a few detrimental flaws. 48-41 Manasquan takes their second loss.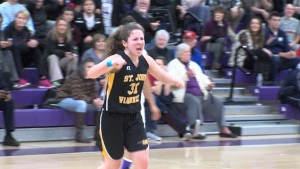 SJV (no. 1) vs Morris Catholic (no. 16): I knew coming into this that Morris Catholic was going to give Vianney a run for their money. Catholic's only loss come's to top 5 East Orange, so Morris Catholic had a pretty good winning chunk coming in.  Kimi Evans, probably the one of the best post players, let alone centers in the state, was a huge player in this game. 11 points in the first half, she cleaned the glass fairly well, and she was dominating offensively and defensively in the post and low block situations. Stella Johnson for was huge for Morris Catholic scoring nearly 65% of their points alone to keep them in the game in the first half. Second half it was all about Stella Johnson, keeping her team in the game by getting herself in the best positions to score, as well as getting to the line and hitting a good percentage of her foul shots. Kelly Campbell handled the pressure pretty well for SJV, as well as the coach's daughter Sarah Karpell, who came in and knocked down a few crucial buckets. In the end it came down to a buzzer beater knocked down by Tina LeBron after a display of great offensive set execution and exceptional ball movement to win SJV the game. 43-40 SJV takes the win and remains no.1 as well as undefeated.
Player and Team Awards!!!!!!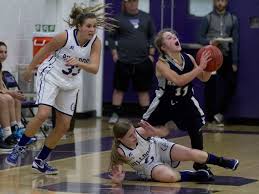 Bulldog Classic Defensive Player of the Showcase: Stella Clarke. Why? Because she is arguably the state's best on ball defender, and it was nothing different this weekend.
Bulldog Classic Hustle Player of the Showcase: Isla Brennan. Why? Abbey Lawrence was unstoppable in the first half, but Isla Brennan stepped up for her team and shut Lawrence down in the second half to secure a win for her team.
Bulldog Classic Step Up Player of the Showcase: Maureen Coakley. Why? 23 points! Not something I would expect from her, but she's worked her butt off in the off season, and her improvements showed on Saturday.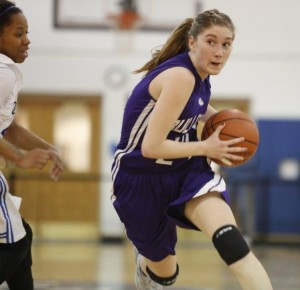 Bulldog Classic "She's Back" Award of the Showcase: Stephanie Lesko (It was tight between her and Tia Montagne btw). Why? Stephanie was out early in the season, but her presence off the bench for the Bulldogs was undeniable and she really proved that she's working back up the ranks.
Bulldog Classic Glass Cleaner Award of the Showcase: Stephanie Karcz. Why? Proven time and time again Karcz's strength and the way she gets into position, setting herself up to score, makes her so dominate.
Bulldog Classic Best Team Performance Award of the Showcase: Morris Catholic. Why? At no.16 they were stacked against the odds, but they came in and showed that they can contend with anyone.
Bulldog Classic All Showcase 2nd Team: Abbey Lawrence, Michelle Sidor, Madison Maguire, Stephanie Lesko, Katie Rice. (Honorable mentions include; Reilly White, Christina Antonakakis, Adie Masonious, and Tina LeBron)
Bulldog Classic All Showcase 1st Team: Tori Hyduke, Faith Masonious, Alexandra Balsamo, Stephanie Karcz, Hannan Scanlon, Emily Calabrese, Stella Johnson (Honorable mentions include Nicole Morris, Kelly Campbell, Dani McMahon, Haley Dalonzo, Amanda Hart,)
Bulldog Classic All Showcase MVP: Kimi Evans (Runner up= Stella Johnson)
The Shore and Non Shore teams put on a good show, as well as showed why NJ is a hot bed for girls' basketball. It only gets better from here, looking forward to more conference and non-conference play further down the line, and the turn around's we will encounter along the way.