The opening  night in the Shore Conference didn't  see any upsets. But we  did see some big performances. We saw stars shine, babies making their mark and  players in new roles stepping up in a big way. The 2022-23 season has started with lots of hope and a bang.

The game of the night pitted the #17 team in the state,  RFH  vs the #11 ranked team in the state, ST. ROSE. Rumson which returns 3 starters has  hopes of making  a run at the GROUP 2 TITLE, saw Julia Corsentino become the 15th player in RFH history to score 1000 points. They also watched Julia Corsentino  put on a show in the 4th quarter that made ST.ROSE pause for a min.  In a game that seemed to get out of control mid though the 3rd quarter.  RFH appeared to be left for dead. They were down by 23 points so Coach Chambers threw her freshman  babies and her bench on the court, thats because it seemed this game was a wrap. The packed gym got quiet and some fans headed to the door. But someone forgot to tell  Julia Corsentino it was time to live to fight another day. Because the Marist bound D1 guard went on a one woman shooting rampage.  She hit three's, floaters, drives to the rim, dove on loose balls and inspired an entire gym and team. She was not a Bulldog, she was behaving like a angry dog …THE BIG DOG!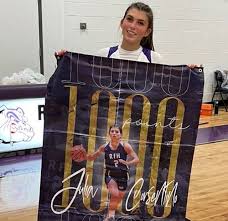 The 4th quarter became the Julia Corsentino  show and it was an award winning performance. She had 14 points of her 24 points in the 4th quarter and single handily RFH cut the St. Rose lead to 5. But St. Rose has a rock star freshman in Jada Lynch who was sensational in her debut, with 16 points.  She personally closed the door on RFH  with her scoring and passing. St Rose walked away with a 55-49 win.  Maggie Cavanugh  was sensational all night with 12 points and a boat load of dimes. Crackling ROSE (8 points) picked up her 2nd foul in the first quarter  and never got into rhythm but lucky for St.  Rose they didn't need her. JULIA  WHESPHER ran circles  around the RFH guards all evening with 16 points,  a bucket of dimes and lights out defense. She more than anyone is the reason St Rose blew this game open in the 3rd quarter.  St. Rose who played without star guard  Tanaiyah Decker bent but never broke and RFH showed they were fighters. ST. ROSE plays 9 of the states Top 20 teams this year. They showed they could be a force once  star guard Decker and future D1 guard Emily Cavaugh  return to the lineup. RFH will try to regroup and build on last night's comeback. Emma Mason(10 points) and Abby Boyle( 5 points) showed they could be impact players. New transfer Raquel  Guidetti  had 4 points in her Bulldog debut. 
---
RBR won big over Long Branch. Josie Munson who this time of the year, a season ago was watching from the bench. Well last night she made  up for lost time. The NYU bound swingman had 20 points and 10 rebounds in a earth shattering performance. She was simply  off the charts last night. CAMRYN GARDNER  had 15 rebounds. But the thing that had to have RBR fans excited  is there freshman backcourt of ZOE GULLEY(12 points, 4 rebounds, 3 dimes) and RILEY WHEELER ( 6 points, 2 rebounds ,3 dimes) both showed they may be ready for prime time.
TRINITY  HALL for some strange  reason was not ranked in the Top 20. That is more due to the media needing time to catch up with them. Holmdel couldn't catch up with Nina Emance last night who had a smooth efficient 23 points as TRINITY  manhandled Shore Top 10 ranked Holmdel….51-29
The two biggest  performances  of the night, happened in Ocean County. Jackson Liberty knocked off Barnegat 54-48… but not before  Sophmore EMMA THORNTON dropped 36 points and 17 rebounds.
DEYVN QUIGLEY had a nice season opening  35 points, 10 rebounds, 3 dimes and 5 steals. Quigley is a mega star and last night may be the start of a historic  season.  Manchester  got a nice 56-33 win to start the season.
Meanwhile Jackson Memorial  without Zoie Maffei  slipped by Middletown  North 47-35  as junior guard Chloe Messer had 16 points.
HOWELL, MONMOUTH  and SHORE REG all had non competitive games on opening night for wins

MY TAKE AWAYS FROM OPENING  NIGHT
1. St Rose could be the only competive game SJV will see in the Shore this year. But that won't  happen until Tanaiyah  Decker and Emily Cavaugh  show up. Then it still will be a uphill battle
2. Trinity  Hall just may be the 2nd best team in the Shore. They have the most balance and the one star who plays defense, sets up teammates and is insanely efficient.
3. OCEAN TWP has to love there chances after watching games last night.
4. Abby Boyle is an effective high school player.  She is mobile and competitive. She has a chance to be special.
5. RFH not giving up last night, tells me they could be very good by seasons end. WARNING: We've seen that movie before.
6. Coach Truhan once again is quite as a mouse. Trying to stay out of the rankings and spotlight.  When will people catch on to this wonderful act.
7. The RFH crowd reminded me of the good days when RFH girls basketball was a boardway show each night.. WELL DONE BY COACH CALLAHAN  getting that community and student body out last night.
8. If you ask me Jada Lynch looked every bit like the FRESHMAN OF THE YEAR.