Do you know who Molly Weiss is? My guess is that you don't, unless you are from Marlboro or a family member.  Molly Weiss is a sophomore at Marlboro High School, she played varsity last year as a freshman and for the most part went unnoticed.  But by the time this young lady plays her last high school game one day, you certainly will know her name. Today I will tell a story and give you the recipe for success.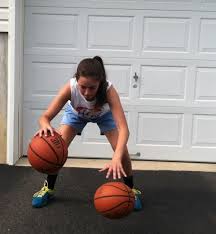 Molly Weiss understands long term development
Each year before the season starts I have thoughts in mind about players and what type of season I believe they will have. I also pay very close attention to what players have addressed weakness in their games. Last season I believe I batted 100% in calling out what players would perform and unfortunately what players wouldn't. With the freshman it's always a little tougher to predict because playing time in many cases can decide what type a year a kid will have. For example Nicole Morris entered RFH with a big rep and was regulated to the bench most of her freshman season. But now as a junior is one of the most recruited players in the shore Conference. Likewise SYDNEY COFFARO OF HOLMDEL who by the way is a D1 player no questions asked, entered Holmdel High school with little fanfare, but yet became one of the best Freshman in the State and was on The Hoop Group All Freshman Team.  But remember she got her chance because stud guard Victoria Cardaci got injuries. So success for freshman is tied to opportunity. Last season Molly Weiss saw some time but like many freshmen spent a lot of time observing. The key work there is Molly Weiss was "OBSERVING"…Because Molly Weiss is all about learning.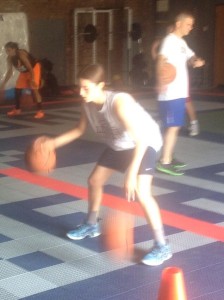 "No gym is bigger enough or Small Enough to work in"
Often upperclassmen struggle after having a great year, the reason for this is often a combination of things. Some don't focus on weakness and they return bigger stronger and more experienced but with the same skill sets. Then my pet peeve they forget to challenge themselves and spend hours with personal trainers or shooting with friends and family. The list of kids that fall into this category is too long to list. Molly Weiss does not fall into this category and won't as she gets older and the reason for this is simple. She understands long term development and this is why Molly Weiss will be in more demand than some players with bigger reps today. It's not where you start but where you finish…MOLLY WEISS understand this
Molly Weiss will be the next great post feeding guard in the Shore. The best one right now is Kelly Crouch and this skill has had D1 School begging for the SJV guard services. Molly Weiss has grown 3 inches in the past year. But while she continues to grow, she works on her point guard skill sets. You see she has figured one thing out. College coaches at the next level don't get excited over 5'5" shooting guards. Next Molly Weiss has no ego, for example she attends NBS on the weekends. But yet she understands that others in the gym may be ahead of her right now, but she pays no attention to this and WORKS on WEAKNESS, while others are just there playing.  Yesterday Molly Weiss was at the Pt Guard working on how to use ball screens and changing pace of dribble.  You see Molly Weiss has vision and college coaches you would be wise to listen to this statement from me. Point Guards, who understand and learn their college position earlier, almost always adjust to college basketball easier. Trying to teach a player a the subtle parts of the Pt Guard position when they get to college is tough and could affect your job status… LOL. I can promise you Molly Weiss will be as ready as any guard in the shore when she is a senior.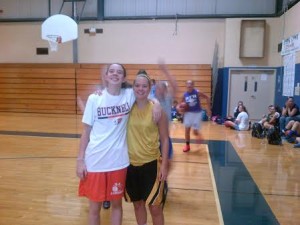 Nicole Morris and Kelly Crouch played minor Roles as Freshman , but now are heavily recruited D1 players these days
Tonight Molly Weiss will be a CORE SKILLS; she will be in the mix with competitive drills for the 3rd time this week. Why do I bring this up?  I have told players a hundred times over, the fall is about improvement and take advantage of this. Most players have two days a week of High School workouts and play once a week in fall leagues. That leaves 3 days to figure out the rest, like a day working on drills that speak strictly to your position and two days to play in competitive, 1 on 1,  2 on 2, 3 on 3, or 4 0n 4 drills. You see this is the formula for success, but it easier to follow that it sounds. How do I know this? Because every year kids fail to follow this formula, and please don't tell me there is another way!…..Molly Weiss has followed the formula to the TEE and it's the reason one day, she will reach her full potential.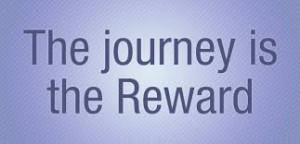 Molly Weiss is an example of a kid, who sees the big picture. Most young players have dreams and in some cases agenda's but often they forget the most important thing of all…keep getting better. Molly Weiss will take another big step in that direction this season at Marlboro, and there is ZERO doubt in my mind one day college coaches and fans of the shore will ask me how I knew? My answer will be simple, Molly Weiss was just a little smarter and more patience than most….A DREAM IS WORK AND MOLLY WEISS IS WORKING!
UPDATES-
CORE SKILL TRAINING STARTS TONIGHT AT HOOP GROUP
The D1 offers keeping rolling in the Kelly Crouch
Jen Inman of Holmdel High School was the surprise of the weekend at NBS
Holmdel will start 4 division one players this year
Rose Caverly was one of two freshmen at NBS who appeared to have no problem adjusting to the pace of play.
Gabbie Davis is a D1 lock
COLLEGE COACHES WILL HAVE A FULL UPDATE IN YOUR E MAIL FRIDAY…NBS WILL FILM THIS SUNDAYS SESSION!
High school coaches please E-mail your open gym dates…THANK YOU!