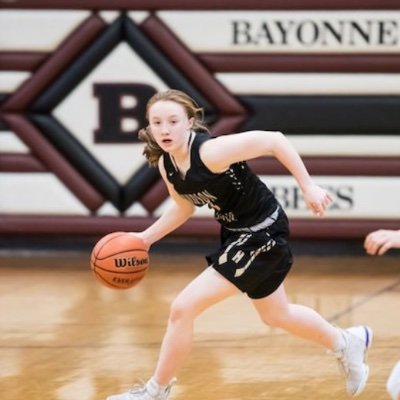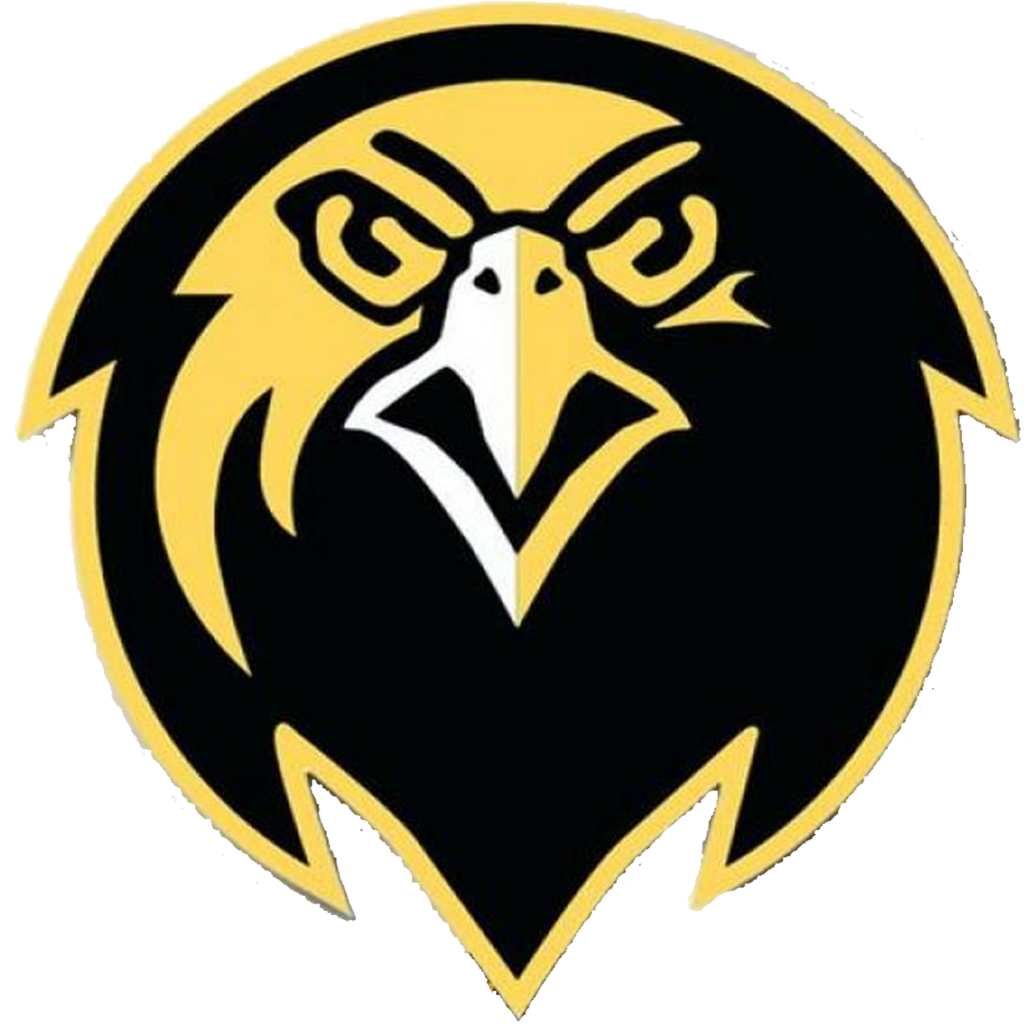 When Megan Gentile of Hudson Catholic spent last summer at NBS camp. I knew she was talented and a hard worker. During the week she was disappointed about not playing on the Top 20 court. I told her there were over 60 D1 players in the gym. But with tears in her eyes she tired to explain to me, she deserved to be on the Top 20 court. In her heart she felt she had out played other kids in the game. Then in the fall Megan attended NBS a few times. The travel and having siblings made it impossible to attend every weekend. Once again Megan was not happy, not being on the main court. It was a bitter pill for her to swallow and painful. You see Megan has great pride in her game. Her mother was a great player and is in the Basketball Hall of Fame. So I watched Megan from a distance this year. I wanted to see what type of freshman season she would have. What she did, really didn't surprise me. It just confirmed what she was trying to tell me, she is one of the best freshman in New Jersey.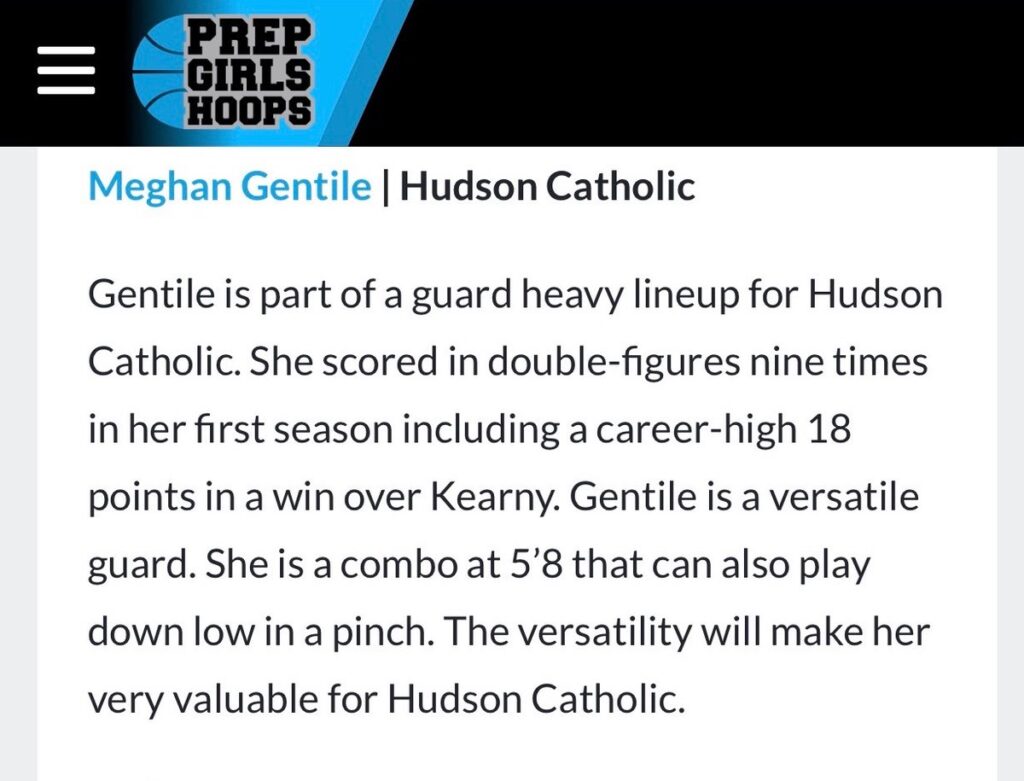 In Megan's first high school game she scored 12 points and had 6 rebounds and she never looked back from there. Gentile was model of consistency all season for Hudson . She scored just under two hundred points, had 58 dimes, 54 rebounds and over 50 steals. She clearly had a dream freshman season. Hudson Catholic spent the entire season in the top 20 and made it to the sectional finals. They were 25-4 on the season and without Gentile that simply doesn't happen. Megan may not have gotten the hype of some other freshman but she clearly delivered the goods. Many will say she exceeded expectations. But the fact of the matter is Megan Gentile expected nothing less from herself. She already knew she was one of the best freshman in the state. It's just taking everyone else to realize this and accept it..
Nobody was more shocked to see Megan Gentile at my Hoop Group virtual workout more than me. In many cases when I humble a player and make no mistake Megan is going to be a great player. There is no doubt she will wear a D1 uniform one day. Players avoid me, I have seen it over and over. The player feels you don't believe in them or respect there game. So they move to their comfort zone. They find a place where they are made to feel special or have more status in the gym. But there was Megan again, just like when she kept showing up at NBS camp when she didn't make the Top 20 game. Here she was grinding and working without an excuse or an agenda. She didn't say I favor other kids or make phony excuses. She just showed up for her workout. It's why I find her different than so many other kids. She wants to prove to those who question her talent .. THEY ARE WRONG to do so. She has this mental toughness you can't teach, she refuses to accept failure. She wanted me to know, she is one of the best 2023s in the state. She doesn't want anything given to her and she doesn't run away from competition or a challenge. She is that rare kid today who gets it… her competitive nature is to die for and why D1 coaches will line up outside her door one day.
So what did I notice about Megan Gentile that was different from six months ago? What are coaches going to notice? Megan Gentile has gained a level of confidence that jumps off the page. It so clear when you watch the pace of her play during her drills. Her energy level is sick and she seems to never tire. It's clear she has taken her conditioning to a new level. When coaches see the change in her body they will be taken back. Megan has always been an excellent ball handler. But her handle right now is at a different level. The hand speed and control of the ball tells me everything. It tells me she has taken advantage of this time to move her game to another level. Just like when we did finishing drills around the rim. I watched her closely. I wanted to see the arc on the ball in the lane. I wanted to see if she was crafty at the rim. Here is what I found out. Megan has upped her game. She has used this time to build her game. As her high school coach said "you have not seen anything yet. Wait till next year" I think he is right. Megan development has been something special.
Soon Megan Gentile is going to be a household name in New Jersey and here is why. College coaches play attention. The improvement curve is always the measuring stick. It's the biggest predictor of the future. Megan Gentile's improvement has shocked even me and folks I see a lot of kids. In fact some of the very best babies in the state. Megan is a total gym rat. Next she hates to lose and is as competitive as it gets. She is coachable in every sense of the word. She knows how to bounce back and handle disappointment. But more than anything else Megan Gentile has something all the great ones have RAW TALENT AND SKILL SETS. You see, this combination with a proven work ethic makes a player elite. I believe Megan Gentile is going to be an elite player one day… I can't Imagine it ending any other way…
VIRTUAL TRAINING LINK BELOW
https://store.hoopgroup.com/events/2020-virtual-wk-6—tiny-green-(m,t,th-at-2)