If you have been around the Hoop Group the past week, no doubt you noticed a tall lanky girl shooting and dunking a basketball. The young lady's name is Paula Schmidt, if the name sounds familiar to you, there is a reason. She is the daughter of the man many consider the best basketball player in European history, Hall of Famer, Oscar Schmidt of Brazil. Schmidt was known for his amazing performances, against the original Dream team. Well his status as the greatest European player just may be changing. Because his young daughter Paula Schmidt just may be the best basketball player ever boys or girls to come out of Europe.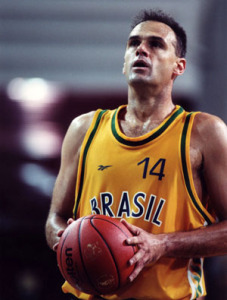 Last weekend Hoop Group President Rob Kennedy invited me to watch "the best female basketball I will see in my lifetime" I had to laugh when he told me this, because I live in the girls basketball mecca, the Shore Conference. So when I sat down and saw it was a boys game about to start, I thought Rob Kennedy was pulling one over on me. He has been trying to get me to watch more boys games for years. So when I asked when the girls played… he said look over there. When I did look… I saw a girl putting on sneakers and I laughed. I thought it was a joke. But 40 minutes later I was not laughing folks, the Playaz's the #1 AAU team in New Jersey led by Kentucky and Duke bound players just beat the Road Runners of Newark 72-67. But that was not the story, by a long shot. While both teams put on a great show and Mike Brown proved he is one of the best players in America with 27 points, he was the 2nd best player in the gym. The true highlight of the night had to be a Brazil girl with long braided hair who dropped 33 points and if the truth be told should have had 40, but more on that another day. That girls' name was Paul Schmidt, a 6'3″ athletic, super quick young lady. I have never in my life seen a female player dunk a basketball in traffic more or less against boys and remember she played the entire weekend with a boys ball.
With Monte Davis, ushering in a new era where exceptional female athletes play with boys. Paula Schmidt, folks is something we have never seen before and I believe will change the face of basketball period. Greg Vertrone an assistant coach at Rutgers told me she would be a Top 3 player in the states….he was talking boys not girls folks. Now if that doesn't impress you, how about this. Against team USA as a 7th grader she played Sue Bird straight up in the Olympic qualifying round and had 17 points and 12 rebounds in a 89-76 point lost. Her father says she will be the first female NBA player one day. Hoop Group President Rob Kennedy, says for now she will be the first girl invited to prestigious Hoop Group Elite Camp and the Nike Lebron James skills camp in July, which features the Top 50 male high school players in the country.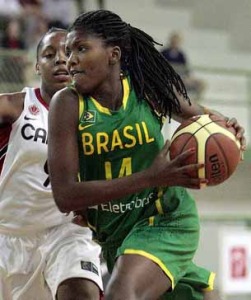 Today at around noon Paula Schmidt regained her amateur status. The 14 year Schmidt had been playing basketball for a professional team in Europe the past two years. For those not familiar with the Europe basketball world there is no high school basketball. Most players play club basketball or for a lower level professional team. The money on the lower level teams is small and does not amount to much more than travel expenses. Many young players play at this level hope to work their way up the professional ranks. Its the European version of our college basketball system. Miss Schmidt has been on a top level team the past 2 years. Think of a NBA team taking a player out of high school and hoping they develop. But Paula Schmidt is no ordinary player, last season playing against the likes of Dana Taurasi and other WNBA players in the Euro League. She averaged 17 points a game, and 7 rebounds. The 6'3″ Schmidt is a rare blend of speed and athleticism. Now while many in the USA may not know much about her, she is already a legend in European circles. If you think American coaches don't know about her… think again. U-Conn Head coach Geno Auriemma had been to Brazil over 5 times before Covid 19 hit. The U-Conn team has scheduled a tour of Brazil this fall. Oscar Schmidt has agreed to pay her club team back the 68,134.00 American dollars before she enters a USA high school next year. Therefore regaining her amateur status to play in High School or college if she chooses. Most folks think the latter is a long shot.
The Shore Conference folks is never going to be the same. Paula Schmidt father has said she will attend either The Ranney School or St. Rose. Either way the school that gets, her trust me, becomes the immediate favorite to win the Shore Conference and TOC. I spoke to Ranney Head Coach Linney last night and he confirmed that Oscar Schmidt and his daughter visited Ranney on Monday. A bigger question is will she play for the boys or girls team. Oscar Schmidt has said she mostly will play with the girls. Coach Linney also said and I quote "This is the most exciting thing athletically to happen to our school". I spoke to Mary Beth Chambers this morning who confirmed that Schmidt was on campus yesterday. Interestingly Chambers said she was told that a decision would be made after they find out her status. With Schmidt's status now determined, I would assume we will get a answer soon. Coach Chambers who has not met the young lady had something very interesting to say that surprised me.
I am not sure it's in anyone's best interest for a girl of this level playing High School girls basketball, but I will take her".. quote Mary Beth Chambers .
There is no question this is the biggest story of the year and effects the balance in the Shore and changes the landscape of women's basketball. The real question is how long will Schmidt stay in the states. Her father says she will complete her education in the states. He is very clear that no decision has been made on weather she will or will not attend college after high school. She has two choices, she can return to play in Europe after high school or play in college for a year. There is no early entry in the WNBA until you reach the age of 21 and the NBA you must attend college for a year.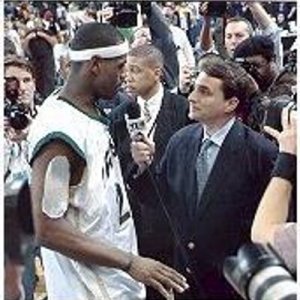 When I asked HOOP GROUP PRESIDENT Rob Kennedy if she could play in the NBA said "If you are talking just talent and not the intangibles that go along with playing at such a level, the answer is YES. She is physically strong enough and because she is a point/ wing her size is not a issue. The real question is the off the court stuff." Oscar Schmidt see's it different, he says his daughter has played against the best male players in Europe her entire life and prefers playing against boys. I have seen her work out here at Hoop Group and I will tell you that he may have a point. She has a insane motor and very mature approach toward the game.
My guess is that this young lady will never play a day in college. But I don't think there is any doubt she will play in the Shore Conference next year. The question is will she play all 3 years at either Ranney or St. Rose. The Schmidt family seems to be very serious about her education. She will have only 3 years of High School eligibility, but that really doesn't matter. Paula Schmidt has a personal trainer and dietitian that are here with her in the states. They both seem to be wonderful people who have her best interest at heart. There has been some talk she wants to play boys high school basketball. I hope that is not the case, because she could be such a role model for so many young ladies… it been a long time coming but that day may have finally arrived and the girls are truly better than that boys….
CLICK THIS LINK FOR HIGH- LIGHTS OF PAULA SCHMIDT 33 POINT PREFORMANCE AGAINST THE BEST BOYS COMPETITION IN AMERICA- https://nothingbutskills.com/the-transfer/