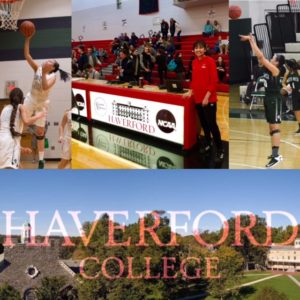 Last week Lexi Iglesia received one of the Shore Conference Basketball Association Scholarship. She won the award when she wrote a letter, explaining her positive basketball experience and love her basketball and coach Jassen. But you need to know something about Lexi Iglesia, she positive in everything. I have never meet a more positive young lady.  This is a young lady, who has had to find a inner strength that most don't even know exist.  But you need to know her history to really understand what makes this young lady so special.
The word student athlete is the most tossed around word these days. It mostly said as a means to make parents, coaches and players feel good. But know this, there are still some true students athletes out there. Kids who really believe you can not only do both but excel at the highest level doing so. Lexie Iglesia  will graduate from biotechnology High School this year. Bio-Tech has been ranked the #1 school in the country by US word News and Report. She will receive a IB diploma from the Blue Ribbon Award winning school. Now most people,  like a lot of things about Lexi, never knew this. That's because she plays basketball at Colts Neck High School. The thing people don't understand is her commitment to her education is 2nd to none. She has challenged herself to the fullest academically. She has rolled with the big dogs in the classroom. But she also has rolled with the big dogs on the basketball court.
Lexie has spent the last 4 years playing for Coach Jassen at Coach's neck. She has helped Colts Neck become a Top 10 in the shore at times. But what makes her special, is she did what few kids are willing to do. She made sacrifices. I remember going to watch her play and noticed, she did not play her natural position. When I watched Lexi at NBS it was clear she was a shooting guard. But here in high school she was playing as a power forward and center at times. Yet I did not see one tiny bit of selfishness. No sulking or complaining, just a kid trying to help her team win a high school basketball game. Not trying to play her game in order to impress coaches. She played Coach Jassen game and was happy doing it. This why she won the Shore coaches award. But make no mistake, Lexi may not be a household name to most. But NBS and real ballers know her. She averaged 8 points and 6 rebounds playing out of position. Nobody going to talk about her Double/Double this years. She had big scoring nights,  as many as 17 points or 14 rebounds in a game. But she barely was on the radar, it part of something she has learned to live with.  She has never ever taken the easy road on the court. Like I said about her academically, Lexie rolls with the big dogs and did that on the AAU circuit.
While many kids have AAU teams set up for them, with the sole purpose for them to shine. Lexi, never had such luxuries. Today many kids run from competition and competitive environments. So often it about promises. The promise of playing time, shots and that all important exposure. Rarely these days is it about getting better. Rarely is about just being part of something special. Lexis decided to play with Team Miller, a team of studs. This was a team made up of kids, who were All State, All Conference and highly recruited. Lexie could have found a AAU where jacking up shots and scoring points, would have done wonders for her ego, but little for her game. You see,  just like in the classroom, Lexie wanted to be surrounded by the best. She wanted to be pushed to be her best against and with the best. It why Haverford College in the end beat out a host of mega high academic schools. Lexie is the true definition of student athletic. It why she is so much different than most other kids. In the end more is often said and less is done. In the case of Lexie Iglesia, so much more is done and so little is said…
The real story surrounding Miss Iglesia is this, she lost her mom to Breast Cancer,  in first grade. It been just her and her dad Bobby since. There love is so powerful, you have see it to believe it. I can honestly say I have never met a more polite and respectful young lady in all my years. Lexie has been fighting her entire life, she has never had it easy. The mother/daughter bound is something we all cherish. Some how she and her dad have over come this lost. They are a team and this team has done amazing things together. There are not words to explain how Lexie Iglesia and father have won the good fight. There are not words to explain the strength that produces a student athlete of this magnitude. I have one word to describe Lexi and her dad…MAGNIFICENT!
LEXIE  IGLESIA proves you can be a student athlete and mean it. She also proves that anything is possible, even when life throws you a painful curve ball… I am proud I get to call she and her dad my friend… HAVERFORD HAS ANOTHER GREAT ONE.