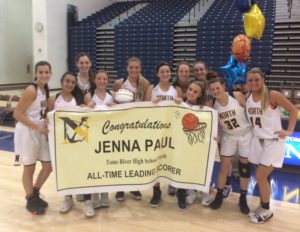 Jenna Paul's, decision making ability has always been special. She always has been more mature that her peers. It's why she attended TOM RIVER NORTH, when everything pointed towards moving out of  town to play for a powerhouse program. She made the decision to help her local high school become a powerhouse and that's exactly what she did. She was a Forward entering high school and needed to develop into a wing player. Her work ethic took care of this. She is now one of the best shooters and wing players in New Jersey.  Jenna Paul made a decision to become one the best student athlete's around. It's why her final choices where Ivy League schools and Colgate. She chose Colgate, she made the decision after carefully  examining both schools and strengths…it's these decisions that allowed her Friday Night to become the ALL TIME LEADING SCORER IN TOMS RIVER NORTH HISTORY.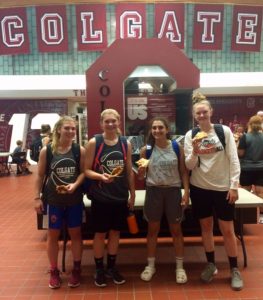 JennaPaul, was thought to be one of the best freshman in the Shore Conference entering high school. She became just that, as she was named to the All Freshman First Team. She along with her trusty side kick Brielle Bisogno, dreamed of making TRN a household name. They have accomplished this dream. But Jenna Paul has done more that make her dreams come true. She has cemented herself  in  Tom's  River folk law. Now when she walks into the TRN gym, people will go, "there goes one of the best ever",  they will say, "did you know she scored more points than anyone EVER". Her parents will walks in stores and malls, and people will whisper quitely. "That's Jenna Paul's parents". But it's when, she no longer is playing, that Jenna Paul will be most proud of her accomplishment. It's then, when kid kids see her name in the rafters, it will all come full circle. It's then her family and friends will look up from the stands and go  "I saw her play" they will brag about knowing her and exaggerate her talents as they get older. They will tell stories of the big night. They will all talk about how they were there, when she made history. Jenna Paul now walks among that small population of players, who can say..I am the GREATEST SCORER IN MY SCHOOLS HISTORY. Only one player at every school in America can say those words.
What comes most with breaking the All Time leading scorer record at TRN is PRIDE. Jenna has taken so much pride in everything she has ever done. She has taken pride in her education. Her friendships and being the best sister and daughter she can be. It's the reason she got such  a out pouring of love after breaking the record. That pride is why, she is so respected by almost everyone. It's why her Coach Vikki GILLEN wanted to make Friday night special. It's why the former  all-time leading score, MELISSA FAZIO was on hand to celebrate Jenna Paul's breaking her record. It was a classy move by FAZIO to hand her the ball, signaling the change of guard. It was  ironic such a classy woman had held the record so long, because Jenna and her family have been so classy in representing TRN.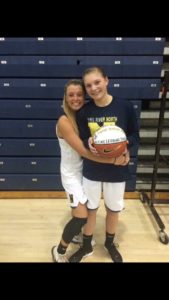 Jenna  may be the All Time leading scorer now. But her game cannot be wrapped around just points. She is a player that is so much more. She is more than anything else a teammate and friend. She does the dirty work,  like rebound and play defense. She been a complete player. She made herself into a complete player along the way. She is sensitive to her friend who she  has played every level of basketball together with BRILLE BISOGNO. They are like peanut butter and Jelly when it come to basketball. They thought they would score a thousand points together. But BRILLE BISOGNO got hurt and missed her entire junior year. If not for this both would have been chasing the scoring record together. In a strange way they both own the record.
Today Jenna Paul stands alone, today in the scoring record books. But that's the only place she is alone.  She will shatter the all time leading record before she plays her last game. She will also be chasing that rear club of 1000 rebounds and 1000 points. Jenna is running out of personal accomplishments. She has won a state title, been All State, All Shore, All Division, Player of The Year and now the All Time leading scorer at TRN. She has an education valued at $76,000 dollars a year, waiting at Colgate University. The one thing Jenna Paul has left to do is to watch her banner get lifted to the rafters. All the tears and sacrifices will hang with that banner…they really should put a caption at the bottom and it should real like this

THIS IS THE " ALL TIME GREATEST FRIEND, TEAMMATE AND SCORER IN TOMS RIVER NORTH HISTORY"

Tiny Green
A VIDEO  salute to the All Time leading scorer and G.O.A.T….JENNA PAUL
THE PAUL FILE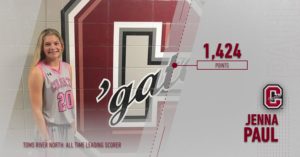 FRESHMAN SEASON
*2015-16 ALL FRESHMAN 1st Team
* Averaged  a double/ double  13.2 points and 12 rebounds a game as a Freshman
*Had her first 20 point game
SOPHMORE SEASON
*scored 467 points on the season
*Had a then Career high of 29 points
*Named 1st Team All Division for a consecutive season
* scored in double figures in every game except one
* Lost in the State Sectional Finals
JUNIOR SEASON
* Scored her 1000th point
* Name Divisional PLAYER OF THE YEAR
* Named to the  All Shore Team
* Name to All State Team
* Won State Sectional Title a first in decades for TRN
* Scored 559 points on the season
* SCORED A SEASON AND CAREER HIGH 32 vs Hunterdon Central in State Semi Final
SENIOR SEASON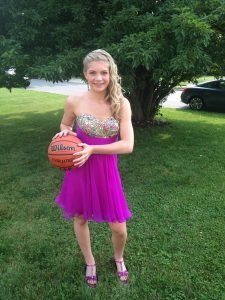 Becomes TOMS RIVER NORTH'S ALL TIME LEADING SCORER IN GAME  3 of the season.
1424…..and COUNTING!