---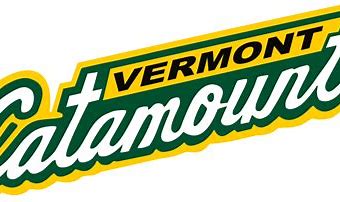 Last weekend the "the baby face asssasin" Jane McCauley told me she would be staying with Rose Caverly on her visit to  Vermont. If you know anything about Rose Caverly, she is one of the most confident young ladies you will ever meet. So when Rose told me last night "I knew the moment I saw her face she was coming to Vermont" She was right, JANE McCAULEY GAVE VERMONT UNIVERSITY A VERBAL COMMITMENT!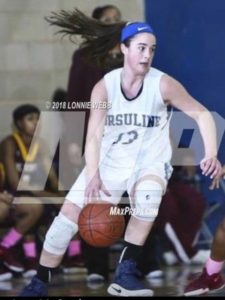 Vermont University is starting a tradition of recruiting mega type students. Rose Caverly and Josie Larkins academically could have attended just about any school in the country. Yesterday Vermont proved not much has changed. Jane McCauley also would be accepted to just about every school in the country. It's why a player with Division one offers would visit a elite D3 academic institution 2 weeks ago, was no surprise to those who know Jane McCauley. But that's because Jane McCauley thinks different. I asked her a week ago why she hadn't picked a school yet. Her answer " I will tell you about it later" later meant, it's nice to have D1 offers but I need a great academic school. That great school turned out to be VERMONT UNIVERSITY.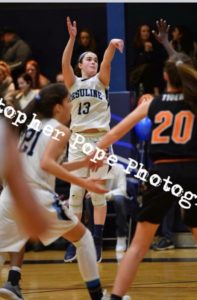 Now everyone will be smiling that Jane McCauley has made a big life decision. Lots of folks will talk about her deadly shooting talents. It's funny last week at NBS a future D1 baby was guarding her and she buried 3 straight jumpers in a transition drill. I told the baby…you may not know her but she is the best shooter you will ever play against…"you better close out harder. The next time down the floor she did…and "the baby faced assassin"  pumped faked and drove by her…I clearly gave her bad advice. I should have said you are guarding somebody who is so mentally tough, that she refuses to let anyone stop her.

Jane McCauley has seen and heard it all. She has heard how she is not quick enough. She has heard she is just a shooter. She has heard that she can't defend. Jane McCauley knows all about having to overcome things that are not true. It has been why she has been so driven to succeed. It's why she has had the strength to see what others could not. It's why when her mother was fighting cancer, she knew her mother would fight, because it was she that taught Jane McCauley how to fight. CAN YOU BELIEVE THE DOUBT that must of run though her mother's and her mind. How can anyone understand how they felt must have felt…can you  imagine the person you love the most, fighting the most for you, while battling for herself.  Its why Jane  had to BELIEVE. It's why she knew her mothers fight was like everything in her basketball career …a fight..It's why she didn't take the first D1 offers on the table presented to her. It's why she waited for the right school not any school …when it came to choosing a college. You see her mother taught her to never settle …always search for something for something worth waiting for… Jane McCauley mother is getting better and her  fabulous daughter BELIEVES MORE THAN ANYONE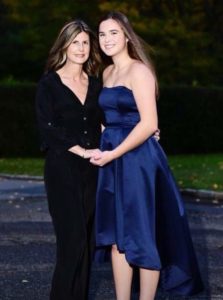 Jane McCauley dad is different than most parents. When she was a underclassmen, I thought it was strange his daughter played SOFTBALL during the spring AAU season. I told him I knew a few top AAU teams that would take her…if she gave up softball. He didn't because the McCauley family doesn't quit. He believed in his daughter. He knew softball meant something to his daughter. He doesn't live though his daughter, he supports his daughter. It's strange he never watches his daughter at NBS, he drops her off and disappears. He drove 2 plus hours each day for NBS camp this summer and never stayed to watch her play. I think John McCauley just believes in his daughter. He just returned everyday after camp and picked up his precious cargo and went home up. He makes these  2 hour drives to and from home and he does it for one reason…LOVE…A LOVE OF A DAUGHTER YOU CAN'T understand…HOW COULD WE?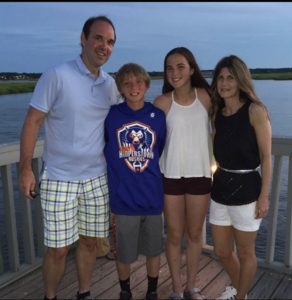 Most people will never ever understand the the sacrifices that Jane McCauley has made along the way. I am not talking about her two hour drive to NBS on weekends. I'm not talking about her nights and days training in her front yard. I am not talking about basketball. I'm talking about the commitment to her education. I'm talking about her  loyalty to  her AAU and high school team as well as her coaches. But more than anything she has never been willing to take a short cut or make excuses. Never in all my years, has she ever complained about  ANYTHING. I barely knew her 5 years ago and the truth be told, it took me  a year to learn her name. Now I know her name and so do you and it's because she has always believed in herself and surrounded herself with beautiful people…LIKE HER FAMILY
I need to tell Jane McCAULEY this …I love her…I love her Dad …I love her mother. I love them because they have always been good. I love Jane because in all her years she has never walked into the gym without a smile. I love that she never gave up on her dream of getting a top education and still play D1 basketball. I love she has always made any gym she walked into a better place. Jane has the looks ond beauty of a princess and the class of a queen. To be blessed with such physical beauty,  intelligence  and such a pure heart is a blessing. Yet  I think I gave her the wrong nickname…her real nickname name should be "THE BEAUTIFUL BABY BELIEVER"

Tiny Green
NBS UPDATE

ALL TIMES RETURN TO NORMAL SESSION…GIRLS  7th- 12 grade 11-1pm

ALL OTHER SESSIONS…9am-11am