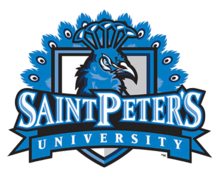 Here is a lesson…FOLLOW YOUR DREAMS. If you don't follow your dreams HOW  CAN YOU MAKE THEM HAPPEN. Sometimes dreams take a while before they are realized. Sometimes its take a wise veteran staff to understand that talent is not always in numbers. But most of all dreams only come true, when you believe your work ethic will win at the end of the day. Janae Mayfield's work ethic has won…she gave ST. PETERS COLLEGE A VERBAL TODAY!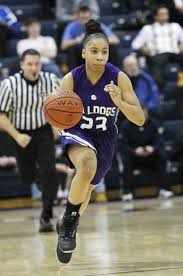 Janae Mayfield's road to St. Peters, has been long and at times painful. But its a story that must be told from start to finish. It's a story about mental and physical toughness. Its about parents doing what's right for there kids, when others told tell them to do something different.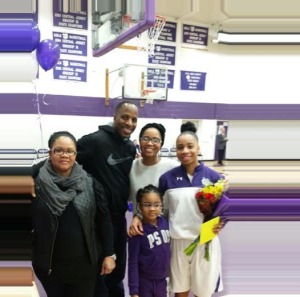 I have known the Mayfield family for over 12 years. There oldest daughter attended NBS when it first started. I have known Janae since she could lace up sneakers. She has always been polite and respectful to everyone. She knows no other way.. When she was about to enter her freshman year of high school, her parents told me she was considering attending RFH. I told them it was a mistake. They had seen how fellow South Brunswick residents Nicole and Stephanie Isaacs had benefited by playing at RFH. I told them it was different and that the talent level was much deeper. They told me it didn't matter and it was not just the basketball. They decided to attend RFH and never told Coach Sourlis they were attending. It was me that called Coach Sourlis to inform him that Janae was going to RFH…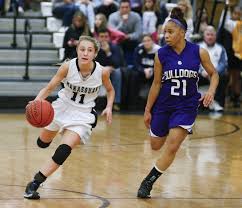 For 4 years in high school Janae Mayfield has played her heart out for RFH. She is the best on ball defender I have ever seen. But she was never a stat junkie. Her points and rebounds never appeared in the newspaper articles and neither did her impact on the game. This year she showed flashes of greatness, like when she took over the Manasquan game. But its been so much more about her teammates. You see RFH entire starting five are all D1 players and each has signed, gave a verbal or has a D1 offer on the table. There first 3 subs off the bench all are D1 players. Sid Sabino has D1 offers on the table, Hannah Scanlon and Tori Hyduke will be highly recruited. So it's not easy to get attention playing at RFH. But that has never stopped Janae Mayfield from chasing her D1 dream.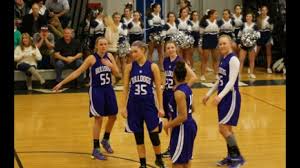 "Hey Janae The D1 players are over here!" (All 5 RFH D1 starters together)
Here is what the St. Peter's staff said about Janae Mayfield  "once she was on campus and we spent time with her, we knew we had to have her". But what the St. Peters staff won't tell you is this….they got maybe the biggest  steal in the shore this year and they got the player with the biggest upside. Janae Mayfield puts the fear of god in players when she is guarding them. How do I know this? Because I see the best against the best and she folks has more natural talent that any guard in the shore. Yes I said any! What the St. Peters staff will do is squeeze that talent and develop it. Janae Mayfield folks is a gym rat and gym rats love to learn and get better…She will be a Megan McGuinness or Aaron Zimmerman type player in college. Meaning a better college player than high school player…why? because her game translates to college.
"Hold fast to dreams,
For if dreams die
Life is a broken-winged bird,
That cannot fly."   …how true
This fall I had a conversation with Janae Mayfield, I told her she had to make a decision. She could accept a D2 offer and play it safe or chase her dream. I told her that getting better would be the key to reaching this goal. It's not connections or who you know…its how hard you work. She watched as her fellow high school teammates and friends at NBS get D1 scholarships and offers. She will not say it but it hurt that nobody called her and offered. She knew she was a D1 player. But as things got later and later, she thought her dream would go up in smoke. But a funny thing happened, a St. Peter staff member asked me about her. She asked me to tell me all about Mayfield, I said rather than me tell you about her..do me a favor call her and then go watch her play. I explained that she needed ole school eyes on her. She needed to have somebody who really understood the game go watch her. The St. Peters staff promised they would follow up and they did just that and now they have the steal of steals…
Now the mission has been accomplished. All the hours in the gym and traveling to workouts. Now the sacrifices of moving your family and extending your drive to work an additional 35 minutes have paid off. Now all the pain of playing out of position and traveling to AAU games and not knowing what to expect are over. Janae Mayfield has had a long and painful road to get where she is today. The funny part about the entire thing….SHE COULD BE THE MOST WELL LIKED KID IN THE SHORE.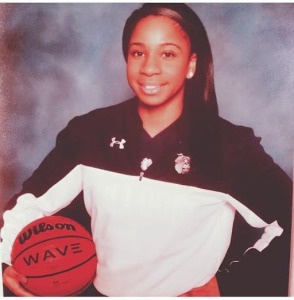 Holy MOSES…she had academic scholarships too!
Now let me, let you in a on few secrets. Janae Mayfield received a scholarship offer from Iona about 6 weeks ago. She knew her education would be taken care of, but guess what? It wasn't for basketball, it was a academic Scholarship! You see Miss Mayfield is a high honor student who just happens to be basketball player. The Mayfield family is committed to education. It's one of the main reasons their daughter attended RFH when people like myself told her not too. They saw the big picture and that my friends is the beauty of all this
I can honestly say I have never been more excited for a player and a school. I have known the coaching staff at St. Peters for years, they are teachers and they will teach and watch over Janae Mayfield. I don't thing Janae understands she has just hooked up with a first class group of people. They are master teachers and they love kids. This is rare in college D1 basketball these days…this is a win, win for all.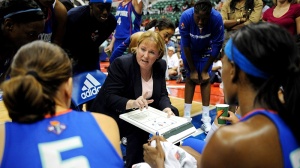 Now here's the plan "Lets steal Janae Mayfield"
So one of the hardest workers I know is smiling today. All she ever wanted is for somebody to give her a chance. She wanted somebody to need her and appreciate her. She wanted somebody to understand, she always did what the coached asked, even if it meant not shining. She just wanted to be a good teammate. I will have to remove her from my list of available D1 players and a lot of schools are going to ask next year, how they missed her? I will tell them because Janae Mayfield didn't have a silver spoon, she had to work harder than almost any kid I ever know to  make her dreams come true….Janae Mayfield more than anyone else understood….A DREAM IS WORK….AND OMG DID SHE HAVE TO WORK…..CONGRATS TO A AWESOME KID AND FAMILY…ST. PETERS BABY!