Manasquan and RFH did battle last night to start the season and if you closed your eyes you would have thought as Yogi Berra would say it's "Deja Vu all over again"…. with a little twist as Manasquan went on the Road for a 50-44 win
Last year RFH had Manasquan on the ropes late in the first half. They were up  by 8 with the ball, with under a minute. Instead Manasquan went on a late run and ended the half not down by 11 or 1o..but down by two.
Yesterday for Manasquan it was Deja Vu  again. After Manasquan jumped out to a 15-5 lead in the first half. RFH came back and pitched a shut out for the first 6 minutes of the 2nd quarter. But more importantly Katie Foos came off the bench and hit two big three's and lit a fire under the RFH team. Tori Hyduke went to work and RFH cut the Manasquan lead to ONE…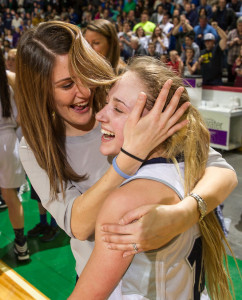 But just like last year,  Manasquan went on a run after being shut out the entire first 6 minutes of the 2nd quarter to close the half.  How you ask? The RFH guards inability to take care of the ball late in quarters just like last year…why? There senior and best player Nicole Morris was on the bench,  just like last year. Manasquan scored every point off turnovers, to close the half. What was new was old again for RFH. Manasquan ended the half up by six points….They did it with grit and mental toughness. Masonious, Clark and Mabrey harassed the RFH minus Nicole Morris into bad decisions.
The 3rd quarter started with the return of Nicole Morris leading the charge. First she opened with a mad dash to the rim and finished for her only points of the game. Then Morris made a sweet dish to Megan Volker and she FINISHED…remember that word. RFH was rolling and why? No turnovers and ball movement. Why? the ball was in their senior hands and she was making Manasquan pay dearly, with ball movement and stellar judgement. Nicole Morris then hit a rolling Hannah Scanlon cutting the Manasquan lead to two. It was the first time that RFH recognized when Faith Masonius was on the bench and took advantage of Scanlon in the post.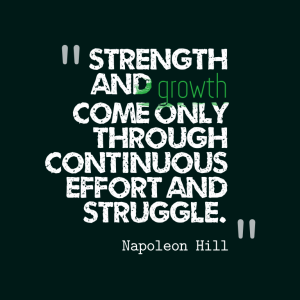 But then something happened that changed the entire night, everyone saw it happen, but only real knowledgeable basketball people understood the impact. Nicole Morris appeared to have another easy steal and clear path to the basket, when inexplicably a referee picked up the ball. Nobody knew why  she picked it up.  The referee then said Manasquan ball rather than go to the arrow.   Folks, there is no other way than to say it…this was a clear mistake and Manasquan took full advantage. 
Rather than RFH ball, it was Manasquan's ball and Nicole Morris then picked up two straight fouls on consecutive plays before RFH could get back on offense. Morris went to the bench, none of  this would have happen without this strange twist of fate. Instead of RFH putting Manasquan up against the wall, Manasquan got relief. Because what separates these two things came roaring back to life. Manasquan's mental toughness and RFH inability to close quarters AGAIN. Because with 13 seconds left, RFH's pass from out of bounds was stolen and Stella Clark was fouled and headed to the line and made one. But on the missed rebound Addie Masonius would make the first of her two game changing plays. She stole the ball and scored a layup and just like that Manasquan went into the 3rd quarter up by two….ALL THIS HAPPENED IN 13 SECONDS…Manasquan displayed the heart of a warrior.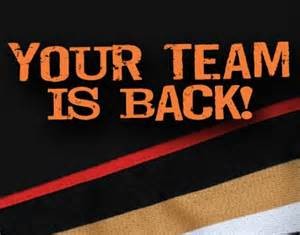 When Nicole Morris returned in the 4th quarter and all seemed right for RFH again as she hit Hannah Scanlon with a beautiful pass, giving RFH their first lead of the night with under 4 minutes  left. But that is when things went bad for RFH and so good for Manasquan. With Manasquan in real trouble, I turned to Rider head coach Lynn Mulligan and said "Manasquan needs a basket right now or they are in deep trouble"  and before I could get the words out of my mouth…BANG! Addie Masionus knocked down the biggest shot of the night.  A three point dagger from the left wing, giving Manasquan the lead right back. Then as they did too often on this night, RFH in a rush to get the ball up… turned the ball over…where was Nicole Morris you ask? Deja Vu…on the bench much like late in last year's game and on the next possession, Dara Mabrey left her feet and got stuck in the air, but had the presence of mind to hit a cutting Faith Masonious for a layup. Manasquan got just what the doctor ordered.  Timely,  forced turnovers, shooting and passing.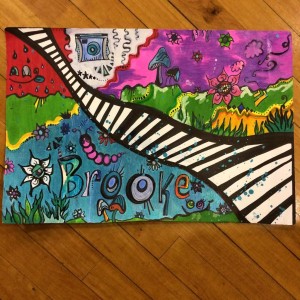 Addie Masonius was drawing up a masterpiece.
RFH  was desperately looking for timely shooting and passing in the 2nd half. But Kaite Foos who was outstanding in the first half, mysteriously disappeared from the RFH rotation. She played 90 seconds in the 2nd half and Syd Sabino who was faced guarded all night took a grand total of one shot in the 2nd half.  RFH simply  pounded the ball into the ground, stopped moving and running offense…DEJA VU.  Manasquan made them pay dearly for such indiscretions. Because RFH's inability to finish in traffic was a result of standing around and the Manasquan defense having easy rotations to the driving RFH players. For every scoring drive, there was a missed shots and wild out of control drives to the rim…Deja vu. Finally after 8 (that's not a miss print) missed layups at the rim and a shocking seven 4th quarter turnovers later RFH was dead…and this folks was  the biggest example of DAJU VU ALL OVER AGAIN.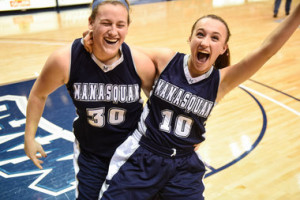 Dara Mabrey's  shot selection and leadership cannot be matched.  She hit a big three and more importantly told her teammates…."calm down" late in the 4th. Stella Clark finished everything in the lane that the RFH guards coughed up and Addie Masonius was most brilliant when the light shined the brightness.  Manasquan sent a loud message…MENTAL TOUGHNESS and CLOSING QUARTERS ARE HOW CHAMPIONS ARE BUILT…DEJA VU!
MY THOUGHTS ABOUT-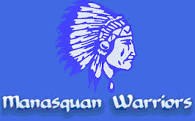 Manasquan guards do two things better than anyone. They turn opponents over and live on the offensive glass, and yesterday they were at there best. They dominated the 50/50 ball war all night. They are also great passers, who never over dribble. This makes them very hard to defend. They get almost all their offense off defense and will need to find more half court offense as the season moves on. While the Manasquan bench did a nice job last night they will need to do more.  Let me say this, Lisa Kukoda folks is flat out the best in game coach I know… period. Her in game adjustments right now, are the best in the shore by a long shot in big games. The woman knows how to win big games.  Check the track record…nobody is in the same world these days.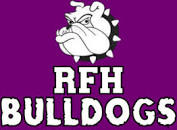 George Sourlis clearly had his team ready to play last night.  Rumson showed real good ball movement and team play in the first 3 quarters. What they were missing last night was ball movement late. There is a real inability to run team offense without Morris. Hyduke is clearly ready to move to superstar status. There were a lot of players stepping into the spotlight for the first time last night. They will get better…but here is a real #1 problem for RFH right now….There guards inability to look for or find shooters. There inability to finish at the rim played out again for the 2nd year in a row.  I counted two dribble and kick for shooters last night. RFH subs for defense and rarely subs for offense until they are struggling. Monday RFH could be much better for one reason….experience!