I think NBS has no equal when it comes to talented players gathering to train. The list of talented players, who have come though the program is a whose who of stars. It's a place where nobody is treated as a star. NBS is a place where a player can challenge themselves and grow as a player. NBS will always expose a players weakness and strength. Many players shy away from NBS in order to protect their reputations or because they don't get that special treatment. Last week a mega talented young lady showed up at NBS. She drove 90 minutes, with 8th grade stud NIAISYA ERVIN( more on her later)  to attend the session. MARIAH PEREZ proved that she is the best young post player I HAVE SEEN IN YEARS.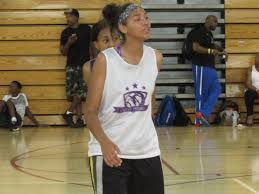 When Kimi Evans, was a freshman at SJV I called her the new face of the shore. I believed she would be the most dominate player in the shore and state one day. She has proved me right as she the HOOP GROUP PLAYER OF THE YEAR, last season! She will be the leading candidate for  NJ PLAYER OF THE YEAR AND SHORE CONFERENCE PLAYER OF THE YEAR. When I saw Kimi Evans play, I couldn't believe her hands, she caught everything thrown her way. She had all the post moves  and the IQ to match. She was the best true post player these eyes had ever seen. Well last week at NBS, I saw the future again, I saw the best young post player since Kimi Evans; MARIAH PEREZ is the next great post player in the state of New Jersey. She also will be playing at a power 5 school in 3 years. I would advise Rutgers, Seton Hall, St. Johns, Fordham and any  Top 10 ranked team…to recruit her now, YOU CAN OFFER HER, SIGHT UNSEEN, she just may hold the future to your program….she is going to be that good.
A little fun at nbs @CoachTinyGreen pic.twitter.com/WC5nkpDZ1i

— Tracey Sabino (@traceysabino13) October 22, 2016
NBS has players from Pennsylvania , Conn, New York who make the trip to NBS every weekend. NBS is a place that is loaded with the best talent in the  state. But interestingly, rarely do kids from North Jersey make the trip. The last one to do so was Martina Ellerbe who went on to star at Ohio State. Jr Lindsey Mack who has D1 offers is currently the only North Jersey player who attends NBS. MARIAH PEREZ of Newark Tech, is something I have never seen. First start with her 6'3″ height and then thrown in somebody that is long as in so long. Next throw in a work ethic that is rare, we are talking about a 6'3″ player who dives for loose balls. But what really makes this young lady special is that she is not only a top student, but her ability to get along with her peers is amazing. This is a young lady that showed up at NBS and was dancing and laughing with kids she met for the first time. This is a young lady that was positive and gave high fives to good  passes or a nice play. This was a young lady who picked up competitors off the floor…This is a kid with not only a mega talent…but a mega personality, who is COACHABLE…
What would you say about a 6'3″ girl that runs the floor like a guard? What would you say about a 6'3″  player who can put the ball on the floor with either hand and get to the rim? What would you say about a 6'3″ girl who can bang out jumpers? What you say about a 6'3″ girl who already knows how to defend without fouling? What would you say about a 6'3″ girl who can score or pass out of double teams? What would say about a 6'3″ girl who has hands from the gods? But most importantly what would you say if you knew this young lady was just a sophomore. Because that player Mariah Perez, stats last year as a freshman were sick, just sick….This is why I repeat, she will be the best post player in New Jersey. Did I mention she will play at a power 5 school and she has a smile that lights up a gym?
Mariah Perez with WNBA pioneer one of the pioneers for women's basketball Rutgers legend Sue Wicks
We don't list the names of the hundred of players that have attended NBS on the website. We don't list them because I don't believe, what somebody has done in the past has anything to do with a kid playing today. I think twitter and Facebook gives enough love to our current and past players. But I will say this, MARIAH PEREZ would be a name on that list if we were to do so. Her talent is special and I believe she is a kid who gets it. It's clear she has not been spoiled at Newark Tech or by her AAU coaches. It's clear somebody has made it clear to her; to value skill work and improving. She is that rare kid who can melt into any environment and excel. Her future is not just bright because of her special talent, but more from the fact, she has not been SPOILED.
NBS  became a little better program last weekend. It became a better program not because it added one of the most talented young players in the country…yes I said country. It became better, because the right type of person joined NBS. A gym rat, a person or understands fitting in and being a teammate before being a star…I like that and …MARIAH PEREZ makes me smile and I'm glad she is part of the NBS family….now the question is where will her family be at the next level….because she is going to help some program become better on and off the court. She has lots of time to figure that out, but it's she is a clear case of when talent meets GOODNESS. MARIAH PEREZ just may be the next face of NEW JERSEY BASKETBALL….SHE IS THAT GOOD.