It was a banner weekend for the Shore Conference during the Holiday Season. The shore Conference teams dominated almost every tourney they were involved with. But the real story has to be the shocking lost of SJV to Franklin, more proof that High School basketball is full of surprises. In long this may just be want the doctor ordered for SJV… There is some major movement in the Top Ten!
WEEKLY AWARDS-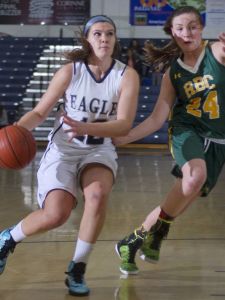 PLAYER OF THE WEEK-STEPHANIE KARCZ-MIDDLETOWN SOUTH
She was so dominate this weekend, she has to be considered as one of the leading candidates for Player of the year. Karcz was one rebound away from a triple double in the quarter finals of the WOBM  and then in the semi-finals had 27 points, 12 rebounds 6 steals and 5 assists in the win over RBC…Karcz had a TOUR DE FORCE weekend.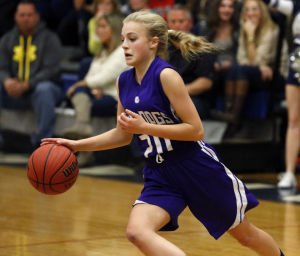 FRESHMAN OF WEEK-TORI HYDUKE-RUMSON- FAIR HEAVEN
The true way to evaluate a freshman is how they preform in competitive games. Tori Hyduke had 10 points against Manasquan and yesterday against Lodi who featured two D1 players, Hyduke put on a show of shows. She did everything…she hit deep 3's, she had twisting driving scores in the lane and yet  her passing may have been the best part of her day. Tori Hyduke right now is playing not only like the best freshman in the shore…but the state.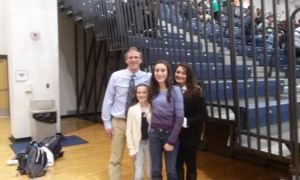 COACH OF THE WEEK-TOM BRENNAN- MIDDETOWN SOUTH
The Professor again proved why many believe he is the best in the business these days. Coach Brennan won his 300th game this weekend against one the best programs in New Jersey… RBC!  But what was most impressive was that Coach Brennan has always been shorted handed, when playing the Big Girls but he has always managed to survive and this week was no different.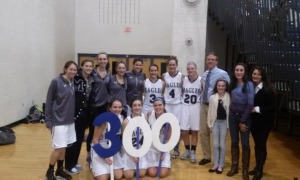 CONGRATS TO TOM BRENNAN ON #300 
TEAM OF THE WEEK-
Middletown South WOBM Semi Finals victory had impressive written all over it. They jumped on the young Casey's early and never looked back. Stephanie Karcz playing with a heavy heart due to a death in the family and starters Jill Falvery and Haley Dolonzo out WITH INJURIES…made this  win as impressive as it gets. Middletown South played as a team and shared the ball as well as any team I have seen this year. Alex Balsamo was terrific as she had 12 points and played locked down defense. But its Julia Valko, and Angela Debartolome who seem not to be appreciated by anyone except Tom Brennan, that helped make things look so easy as both had 8 points but more importantly they both play a very unselfish style of play, and are not concerned about newspaper clippings. Madison Curtis played also played role to a perfection as this group rolled.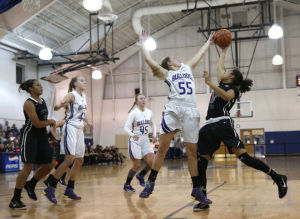 WIN OF THE WEEK
RUMSON FAIR HEAVEN  was down by as many as 8 points in the 2nd half to Rutgers Prep. A third straight lost would have been devastating but instead it became a game changing win. Good teams find a way to win and RFH did just that. Grace Stant has begun to take over late in games and its a good thing for RFH as she helped close the deal against Prep. RFH then game back on Sunday and blew out Lodi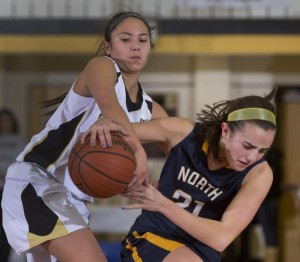 SURPRISE PLAYER OF THE WEEK
BIANCA NICOLINI  for the second week in a row wins this award. Nicole last week had 24 points and 4 assists in the semi final while leading Southern to a win the in Shore Classic. She is rapidly becoming one of the best players in Ocean County.
AROUND THE SHORE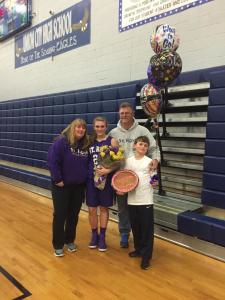 KAT PHIPPS SCORED  HER 1000 point for St. Rose….Congrats to a great kid.
SOUTHERN is just blowing opponents away, early in the season, winning all there games by big margins…they could be a sleeper team.
Holmdel High school is 4-1 and looks like they are to be a tough customer!
WEEK TWO SHORE TOP TEN-
1. MANASQUAN- They are looking more and more like the team to beat
2. ST. ROSE– Kat Phipps and Jess Louro look like they mean business
3. SJV– Its happens and there is no reason to panic
4. MIDDLETOWN SOUTH– They have it all chemistry and the professor, now can they get healthy?
5.RUMSON– Showing flashes, Grace Stant is starting to exert herself.
6. HOLMDEL– Very quietly taking care of business  and play in their holiday Championship Tuesday.
7. RBC– There young and bad nights will happen as they are growing up.
8. SOUTHERN– They are starting to look very legit!
9. NEPTUNE– Bacon and Allen are becoming a dangerous Duo
10 Monsignor Donovan– Crowe and company are hanging on..
Registration for Core Skills  Starts this Saturday