Every year after the high school basketball season, I try to remind kids that the off season is when you get better. Its that's time of year where a player can address issues in there game.  I will tell a player that they need to address XY or Z and the player will nod their head and the next time I see them nothing has changed. I often say the hardest thing for a player to do… is to show up day in and day out. It's sad to watch talented players not improve, its even worst when a college coach tells you a kid has not improved. It's a tricky thing to address when a player is not improving. If you are too direct in telling them their weakness they may lose confidence and you may ruin a relationship. If you are not honest they don't improve. Parents and players often go into defense mode when you are critical or you talk about a players weakness and flaws.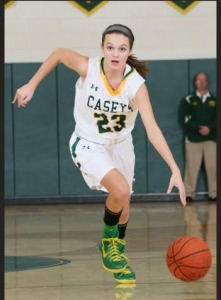 When Hayley Moore decided to attend RBC this season, I really didn't know what to expect. She was thin, light and small for a 9th grader. I did know she had great skill sets and a great work ethic. I thought she had the potential to be a D1 player because of these skill sets. Her biggest skill set was being able to shoot the basketball. Folks there is no more in demand skill set than shooting the basketball these days. Now what you call a great shooter and what college coaches call a great shooter in most cases is totally different. Hayley Moore is one of the top 3 shooters in the shore….RIGHT NOW and is the best shooter in transition by a LONG SHOT…nobody is even close. 
When the High School season ended I told Hayley she needed to get in the gym with top flight talent and more importantly, she needed to have high quality coaching to work on defense, shot selection, ball handling and physical play. Now that is a lot of negativity directed at a kid about their game. When you talk to players this way often they disappear. It' becomes the old story of you picking on them, not respecting them, you don't believe in me or you don't like them… Not! I couldn't go left 3 years ago and I can't go left now… I couldn't finish at the rim 2 years ago and I can't finish now…AGAINST TOP COMPETITION.  See, I see this every year its nothing new to me. I have kids who train with me and as long as its positive all is well, but when you are honest, this is when things change.

Hayley Moore decided to play for Beth Chambers and this has been a most important decision and let me tell you why. I often hear how good kids are and how they are going to be great. My response is always… REALLY and when they use the words D1, I always become skeptical because as we all know that world is for 1.1 pct of the high school kid playing…its rare air up there.  I always say this when I hear those words…Let's see what she can do in the gym against multiple talented players. Not against your AAU team you see everyday, not in a blow out game against some weak opponent. I rather not hear about how you played up but forget to mention it was not against an ELITE OLDER TEAM. I want to see you in the loin's den.
BETH CHAMBERS KIDS TAKE THE TOUGH ROAD. Its why so many of  her kids go on to wear D1 uniforms.  When somebody says a kid is great, I say bring them down to NBS so I can get a look. Now in almost 100 percent of the time that kid says OK…but  a funny thing often happens, the kid never shows up… get the picture? Kid couldn't get a ride, too much homework, schedule issues. Folks I have heard it all over 15 years and it never changes.  While NBS spring is nothing like the fall, it still had off the top of my head about 31 D1 players walk though the door.
 Former NBS Coach and Current Nebraska University Asst Katie Adams knows a good one when she see's it…
Now when Hayley Moore came to NBS this spring I was not sure if she was a D1 player. I saw very little of her in the fall this year and only 4 high school games. Not a good measuring stick, but Hayley Moore is not one to duck competition or demanding workouts. She showed up at NBS and had to play against 7 confirmed D1 guards. Kids either on there way to D1 next year or have offers or have committed to a D1 school. You see your productivity is legit in this setting but you also take a risk of being humbled….Hayley Moore showed she is as good anyone in that gym…not for her grade…RIGHT NOW!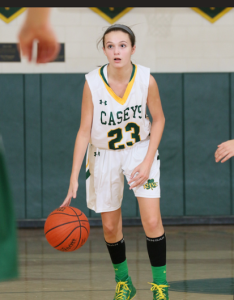 Let' me tell you why Hayley Moore is NOW a lock D1 player ( please don't tell me you know of a time I have been wrong…because YOU DON'T). She has addressed every issue in her game. Shot selection is always the first thing that goes south when you play against better competition. Everything is sped up, players began hunting for shots and more importantly the shooting percentage disappears. See I pay attention to such things when I am watching kids play. How do you preform against the KILLLERS NOT THE WEAK SISTERS? I watched Hayley Moore go 3 weeks at NBS WITHOUT TAKING A BAD SHOT. What does that tell me? She can handle the speed of D1 players. Next I felt Hayley Moore on defense needed real improvement. Well guess what her off the ball defense and rotations right now are better than some seniors, more importantly, she seeks contact now…this is a fact. Finally I thought Hayley Moore needed to have the ability to slide to the point without  a hitch. Guess what?  The best on ball defender in the state and D1 bound guard… defended her at NBS baseline to baseline. Now why is this important? Because I have had college coaches ask me If I would match this stud defender up against other players, to get a feel for their talent. Hayley Moore did not blink a eye against a player a year ago who would have given her fits…
Now before the summer season started Hayley Moore asked me if she should lift weights or do speed and condition. I told her I thought her body was still growing and that there is plenty of time for that. I also explained that while many kids will be skipping or shorting workouts and missing time in the gym, worrying about such things. She could be getting better as a basketball player. Getting bigger and stronger is nice but it makes no since if you are bigger and stronger and still can't dribble and shoot. The list of kids that fall into this category? Too many to list these days. Hayley Moore listened and guess what…she is now 5'7″ and noticeable stronger and guess what folks… she has not touched a weight. Her skills sets are off the charts and now she is becoming an elite player. Hayley Moore is one of those kids who listened to what matters most…GETTING BETTER!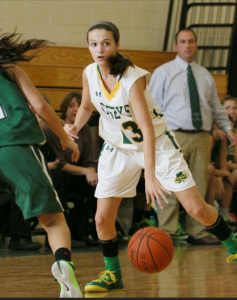 Tomorrow I will put out a D1 cheat sheet and the name Hayley Moore will have D1 lock next to it. But this is not the end of this story. Because Hayley Moore is also a Patriot/Ivy type student, get the picture? If you are in these conferences you have a major edge because I believe education will be at the top of her check list when picking a school. But to all the Mid Majors be careful because she will only be a sophomore next year and is still developing. She  is coachable, meaning you can coach her HARD and has a huge work ethic, meaning she may out grow your level of play. Hayley Moore is exactly how things should work for kids. Fly under the radar, don't worry about recruiting, get better while those with big reps don't work as hard and kid themselves. Then pass kids your age and older who once where thought to better and rated higher, while continuing about the business of DOING MORE….AS IN HAYLEY MOORE!
IMPORTANT DATES TO KNOW…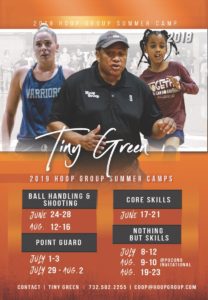 NBS CAMPS STILL HAS SPOTS OPEN…
Academic Elite..is June 25th
D1 CHEAT SHEET IN COACHES BOX TOMORROW…PLEASE NOTICE 3 NEW BIGS , 2 TRANFERS AND 2 NEW FRESHMAN FROM PA.
COLLEGE PICK UP Tomorrow …Must be INVITED JUST TEXT OR E MAIL …
.