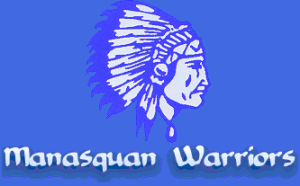 MANASQUAN has played in so many big games this year, they have seen it all. They have seen teams jump out to leads. They have had to hold on to leads. They have learned all about clock and situation. They've also learned how to close games. St Rose has not experienced any of that this year. Yesterday was a costly learning lesson for them.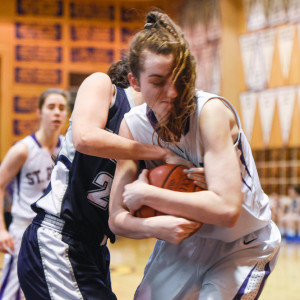 MARSICANO WAS BRILLANT ALL NIGHT
There was not a seat to be found in the MANASQUAN GYM last night. But there was psychic in the house. A young lady in 5th or 6th grade said to me at the start of the 4th quarter "MANASQUAN will come back and win." It was a bold prediction because MANSQUAN was down 7 points at that time. They were down because St. Rose was being led by monster performances by its two superstar baby post players, Lucy Thomas (12 points, 15 rebound) and Lovings Marsicano (14 points, 12 rebound). It appeared going into the fourth quarter,  ST. ROSE was in full control. St. Rose had 8 minutes left to play in order to quite the critics and haters. MANASQUAN had 8 minutes to save any hopes of getting the #2 seed and affording a semi final matchup with SJV in the SCT. A matchup nobody wants to be part of.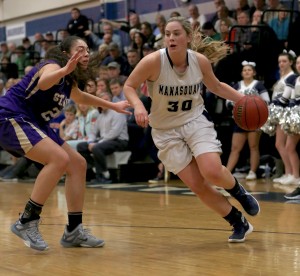 FAITH MASONIOUS WAS A NEW EXPERINCE FOR ST. ROSE
Faith Masonious made one thing very clear last night. There can only be one sheriff in a town. This morning everyone knows who the sheriff was last night. The St. Rose front line were outstanding all night. But Faith Masonious is a entire different animal. She had 23 points and 10 rebounds. But more importantly,  she was down right dirty at times. When St. Rose backed off her..bang jumper for your troubles …when they pressured here  bye bye birdie, layup… When they tried to step in for charges..she stopped and pulled up…hello…when they doubled her she got filthy with passes that one D1 college coach called. " JUST WRONG..JUST WRONG"…Masonious was something St. Rose has not experienced.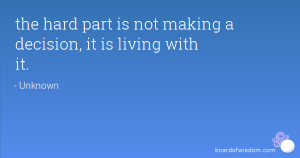 MANASQUAN has seen it all this year. They have played the heavyweights and when they fell behind last night, there was no panic on there face. They had been there before many times this season. St. Rose on the other hand was in new territory, they had a lead, in a big game, on a big stage, for the first time this season. They had played last years High School National Champs. But never led or gave the National Champs reason to pause. Lucy Thomas was out with injury and it was on a neutral court. They had smacked #8 in tri state area East Orange in a game last week. But there was no pressure in that game, no tough decisions that needed to be made, no big shots that needed to be made, no clock management necessary…it was easy. But last night Mansquan made it hard on them and as the 4th quarter, went on…it got harder.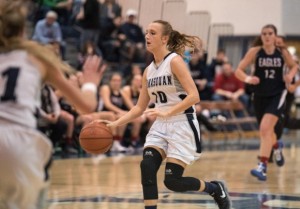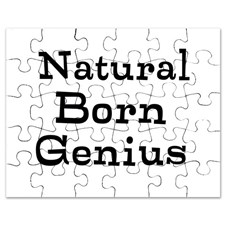 Dara Mabrey is the smartest player these eyes has ever seen.
Like when she slowed down, on a three on one to allowed the bigger stronger Faith Masonius be the finisher on a fast break rather than pass to a smaller player…college coaches call it the Ford vs. the Caddy…. always wait for the  Caddy children. She understands when to be a shooter,  like after Marsicano banged out a deep in the 4th quarter to give St. Rose a 7 point lead. Coach Whalen called time out to set his defense and put the hammer down. But Dara Mabrey is A PLAYER OF THE YEAR CANDIDATE and Lisa Kukoda is a beast out of time outs. MANASQUAN came out of the huddle with a set play designed for Mabrey who looked as relaxed as a somebody on a Sunday morning walk in the park as she buried a jumper and put real pressure on the purple roses. But it's what she did next the nobody was paying attention too. Mabrey watched as Stella Clark hurried and hounded the St. Rose guards into ill advised drives and shots in the 4th. But with just over two minutes left, she played possum on the wing. So when St. Rose tried to enter the ball with a guard to wing pass, she stepped into lane and stole the ball. Then two things happened that changed the entire game. First Dara Mabrey who has played in tough games this year knows how to finish. She slowed as she approached the rim after stealing the ball and young players…pay attention. She did not go off one foot, but rather two.  St. Rose was in their first war of the year, rather than give Mabrey the easy two, fouled her as she scored. This set off  a chain of events…the would decide the game…it was DARA MABREY who started it all.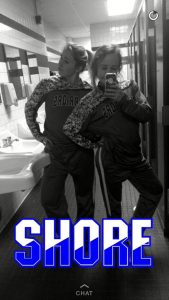 THESE ARE EXPERIENCED BUZZARDS WHO PICK YOU APART
You don't learn how to hold leads in practice, you don't learn how to close  games from practice. You learn these things from EXPERIENCE. MANASQUAN has a lot this year and when Dara Mabrey walked to the foul line and made the free throw to cut St. Rose's lead to one. It was then that St Rose's lack of experience in big games came back to haunt them. Because MANASQUAN had not used there on ball 1-2-2 on ball pressure all night. So when St. Rose rushed to take the ball out of bounds they were shocked to see it. They were even more shocked to see MANASQUAN trap the first pass and deny the pass back to the inbounded…super mega talented guard  Mikayla Markham  tired to pass out of the trap but ADDIE MASONIUS stole the ball and passed it to the very person who had harassed Markhan all night… STELLA CLARK.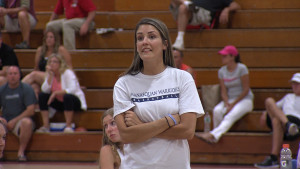 KUDODA IS A BABY FACED ASSASSIN FROM THE BENCH
Stella Clark has played against the best of the best this year. So it was no surprised that she pressured the St. Rose guards all night. She made the St. Rose guards play out of control late and take rushed shots. Stella Clark had 15 points, but none was bigger that the uncontested three to give MANASQUAN the lead with 1.48 seconds left. Stella Clark was cold bloodied as she hesitated and didn't rush. Because  St. Rose was still recovering from Coach Kukoda's mean spirited sneak attack with her press. NOBODY rotated to Clark to contest her,  more importantly the St ROSE players  froze and hoped she missed…she didn't!  And  just like that, there lead was gone…holding on to leads is a learned art and ST. ROSE LEARNED A HARD LESSON.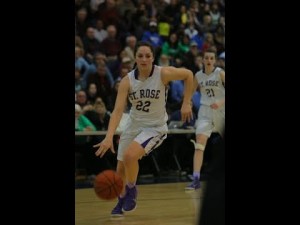 Manasquan had no answers for JEN LOURO UNTIL SHE FOULED OUT
Clock and situation is something everyone must be a where of in tight high pressure games. MANASQUAN knows all about such things and St. Rose is learning. Down 51-49, St. Rose watched MANASQUAN run the clock down from 1.48  to 48 seconds, there was plenty of time and no rush to foul. But it was what they did in the final 48 seconds that showed there lack of experience in tight spots.  First it was Jen Louro who was wonderful all night on defense, while also posting a double, double who committed both late fouls trying desperately  to get MANASQUAN into the bonus. But Louro unwhittly committed her 5th foul. Nobody was happier to see her walk to the bench more than the MANASQUAN crowd. Louro was a beast all night in every phases of the game. She was the one guard that MANASQUAN simply could not control last night. But if losing Jen Louro was a mistake none was bigger than what happen next.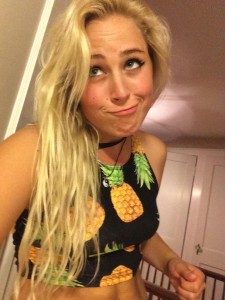 Learning how to win is an art sometimes and sometimes  you need an artist to show you how. When MANASQUAN went to the line with a two point lead with under 30 seconds left. It appeared two free throws would ice the game.. But a miss meant life for St. Rose. MANASQUAN missed, but ADDIE "the artist" MASONIOUS never givss up on a loose ball. So when the missed free throw bounced to the corner, the  St. Rose players reached for the loose ball. Addie Madonious, knows what winning plays are, her steal and kick to Stella Clark went unnoticed by most. Just like her making the biggest play of the game…. diving for the loose ball as St. Rose watched. …Her WINNING PLAY gave Manasquan the BALL BACK WITH 14 seconds left.
STELLA CLARK SENT ST. ROSE NITE…NITE
Closing games are things great teams have to learn. Yesterday Stella Clark went to the foul line and made two free three giving MANASQUAN a 4 point lead. It was still a two possession  game, but again St. Rose is learning and when MANASQUAN made it clear their would be no three…St. Rose rather than take the two and extend the game, ran the clock searching for something that was not there. The game ended with St. Rose taking a contested three that did not hit the rim….MANASQUAN'S EXPEREINCE CLOSED THE DOOR AND JUST LIKE THAT IT WAS OVER…..and that little girl who predicted the win…she is picking my lotto the numbers the next time I see her!