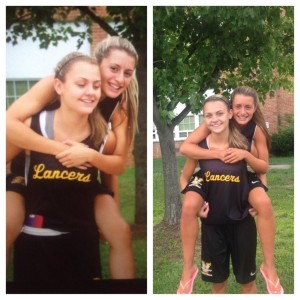 Emily Uribe is ALL SMILES!
Two years ago I received a phone call from my good friend,  former Rutgers assistant coach and current UCSB Head Coach Carlene Mitchell. She told me that a friend of hers had accepted the Head Coaching position at Wagner, she asked me to be on the look out for a phone call. Two days later Lisa Cermignano and I met for lunch.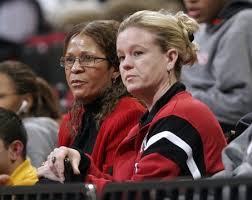 "Be on the look out for a important phone call"  Quote Carlene Mitchell Coach
Cermignano told me at lunch " the shore was a major priority in her recruiting". She asked me who where the people she needed to first contact and build relationships with in the area and I gave her a list of names. Then I explained to her why Stephanie Gaitley was so beloved by Shore Conference coaches and players. Coach Gaitley always keeps her word, follows though on everything and has built relationships with just about anyone connected to the shore. But above all, everyone in the shore knows…YOU CAN TRUST COACH GAITLEY.  Coach Cermignano of Wagner College is fast becoming the new Gaitley of the NEC, as she will sign her third shore conference player in two years, come November…Wagner College received a verbal commitment from Emily Uribe of SJV.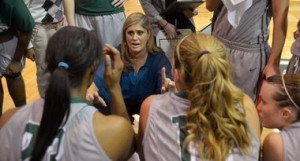 "WAGNER COLLEGE BELIEVE IT OR NOT CAN WIN THE NEC NEXT YEAR" …Quote St. Francis of PA, asst Coach
 Players who attend SJV go there for a number of reasons that range from the quality of the education to family tradition. But one thing is clear; if you play basketball at SJV a few things are guaranteed. You know that you will be challenged every day in practice, as well as your entire career, because the practices are more competitive than most games. You know that if you attend SJV, you must be willing to accept that everyone is a good player and it won't be easy and nothing is given to you. You must understand that SJV plays the best competition in the state and maybe the country every year. SJV will play anyone, anywhere, anytime, and any day. Finally if you play for SJV you will be playing for a woman that starts preparing you for college the day you enter SJV…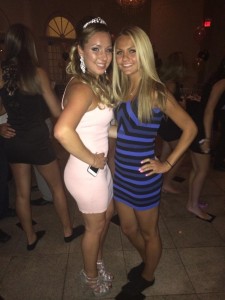 Emily was taught basketball is "not life and death"..FRIENDS AND TEAMMATES  MATTER ALSO!
DAWN KARPELL always has a great number of basketball players coming to her program. Her formula is simple, come play with and against the best. Everyone gets a liget chance to play and then sets lets the chips fall where they may… a great philosophy if you like a challenge and want to be the best you can…EMILY URBIE did just this and now officially the first member of Coach Karpell's junior class to give a verbal commitment to a Division one school…and she will not be the last!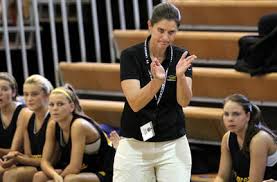 Coach Karpell continues to send kids to school for …FREE! 
DAWN KARPELL turns out Division one players the way McDonald's turns out hamburgers…they just keep coming, year after year. Every junior starter in her line up has MULTIPLE Division One OFFERS. Junior Zoe Pero has D1 offers and Sophomore Kimi Evans can basically pick her college of choice as she has BCS offers that include ACC schools. Juniors Tina LeBron and Vanessa Pinho will play somewhere in college. Courtney Dobrzynski and Maddie Doring are both Division one locks folks.  Do you get the picture folks? Dawn Karpell doesn't mess around folks and neither do college coaches when it comes to her program…they want SJV KIDS…Wagner just got another one.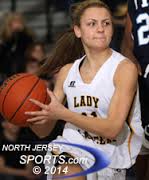 Wagner just got another great one!   
Emily Uribe is one of the most misunderstood kids in the Shore Conference, people think of her as just a shooter…LOL. Let me explain something to you, Emily Uribe gets to the rim as well as any guard in the Shore Conference. People she lives at the foul line and you don't get to the foul line just shooting jumpers. Next Emily Uribe lives in passing lanes and is responsible for number of SJV easy buckets. Now this is no surprise to anyone on the AAU circuit, because Emily has always been considered one of the best young players in New Jersey. She has been a household name and dominant player for years and everyone who follows AAU expected her to become a star. She decided to attend SJV because she had no doubt, she would be an important player to Coach Karpell and she has been since Day one!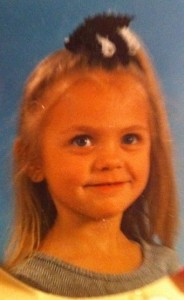 Emily has always been considered one of the best young players
When you talk about Emily Uribe you understand that impact Evelyn Maldonado and Don Hampton has had on her life. Both were driving forces behind her development as a younger player. She trained and played for the Sting and made her bones with the organization. Maldonado and Hampton allowed a little girl to grow as a player and build confidence. The Sting program allowed Emily Uribe to grow not just as a player but also as person. When Emily Uribe decided to play for the Somogyi led Cardinal program, she may not have know this, but she found an advocate of all advocates in Kristen Somogyi. It was Somogyi who called me last year and said these words " How can Wagner not offer Lyndsay Rowe?"  She convinced the Wagner staff they had to revisit the Rowe recruiting situation and that she would be a star at Wagner. Not only did Wagner listen, Rowe started for them as a freshman last year and is one of the best young players in the NEC. There is NO DOUBT in my mind Emily Uribe will have the same impact at Wagner College.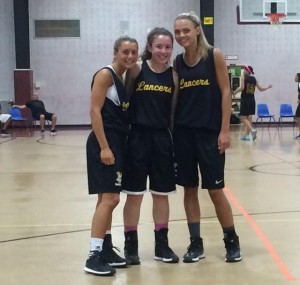 THE FUN CREW…VANESSA, TINA AND URIBE.. FRIENDS FOREVER!
Now let me tell something else about Emily Uribe… this folks is one of the nicest kids on planet earth. She is quite and reserved about those she does not know. She is the ultimate teammate as she in not in competition with her teammates, but rather supportive…. RARE TODAY. This is a young lady who get its, she understands basketball is not about life and death. She understands it about friendships and family. Somewhere along the line somebody explained to her " if you are going to make basketball about life and death… then there is going to be a whole lot of dead people" Those people who explained that, just might be her parents. Mrs. Uribe sits at games, and folks I ALWAYS watch the parents and she barely says a word. If Mr. Uribe walked up and said hello to me I wouldn't know him from a hole in the wall. What does that tell me about her parents? This young lady has MAJOR BALANCE in her life and it's because her parents are not living though their daughter. They do not need to be the center of attention to enjoy the success of their talented daughter, its not their validation as parents.  They gave her the most conducive atmosphere for success and left the ball in her court…Emily knew just what to do with that ball and did great things with it….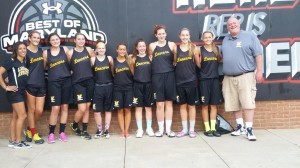 Emily will not be the last Division one player signed from this amazing group!
Emily Uribe was Hoop Group 3rd Team ALL SHORE last year. This year I believe she will move up and I believe some of the tough losses SJV had last year will be wins and Emily Uribe will be a big reason why. She is a cool customer, who is not afraid to make the big shot…anyone can take it! When Lisa Cermignano said the Shore Conference was a Priority, it wasn't lip service. She will now have three Shore players on her roster in Jackie Dhuli of Middletown South and Emily Uribe will join her former Cardinal and SJV teammate, Lyndsay Rowe. Wagner College and Lisa Cermignano are going to be a program to be reckon with for years to come…. and EMILY URIBE just may be the player that opened the floor gates…. Congrats to a good kid…EMILY URIBE!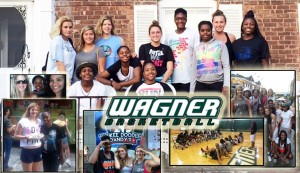 "Hey Emily, HURRY UP AND GET HER…WERE WAITING"
UPDATE..NO NBS SESSION THIS WEEKEND….COACHES CHEAT SHEET WILL BE OUT WEDNESDAY!