Let me tell you something that I know to be a fact. When you get to the next level of basketball…meaning college. You cannot win big games on a regular bias without good people. Hubie Brown told me something as a young college coach. "Leave no rock unturned and never recruit bad people, because a dog has never won a big game for anyone" He is 100% correct. This explains why ELLYN STOLL is different from so many kids… because she is a PROGRAM KID ALL THE WAY.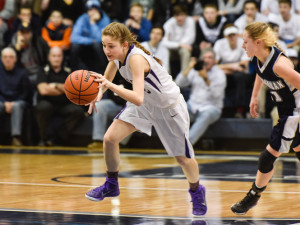 I have known Ellyn Stoll for a number of years. She trains with me occasionally, but she has her own core group of coaches that she loves and understands her better than anyone. Bob Green has been a mentor to her for years and nobody can question Bob Green's commitment to Ellyn Stoll… its marrow deep. But the times when I do get a chance to work with Ellyn it pure joy and let me tell you why. She smiles, works hard, roots for others and oh yeah is a FUTURE D1 LOCK (please don't tell me you know of a case when I have been wrong…because YOU DON'T)… meaning she will be wearing a D1 uniform one day. But what really makes her special is this …Ellyn Stoll makes everyone around her LOOK AND FEEL BETTER ABOUT THEMSELVES.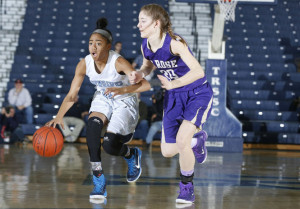 When Ellyn Stoll was a freshman at St. Rose something about her jumped off the page. Every time I watched or saw a picture of the St. Rose bench she was jumping and cheering like a wild women. Now this may not sound like much on the surface. But Ellyn Stoll  spent most of her freshman year on the bench, except in blow outs. I thought it was interesting watching a talented player have such a vested interest in the team; when she wasn't playing. But that gets me back to why at the next level she will be one of those all IMPORTANT PROGRAM KIDS. She understood it was not all about her during her freshman year. Now, did she want to play? Do I believe she was frustrated about not playing? YES, but it's the good kids that continues to work and root for their teammates during times of personal disappointments….You get it? Ellyn Stoll understands the big picture.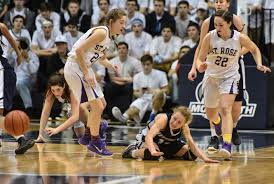 STOLL AND LOURO MADE OPPONENTS BEG FOR MERCY
Last season Ellyn Stoll played a big role in the success of the St. Rose basketball teams' run to the state championship game. St. Rose had a dream season, at times they were ranked #1 in the State, Shore and Tri state poll. They even were ranked Top 20 in the country. It was a season most programs only dream of having. But what most didn't know was that one of the best shooters in the shore became a defensive stopper. When you have a player in Kat Phipps who just destroyed the three point shooting record in the state. Then you have one of the top 3 players in the entire tri state area who is going to a BSC school in Jess Louro.  Like any smart coach… Joe Whalen let his two mega stars  take the lions share of the shots and do the heavy lifting on offense. Everyone else had the find a role, a way to impact the game in a different way…it turned out to be the perfect formula.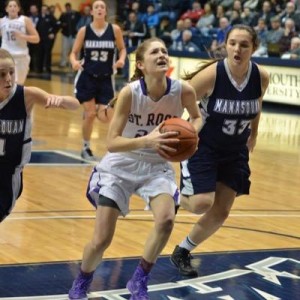 Born scorer, now a born defender too!
Ellyn Stoll became a defensive wizard and along with Jen Louro, she became part of the best defensive backcourt in the shore and maybe the state. It just didn't seem to matter… no matter who she faced the hand cuffs came out and on to opponents. St. Rose played every elite team in NY and NJ,  Stoll and Louro regardless of who they were or what there reputation was… locked them up and threw away the key. In a strange way last season opened up the door to Ellyn Stol and helped her become that rare of rare players. A pure shooter that can defend, folks you can count these type players on one hand and still have room….they are rarer than a fat kids who doesn't like cake!
This summer Ellyn Stoll decided to play for the Masonious Exodus Wildcats. Now if you don't know anything about this team, know this…THEY ARE LOADED WITH D1 LOCK TALENT. They play the best competition that AAU basketball offers. But most importantly of all…no group of kids get along better and have fun doing what they do…PLAYING BASKETBALL. You see the Wildcats are really a pretty special bunch and its not just because they play winning basketball and beat super program teams like Boo Williams. It because of relationships, this group all enjoy and respect each other. Being part of the Wildcats allows Stoll to play against the best competition and really showcase her talents, because college coaches follow this team around like little sick puppy dogs in love. This summer Ellyn Stoll showed off her new defensive skills and had a chance to remind coaches she is a deadly shooter with a wonderful basketball IQ. It was a winning combination that gives her a next level game.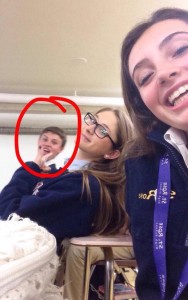 She funny too!
"TINY I WANT TO OFFER ELLYN STOLL, JUST BECAUSE OF THE TYPE OF KID SHE IS"  Division one associate Head Coach of a mid major super power
Like-ability…that's another word I just made up. But it's a word that fits Ellyn Stoll.  She is a kid that helps your team find that all important thing called chemistry; she makes your program better. She makes your administration proud and your Alumni say that's our kind of kid. Now it doesn't hurt that she is long and has that D1 type length coaches drool over.  It doesn't hurt, that she has knock it out deep shooting range, it doesn't hurt that she is already a D1 defender. It doesn't hurt that she plays against the highest level of competition that high school basketball has to offer and that she plays on the highest level of AAU. It doesn't matter that Ellyn Stoll has already played in more big games, that most kids will play in their entire career. It doesn't matter that Ellyn has already won and been part of more big wins than most at any level… will play in during a career. It doesn't matter that  she has played in high pressure situations in front of thousands.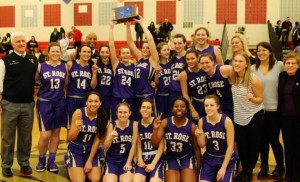 Ellyn Stoll and winning go hand in hand
What does matter, is she will be one of the most prepared kids I know when it comes time to move to the next level. If there are any weakness in her game, just tell her what and she will work on it. She drives 90 mins twice a week to work on her ball handling, with a dribbling coach. She spend hours working on little details of the game with Bob Green sharping up not just her body but her mind as well. She gets up in mornings and shoots on the gun with her high school coach JoeWhalen. Yeah its pretty clear Ellyn Stoll is a program kid…and when she signs her D1 scholarship one day….Some college is going to do the happy dance..Because PROGRAM KIDS like ELLYN STOLL ARE HARD TO FIND AT THE NEXT LEVEL
UPDATE- POINT GUARD SCHOOL
"Parents let me give you a little advice. I think this program is for everyone including college players who are home..its more than just physical skills that are taught at this camp"…Tiny Green