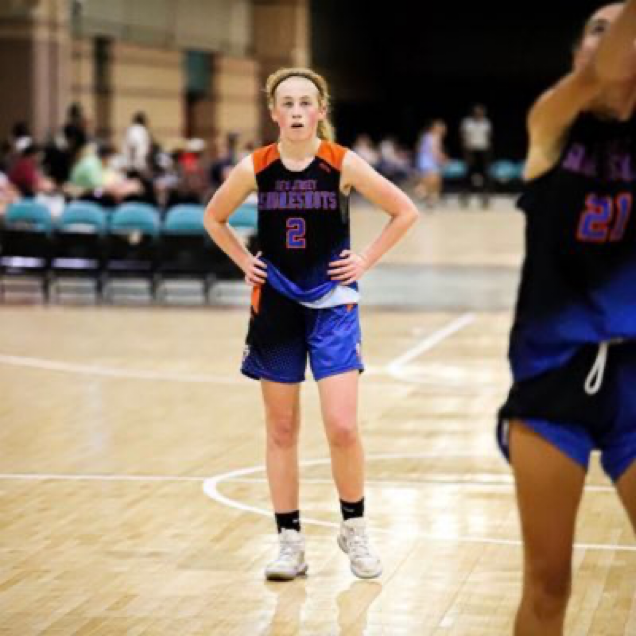 There are those rare players who some how manage to overcome the odds. Those players who simply out work the masses. They have everything going against them. Yet somehow figure out a way to overcome all the Obstacles. ELI CLARKE of OCEAM TWP, is becoming the poster child for such players. That's because these days the sophomore guard looks like she is on her way to stardom.
Eli Clarke, doesn't go to a powerhouse high school. She didn't play on a household name AAU team. She doesn't receive the hype the other players get. Yet these days she is one of the best guards in the 2024 class, you just don't know it yet. That because most people are not paying attention to what she is doing. In fact most college coaches are not paying attention. It's another reason why, what Eli Clarke is doing is so exceptional. Because despite her lack of exposure and lack of being acknowledged, she continues to be one of the hardest workers in the ENTIRE state of New Jersey. This lack of respect just may be the reason she is developing into one of the best stories in the state.
Eli Clarke entered her Freshman season at Ocean with not much fanfare. Covid Protocol prevented her from playing in Ocean's first 4 games. Ocean lost all four games. If the truth be told to no ones surprise. The Ocean program has struggled over the years and last year had graduated most of the teams core players. They were expected to have a difficult season. But that narrative changed quickly to one of hope, when Eli Clarke returned to the club. In her first game vs state Top 10, St. Rose, Eli Clarke played extremely well in a lopsided lost. But then a funny thing happened. Ocean won its next two games as Eli Clarke averaged double figures in points. Ocean would go on to a 5-4 in the Shortened season, with Eli in the lineup. Eli Clarke had multiple double figure scoring games including a season high of 20 points. She also displayed an ability to see the floor with a season high 5 dimes. The talk after the season was.. "what if Eli had played the entire season?" Many believe that 7-8 record would have been much better. If this fall is any indication, they probably were right.
This fall Ocean Twp played in the Hoop Group fall league and only lost 2 games. The were unbeaten for most of the fall most because Eli and her her talented sister, a freshman Kayden were outstanding. While nobody is saying Ocean is ready for the SJV's and Manasquan's of the world. They appears to be real excitement heading into the season. Ocean Twp looks ready to play those 2nd tier teams. Those teams that hope to have successful seasons. Those teams that make the SCT and State tournament. Eli Clarke more than any other reason gives Ocean Twp good reason to believe this is all possible for them this year. Something nobody could have imagined just a year ago.
I watch Eli Clarke every day vs. the best guards in the state. I watch as those with bigger reputations secretly know she out plays them. I watch how she seems to improve every day. I see that she has become a deadly shooter. I notice that is she never forgets her heavy ball, I notice, she is always doing more before and after a workout. I notice her toughness on the defensive side of the ball. How she always talks on defense and dives for every loose ball. I notice all these things about Eli Clarke. That's because she just might be the most coachable player these eyes has ever seen in recent years and folks THAT'S A FACT💪🏀
Eli Clarke road to success and making her dreams come true, most likely will be done out of the spotlight. She doesn't and most likely won't get all the perks other kids will get along the way. That really won't matter in the long run tho….Thats because soon the college coaches will discover her. Her work ethic and attitude will win folks over, that's just a fact. The because game over hype is always the true measuring stick… if the truth be told, ELI CLARKE REALLY DOESN'T NEED THE SPOTLIGHT.
Recently out of the blue, former D1 assistant Head Coach James Young of Monmouth University called me. He asked me if I knew Eli Clarke? I said "yes, she's a NBS kid, why?" He then said "Tiny she is really good"… that's when I said James if she didn't miss games last year. I would have named her to my All Freshman team. He then asked how good do I think she can be…that was easy… I said and I quote… "Coach your looking at a D1 player"