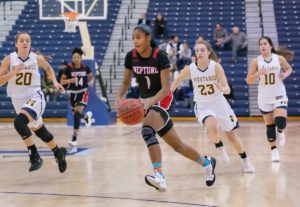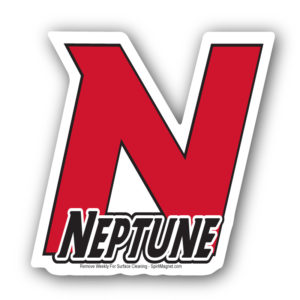 If you are a college coach reading this, you need to understand this is somebody you better go watch in a hurry. This is a player to be 100% honest with you, does not understand how the recruiting process works. This is somebody who has not been in the right places. She doesn't understand the importance of name recognition. More than anything else she has no true advocate…it's why one of the best players in the Shore Conference is a total unknown….MACY BRACKETT  IS A STAR AND NOBODY KNOWS HER NAME!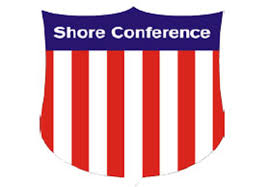 So how does one of the best players in the Shore Conference go completely unknown? How does somebody have 12 double/double as a junior and not make All Shore or even come up in the conversation? How in the world can a player have these stats   20/17…23/10…19/15…22/10 ..just to name a few games and coaches not at least know her name. It simple Macy Brackett of Neptune High School  is 100% okay with others having the spotlight. I am 100% confident in saying this, she plays the game for one reason, she likes basketball. She just happens to be great at it. How good do you ask? Well it's a disgrace she did not make anyones ALL SHORE TEAMS. The reason for this is because she has not been given a drop of attention for anything she has accomplished while at Neptune. If you really want to laugh she didn't even make 1st team All Division. It's  not out of disrespect for Macy, I just think it's because nobody  is advocating for her because she appears to not care about such things. She is not a ball hog or a box score junkie. She just a nice kid who plays basketball for all the right reasons, she has zero agenda, hence no love!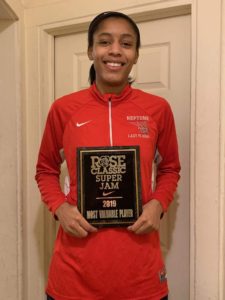 So where does Macy Brackett play AAU basketball? I bet nobody can tell me, in fact I don't know if she plays AAU basketball.  I just know she was MVP at the Rose Classic. I mean how can a kid be MVP at the Rose classic and be a unknown. It's strange because you would think every single top AAU team in the shore would be banging down her door. Macy Brackett is a total stranger in the world of AAU basketball. Here is how strange, I called a D1 college before writing this article. I asked her did she know Macy Brackett? She said and I quote her "NEVER HEARD OF HER". Do you know why? Where does Macy Brackett train? Nobody has a clue. Try to find anything about Marcy Brackett an article, a blog or write up about her anywhere…good luck because you will not find one single thing. Try and pull up a picture of Macy Brackett on google, you will be looking all day. I tried to find her on twitter…nothing. You see this is a kid who is 100% is just playing basketball. She has not been poison by social media and hype by the system. It's a good thing and a beautiful thing. But it's bad for recruiting and getting exposure.  Macey Brackett doesn't care about hype. Like I said she just plays basketball to win…nothing more or nothing less!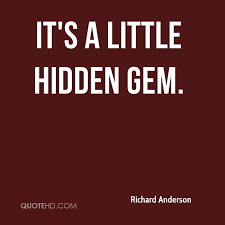 This summer I invited Macey to attend the NBS camp in the poconos. It was the first time I had worked with her. I did not know what to expect, I had no idea if she was coachable or not. I was not sure of her talents. I didn't know if she was a good kid or what. She was a blank page to me. She was going to write what ever story she wanted as far as I was concerned. Well she wrote the best story a kid could write. So coaches listen up and listen up good. Macey Brackett, is so coachable it's insane. Every word out of this kids mouth, is yes sir and thank you. Every word spoken to her teammates is positive. Her effort in drills is insane as is her willingness to learn. She said these words perhaps more than any kid I've  known " did I do it right coach". This kid is all about pleasing others. She is shy and confidence all at once. She has respect for everything around her….Macy Brackett is just a good kid, a humble kid, who just happens to be stud basketball player.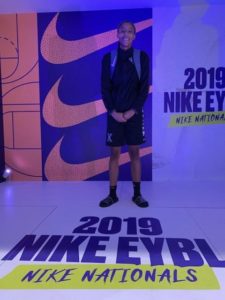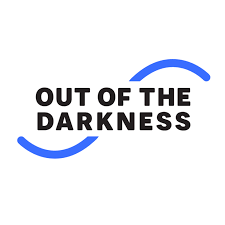 So this weekend NBS starts and I did something I rarely do, I called Macy's dad and asked him to sign to her up for NBS. Why? Because if there is ever a kid who needs a break, it's this young lady. I have no idea how a player this good, this unselfish, putting up the stats she does can be so forgotten. We are talking a ALL SHORE PLAYER and please don't debate me about this. She is as tough of a player to guard as there is in the shore. Her first step has zero competition. Her quickness to the ball is unmatched. She is not just a rebounding machine, but her ability to keep balls alive again has no match. This is a kid with magical skills, she can put it on the deck, pass, lead the break and knock down the jumper. Her competitive nature, let just say exciting if you're a college coach. In a word Macy Brackett is electric!   So this weekend I am going to turn Macy Brackett loose for the next 10 weeks on some of the best players in the state. NBS is going to be a coming of age for Macy Brackett…in a few weeks Macy Brackett's life is going to change… because that advocate she has been missing….WELL HE HAS ARRIVED!
TONIGHT BALL HANDLING AND SHOOTING…AND POINT GUARD SCHOOL