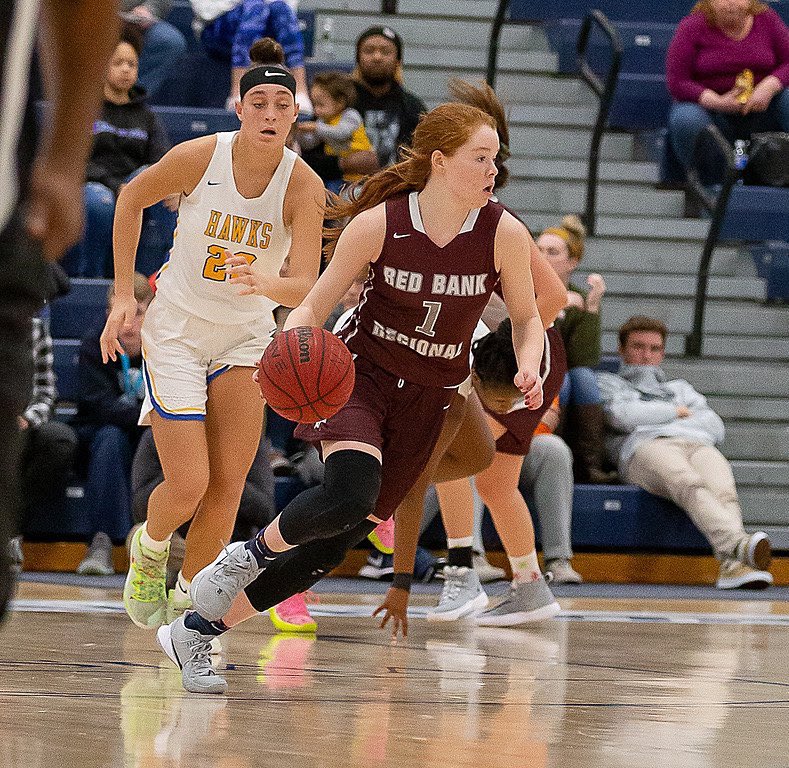 Today I want to send a message to every young player with a dream. I want to talk to that kid moving to high school next year, that has no hype. I want to talk to that kid who is being overlooked. You can make big things happen for yourself. All you have to do is believe in yourself and refuse to take shortcuts. You have to challenge yourself and more importantly don't be afraid to fail. In others words be CHLOE TETER of RED BANK REGION.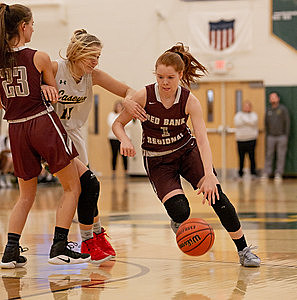 Everything about Chloe Teter screams "this doesn't make sense". Everything about Chloe Teter says none of this should be happening. But when you are fearless and have an elite work ethic, everything you do can be magical. That exactly the case with Chloe Teter. She has bucked the system, it seems from day one. She has challenged herself and everyone around her from the day one. Chloe Teter has taken the tough road as a player every step of the way. In a time when players duck competition, stay in their comfort zone while trying to trick and deceive college coaches trying to get to the top. Chloe Teter has taken that rare road, the one of MOST resistance. She has answered the tough questions about her game and where her game stands against the very best and right now her game is standing as tall as it gets.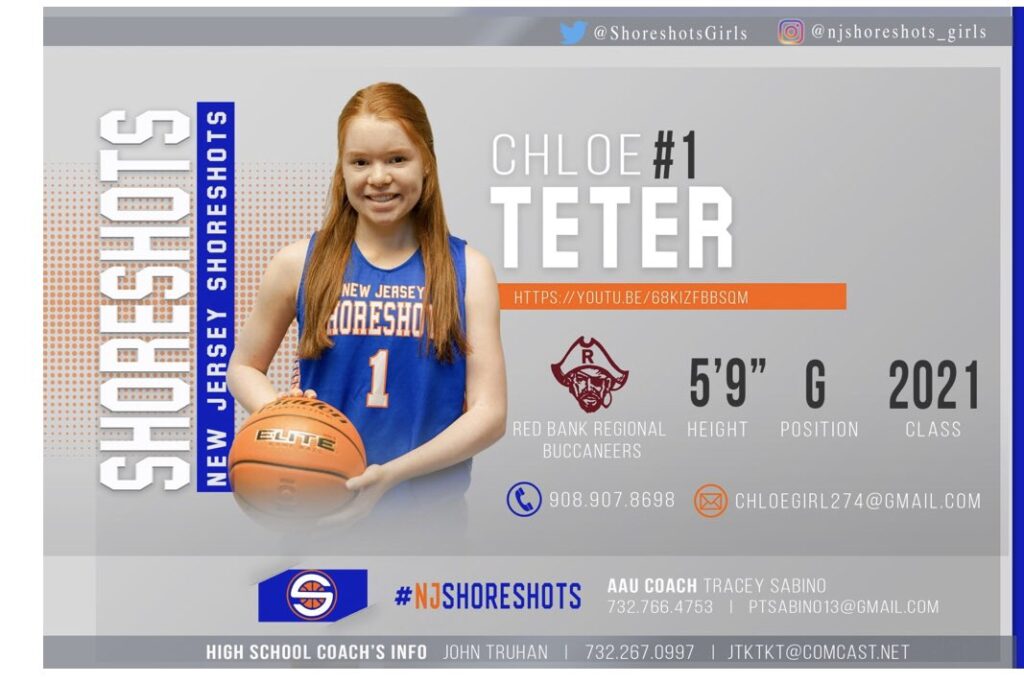 The 2021 Shoreshots are the "IT" team. They are the team that has set the standard in the Shore for AAU basketball. When Chloe Teter joined the team many chuckled behind her back. Many felt she should go to a weaker team. Find a team where she could get more time and be featured. Surely Chloe Teter would get swallowed up by all the talent on the ShoreShots roster. But what people didn't know was Chloe Teter saw the big picture. She wanted to challenge her game and grow as a player. Even if it meant not being a focal point of the team. It was a good decision because these days Chloe Teter is a starter on the stacked Shoreshots team and has Division 1 schools hoping for her services. Chloe Teter did what few kids are willing to do today. She took the long hard road to greatness. She refused to settle for 2nd best… SHE WANTED TO ROLL WITH THE BEST and it was the best decision, she has made to date and nobody is laughing these days.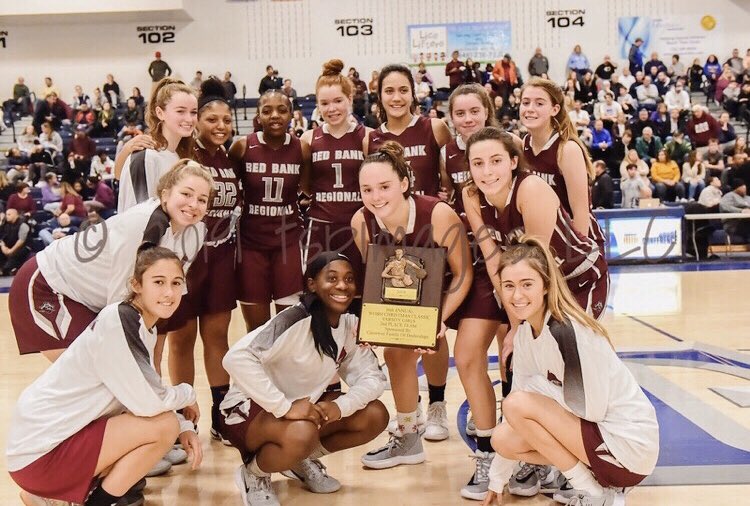 When Chloe Teter went to RBR high school it really wasn't a surprise. Kids like Chloe Teter always go to schools like RBR. You know a kid attends a great school and gets a great education. Scores a ton of points, if they have a little talent. Then they attend a great college maybe even play a little basketball. What kids at RBR are not supposed to do is win tons of games, be ranked in the state Top 20, have college coaches at there games, get D1 offers and beat powerhouse programs like RBC in the Shore Conference Tournament. RBC is not suppose to win Divisional Titles. These are things other schools do not RBR. Yet that's exactly what is going on at RBR these days. You see Chloe Teter has helped changed the RBR culture. She has helped make RBR relevant. It's because she wasn't afraid to dream about what RBR can become rather than what they were. Chloe Teter was simply willing to bet on herself. She was not afraid to fail but rather was willing to be great. Why join them when you can beat them and that exactly what Chloe Teter has done.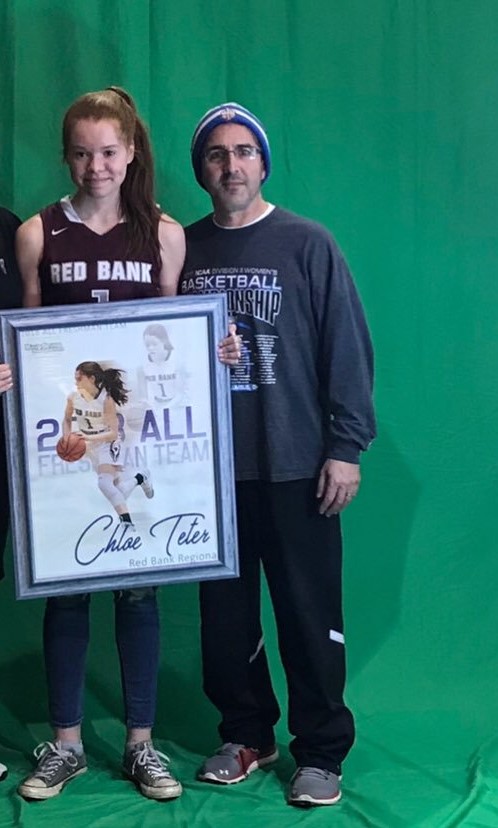 Nobody cared or worried about who Chloe Teter was as a freshman. She didn't make any preseason all freshman teams. Social media didn't drop her name once. Chloe Teter just as well could have been a ghost. So when Chloe Teter surprised everyone and made FIRST TEAM ALL FRESHMAN it was a shock. Just like when she hit game winning buzzer beaters as a freshman. It was a shock because just like everything Chloe has done in her career.. we didn't see it coming. Whoever saw Chloe Teter being named ALL SHORE has a junior? Whoever saw her being the leading scorer at her high school? Who ever saw her becoming one of the best players in New Jersey? Who expected her to score 1000 points which is will do this upcoming season? The answer is nobody, except CHLOE TETER. It's why every step of the way she has rolled with the big dogs rather than take the easy road. Now she is getting her reward and trust me she has earned it.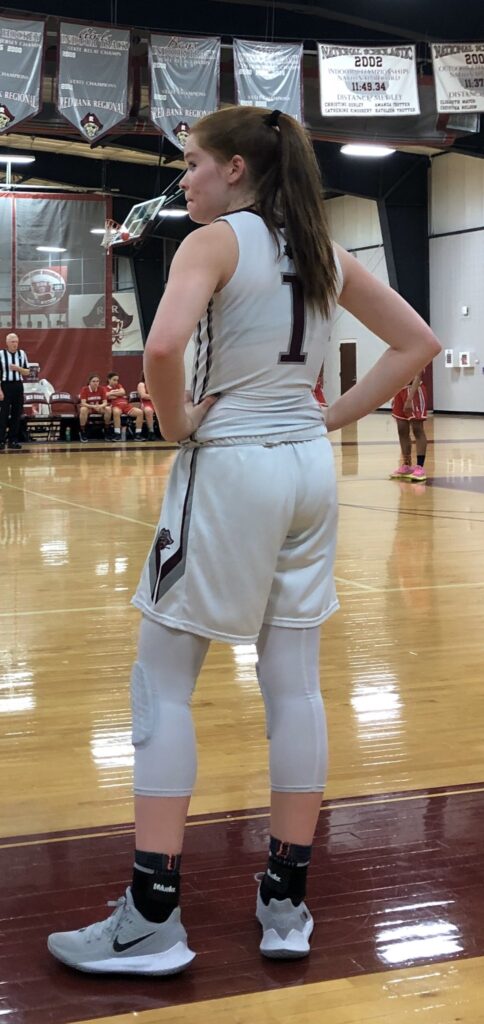 Talk is so cheap when it comes to player development. In my heart I know long term development is the key to any kids future. I know a players improvement curve is the great predictor of the future. Chloe Teter's improvement curve has been off the charts. She has passed so many kids that were thought to better than her a few years ago. She has done this by staying true to herself. She has been willing to accept she needed to get better and better. It's why these days, college coaches are going to be in shock when they see her body this summer. The physical development of Chloe Teter is stunning and once again goes to her commitment. Her strength and quickness have gone to a totally different level. When you add that up with her length and size you have built the perfect combo guard. You know every kid talks about playing D1 basketball. They ask you what they have to do to get there. Then when you tell them, many take a .. I will work hard when I can approach. They can't grind or show up everyday. Chloe Teter grinds and shows up everyday… she doesn't take short cuts.
I told Chloe Teter she needed to become a consistent three point shooter. So what did she do? Become one of the best three point shooters in the shore. She went from making 17 three's as a sophomore to 46 three's this year. How did she do that? Living in the gym and competing, not just shooting. Teter's hop cross is straight up fire off the bounce. The combination make her damm near unguardable. Her defense is already college ready. All this makes Chloe Teter one of the best two players in the state of NJ these days. Why do I tell you all this? Because Chloe Teter game has evolved over the years. She has been willing to take the up and downs that go with growing as a player. How many kids have you seen that never develop? Yes they get bigger, stronger and more experienced but does the game evolve? Teter's versatility has become the benchmark of who she is these days. Chloe Teter has evolved as a player and a leader on and off the court. That's what great players do and why they become special at the next level of play or in Teter's case … THE D1 Level
Today Chloe Teter is the total package. She is one of the best examples of a student athlete you will meet. She has Ivy League grades and recruitment. It's why she has turned down so many D1 offers these days from other schools. She and her family also have class. Because rather than string schools along while stroking and feeding there egos. They have let schools know they are not interested. It's hard to do that especially when people are nice and offering hundreds of thousands of dollars. But remember Chloe Teter has always taken the tough road every step of the way. It's just who she is and it has paid off in a big way way. She is an example to all kids who are willing to see the big picture and work towards a goal. But you must take road filled with the most challenges.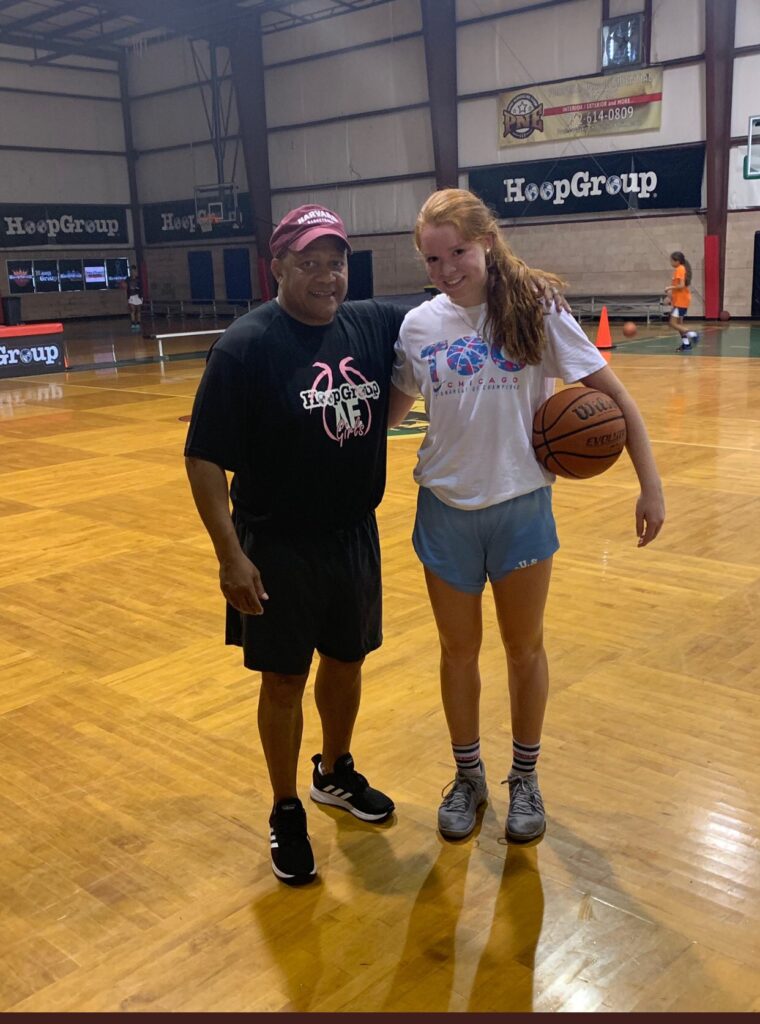 Now some very good schools are not going to like what I am about to say. But Chloe Teter has outgrown her recruitment. Chloe Teter is a high major player these days. The epidemic is going to hide her from some of the high major programs for now. But the fact of the matter is at some point we're going to play. And when we do, high major programs are going to be banging down Teter's door. That's when her biggest test of all will come. The good news, it's a problem she has earned and it's a problem all kids dream of.. CHLOE TETER has taken taken the road least traveled to greatness and has earned everything coming her way👏👏👏🏀