#GOARMY @ArmyWP_WBB ⚔️ pic.twitter.com/dm4NPsc2ms

— Lauren Lithgow (@LaurenLithgow1) April 28, 2018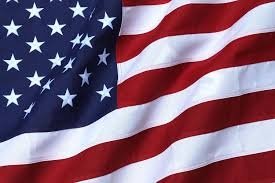 "Don't get this twisted for one second, today's blog is about family. It's about the power of family. It about a journey a family takes together. Today I will talk about why family matters so much and how it can lead to a dream coming true…LAUREN LITHGOW has another family now….THE  UNITED STATES MILITARY ACADEMY at West Point."….Tiny Green
Last Thursday, tears dripped down Lauren Lithgow's face. She is not the first kid that has sat in front of me with tears during the recruiting process. She was confused and not sure what her future held. She had set up official visits and was planning to make a few trips. But her heart was with WEST POINT. She had already experienced the high and lows of the recruiting process and high school basketball. She feared heartbreak on her visit to the  UNITED STATES MILITARY ACADEMY. But Army coach Dave Magarity put all her doubts to rest the moment she walked on campus. He made it clear to Lauren Lithgow, she is exactly what the academy was built on Duty, Honor and Country. So when Lauren Lithgow called me on Saturday afternoon it was tears to cheers. It became official, my good friend Dave Magarity was getting a special solider….named LAUREN LITHGOW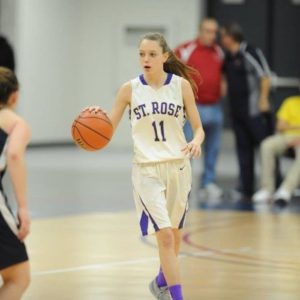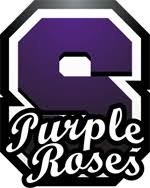 Nothing has seen to come easy for Lauren Lithgow and its been that way from the day I met her. She moved from New Jersey to Arizona and then back to New Jersey. She had to make new friends and find a new school. She picked St. Rose and as one of the best incoming freshman in New Jersey, she expected to start to play major minutes. That has not happened in her three years at the school. It been a strange trip for Lauren, but her family has made the trip worth the price. She has needed her family every step of the way. They have given her the support that is needed when a kid is tested and maybe no kid in recent years with Lithgow's ability has been tested more.
The Lithgow family is a rock, they are passionate about Lauren. Every step of Lauren's journey, they have been there encouraging her and reminding her, that she was special. They saw the 50 point games and they have seen her wreck havoc in gyms across the state. They saw and her Toms River Starz team dance over the best competition in AAU.  Her grandparents, Janette and Jim Lithgow would come to Hoop Group for HOURS  and watch her train. They knew Lauren needed to be reminded of what she could become. They did it by being firm and not heavy handed. They did it by giving her their undying support. They did it by giving her, their unconditional love, though all the tears, when at times, she received some tough breaks. They believed in her, they had seen her at her best. They knew what she could do on the court. All they wanted was for Lauren to be ready when her time came. Lauren's father would drive her to NBS and watch, he watched as other players who had committed or signed with D1 schools get lit up by Lithgow. It made no sense to the family that Lauren was not  getting a chance to display her talents. But the power of family, is what allowed Lauren to stay on a mission and never give in. Her family refused to let her lose her dreams. She will always remember these times, because they were her ROCK, without them, none of these blessings happen.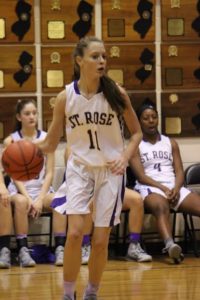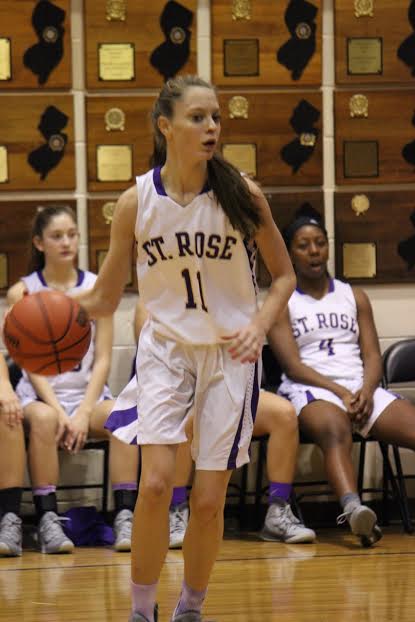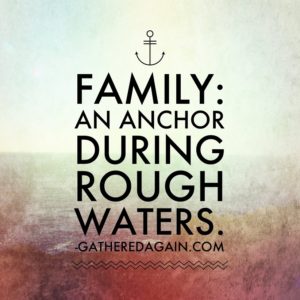 When Joe Whalen resigned at St. Rose and Mary Beth Chambers became the coach. I told her nobody has seen the real Lauren Lithgow and to give her time and that she would reward her in a big way. Everyone had forgotten she was a classic combo guard and how she was major talent.  This fall Lauren was excited and showed off her elite handle and shooting skills. She put the "D" on some of the best guards in the state at NBS. She was ready and it appeared once again Lauren Lithgow would reappear for her 2nd act in New Jersey. But when Mary Beth Chambers was wrongly prevented from coaching, Lithgow found herself coming off the bench. Worst, it seemed there was nothing she could do to earn extended time. She was the teams 2nd leading scorer in limited minutes. She had made herself one of the best spot up shooters in the state. But it took time for everyone to catch on to what she had become, a serious weapon off the bench. Yet her family long before anyone else caught on,  keep telling her take advantage of everything, practice harder, train harder and be ready….and Lauren listened to every word.
When Lauren Lithgow started putting on shooting shows in St. Rose's biggest games. It became clear to everyone, she was becoming special. Not to her grand father, who never doubted his grand daughter, he always knew she was special and was not afraid to say so.  It's why when she started to roll, like getting 10 points off the bench against  nationally ranked Ursuline it validated his belief in Lauren.
But it was her showing stopping performance against nationally ranked Long Island Lutheran that had everyone on the edge of their seats. She carried the Purple Roses and seem to hit big shot after big shot in the win, forcing Long Island into a box and one against her. It was the official arrival of a star for St. Rose, even if many still  did not accept it. She had big nights against SJV and of course her performance against RBC in the state tourney will not be forgotten for years. She buried 4 threes in the first half alone and was sensational as her grandfather sat front row, looking not the slightest bit surprised.  She simply put on one of the best  shooting shows of the season for St. Rose on a big stage. It's funny Lauren always played her best against the best competition, the video don't lie folks.  Lauren Lithgow has finally been given her chance and she has not disappointed. The last time I saw her mom, at her a game she was all smiles. Not because St. Rose had won another big game. But rather because she was proud of Lauren. She knew Lauren needed strength and her metal had been tested like few kids ….
Now Lauren Lithgow is a official star, we predicted. She was always a D1 player, the college coaches knew this long ago, before her commitment to Army. During the live period she scored 19 points in the Boo Williams U17 semi final  game, helping Team Miller win the Chip. She is at ease now, no pressure of choosing a college. No more pressure of playing for her high school AAU game, no more subbing offense and defense at the end of games. No more 6th man of the year awards (she won the award this year). She has won a SCT and State Titles and been part of a great program.  Now she is doing what her FAMILY knew all along, staring and smiling.  Lauren Lithgow has returned again to the spotlight…this time better than ever, so now everyone stand up and …SALUTE LAUREN LITHGOW WHO IS NOW ON GUARD FOR WEST POINT GUARD….CONGRATS!"