There is too much going on for sweet  introductions. So let's get going
1. SJV– Zoe Brooks once again confirmed who the POY in the Shore Conference is. Janie Bachman showed why she is a ALL SHORE 1st Team lock. Aleena Dinker showed why SJV just reloads and looks unbeatable right now.
2. RBC– the babies are insane even without Addy Nyemcheck . But there best player right now is Tessa Carman. She has been a rebounding, shot blocking machine. Casey Prior is rolling in a masterful way. Joe Montano has done an amazing job managing his team m while picking up his 700th win. It's starting to look like they are the only team with any hope of giving SJV a competitive game. They are in desperate need of a competitive game these days after mauling New Providence.
3. ST. ROSE– Mary Beth Chambers has the best defensive team in the state. Cracklings Rosie is heating up. Jada Lynch had a "MONSTER" week. Cassidy Kruesi is turning the lights out on every great guard she sees. Maggie Cavanaugh has been the conductor.  They get Decker back this week. The problem is, she has done very little over the past 30 days. They have played a monster schedule and it's paying off
4. TRINITY HALL– They just keep rolling along . The tough early season schedule was a gamble that is paying off  nicely. Nina Emance  was special again this week. But it's the Trinity babies who are putting them over the top. Teagan Drennan right now is ALL FRESHMAN. Jr Swiss Knife Siobhan Stapleton has done it all on both sides of the ball. THERE ROLLING!
5. OCEAN– You can talk all you want about there schedule. Just don't forget to talk about the best pure point guard in the Shore, Eli Clark and that's not up for conversation. She added another great guard to her collection. Her 30 points 5 dimes and 3 rebounds vs Manchester says it all. If your name is not SJV, you do not want to see them. Kayden Clark has been off the charts good.
6. MANASQUAN– They take one step forward and one step back. They looked like all was well until this week. Hope Masonious has been super woman. But the teams chemistry took a step back.  It's  getting late and they  need to find some consistency. They get Carly Lapinski back this week and that is a major boost. The talent and coaching  is certainly not the problem. They got roughed up this weekend.
7. RFH– It's not time to panic. But it's  officially time to get worried . It's ok to play good competition but you have to win one of those games. The  lost to St Rose, is not a surprise. The lost to Moore Catholic was. Julia Cosentino had a career high  this week with 38 points vs Moore. Raquel GUIDETTI  is quietly having a excellent season. She had  5 straight games scoring in double figures before Sunday. She  has come to life in a big way.  Abby Boyle has been Heaven sent. Erin Reid is starting to show what the future could look like.
8. TOMS RIVER NORTH– with a few breaks they would be in the Top 20. Megan Sias has been as good as it gets. Ariliana Torres has been good all year. Julia GODZICKI has found out she can be a true difference maker. Now all they need is a quality win.
9. RANNEY– This ranking is about to change in a big way and not for the better. They may have lost Sarah Hughes for the season. If that's the case, Hayley Posner will need to becone SUPER WOMAN.
10. RED BANK REG.- There getting  better it seems. If they can find a Shooter and ball handler. This team would look competently different. Stay turned they can get dangerous in time.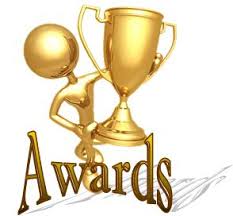 ---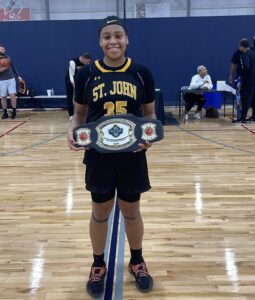 PLAYER OF THE WEEK- ZOE BROOKS, SJV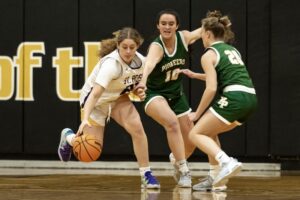 FRESHMAN OF THE WEEK- JADA LYNCH, ST. ROSE
COACH OF THE WEEK- MARY BETH CHAMBERS, ST ROSE

TEAM OF THE WEEK- ST. ROSE
PLAYER VIDEO OF THE WEEK- ELI CKARK
Check out my career-high 30 points vs. Manchester shooting 63% from three! Looking forward to the rest of the season!!! @TinyGreenNBS @OTGBBSpartans @traceysabino13 @ShoreshotsGirls https://t.co/0onva08W2P

— Eli Clark (@eliclark2024) January 9, 2023
PLAYER VIDEO #2 CASSIDY KRUESI- ST. ROSE
Check out some of my highlights from this season so far!!! @CJHawksaau @PGHNewJersey @TinyGreenNBS @ExpoHoops @WorldExposureWB pic.twitter.com/T1Gu94Irtk

— Cassidy Kruesi (@Cassidy_kru11) January 9, 2023
TODAY…5.15 pm 
POINT GUARD SCHOO@HOOPGROUP IN NEPTUNE