Now look around the state. Notice the kids who are receiving  playing time and the ones who are not. Notice which one are playing well and which ones are struggling. Even some players on weak teams getting time are struggling. Now many kids inner circle will do all they can to cover for a player. They will say things like "If you played at that other school you  would be starting" …..."the only reason you've not playing is because they're upperclassmen in your spot"  …."next year you're  going to start or play a lot".  These are all things that are said to make a kid justify riding the pine. Good players have always played as freshman and always will. What nobody wants to tell these kids is the truth in most cases. They didn't will not tell them, they did not prepare properly.
It amazes me that kids in the winter after playing AAU all summer. Playing AAU basketball all fall. Playing Middle School in the winter. Still want to play games at the start of the new year. Well want to know what about 95% of the kids riding  the bench in high school currently did last year at this time? You guessed it, play more games and more games.  They play the  games because they believe  the games and the  hype go hand and hand. They forget to get ready for the next chapter of their basketball journey.  They want the love and the hype more than the the truth. Well there getting now by watching and learning, dominating JV games and wishing they did more before they arrival to high school. Most kids did not know any better or their parents were afraid to stand up to those in their inner circle. It's the reason why I beg  and plead for kids to spend the  10 weeks at Core Skills. I know it's a game changer for kids.  I knew the end game for those Freshman  currently shinning these days. As well as those whose road now has taken a rougher journey. I now know the 5th, 6th, 7th and 8th grade kids who are growing, it's not rocket science. 
Every year a kid like a ADDY NYECHEK,  DESTINY ADAMS, CAMRYN FOLTZ , LOLA MULLANEY or COLLEEN McQUILLEN and a  KYLIE CAPSTRAW type shows up out of nowhere at Core Skills. They build their name recongition, improve there games and master there talents and go on to great things. Core Skills is  launching pad for some many kids. This weekend Core Skills once again delivered a few surprises. So today I give you a peek into the future as 5 players made their mark this weekend.
"HELLO COACH GREEN, MY NAME IS DESTINY ADAMS AND I AM THE BEST 8TH GRADER IN NEW JERSEY".... SHE WAS RIGHT AND PROVED IN WITH GAME NOT HYPE
TH

E NOISE MAKERS  AT CORE SKILLS
---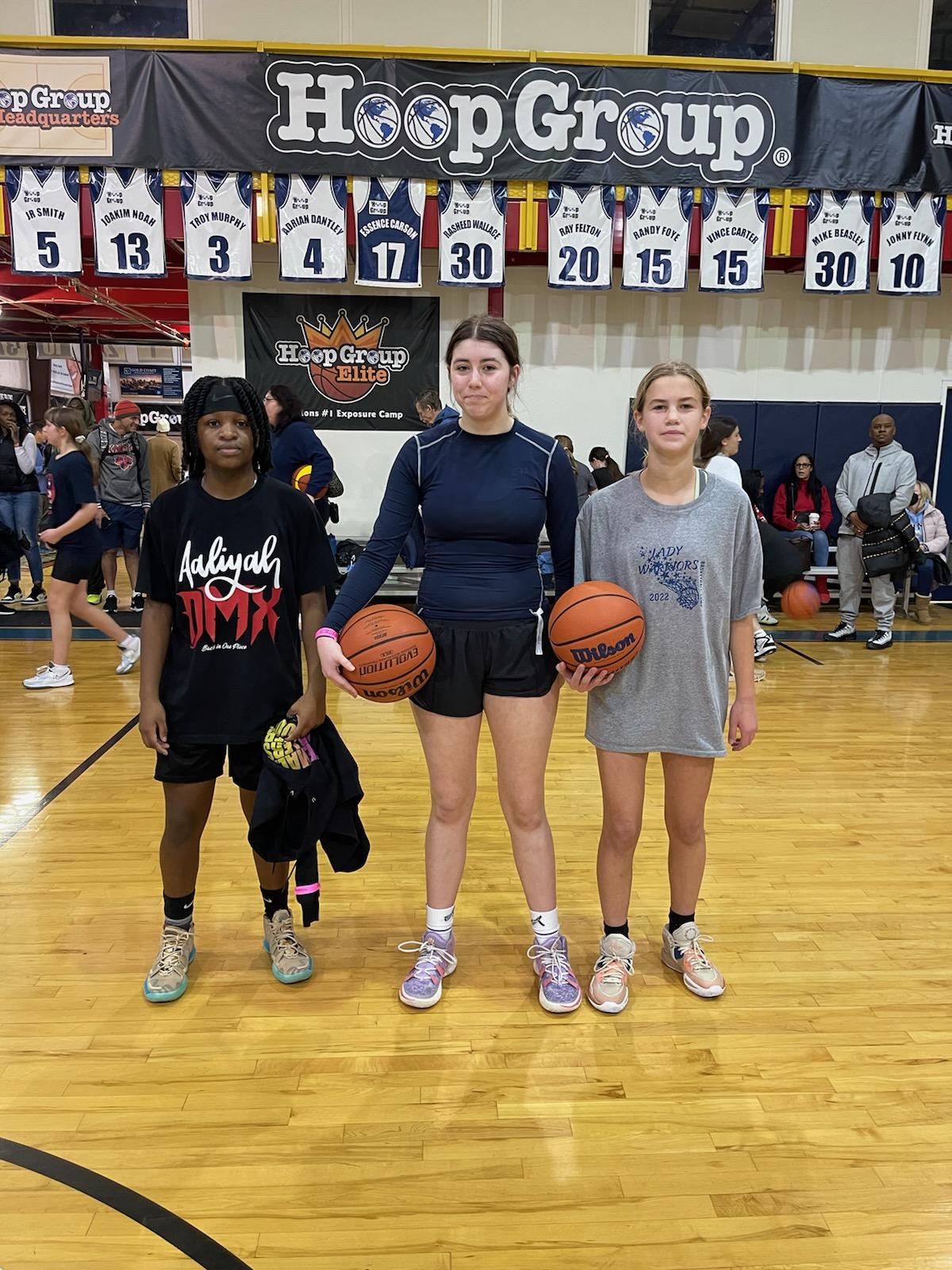 Nylah Miles, Sam Orlando and Peyton Atnes
SAM ORLANDO- MARLBORO- 5'10" -SWING
If the name looks familiar it because her sister is Bella Orlando formerly of Middletown  South fame, now at Montclair University. Well Sam is the newer better version  of her sister. And she sent everyone in the gym at Core Skills a message on Saturday. It went something like this…CATCH ME IF YOU CAN. The talented 2027 from Middletown  plays for the Caverly  Fort Hoops team.  Not only does she play hard folks. This kid has a edge to everything she does. She's explosive  off the bounce. Runs lanes and  finishes at the rim. She can step back and bury the three as well. You want physical  rebounds no problem. She defends and talks on defense. The body you ask? Good lord, what rhis young lady will look like in 4 years is scary. College coaches I think you get the message, here you go, this is a future 2027 D1 lock. If last week is just a start, what will week 10 bring? A very scary thought for all.
NYLAH MILES- EAST HAMPTON- 5'4″ – Point Guard
She was a entirely different animal. One day we may be calling her the best point guard in New Jersey. Her speed, vision, understanding is light years ahead of everyone. How good is she you ask? Well she going to be a rock star one day before putting on a D1 uniform. She is a beast on defense and her passing skills are as good as it gets.  I'm sure there is a better 2027 point guard in New Jersey somewhere. I just haven't seen it yet tho!!! Her jumper is sweet looking already and mid range game is on the money. She is tough and loves to be coached. The high school that gets her, has a four-year starter.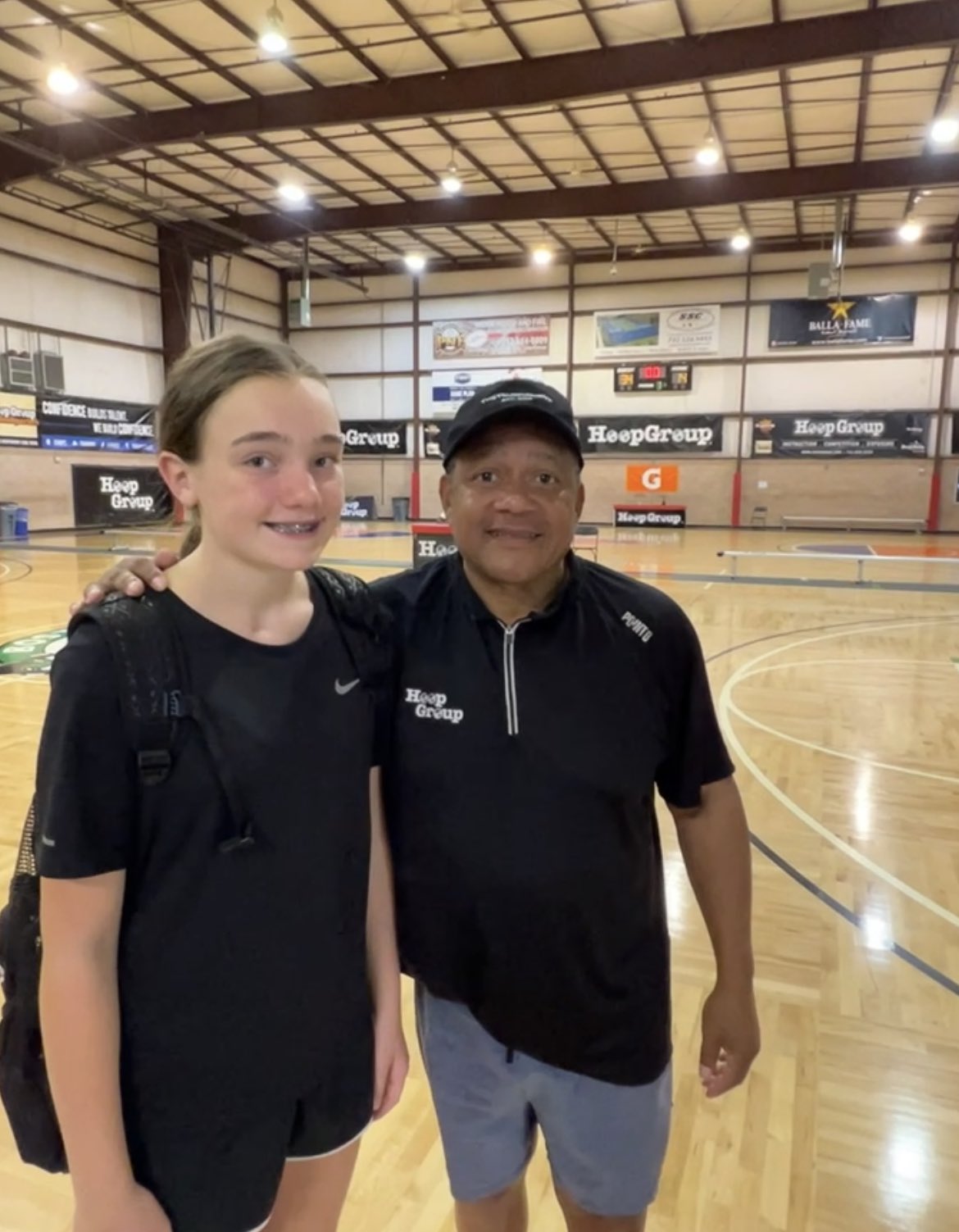 LIZZY LYONS- MARLBORO – 5'9″ – WNG/FORWARD
The high school that gets her is getting a serious talent. Regardless of where she attends high school next year, she will be playing. That's because she is that good and getting better. She has a legit three level scoring package ALREADY. She can get to the rim, has a real pull up game  and can shoot the three. But that's not all because she can post small guards and then get on the glass. Her length screams  future defensive problem. Her handle is legit and her her work ethic is next level. Lizzy Lyons IMPROVEMENT CURVE is the best I have seen in the 2027 class because her commitment is off the charts. This is a future D1 players and All Shore star one day.

PEYTON ATNES- BRIElE- 5'5"- COMBO
She without question was the biggest surprise of the day. She was a competitive monster all morning. She plays as hard as any kid can be asked to play. Her toughness and competitive nature are nice. But her speed and basketball IQ jumped off the page. She is a excellent decision maker in transition. She gets to the rim of finds teammates in the half court. I do not remember her throwing the ball away once during the day. She has next level hand quickness. Her jump shot looks very solid and comfortable and she knows how to create space. That's because her handler is live and tight. Nothing fancy just insanely effective.. the high school she attends is getting a real surprise. This kid has winner written all over her.
JOSLYN CHILDS- SPRINGFIELD, COLUMBUS 5'8"- WING
Her length and first step totally take you by surprise. Her Craftiness is a sight for old coaches eyes.  She uses her length and change of pace to perfection. She is excellent at ripping the ball off the rim and starting the break. She has quick feet and ACTIVE HANDS , which leads you to believe she will be a excellent defender. Her ability to Anticipate in passing lanes is already next level. The lefty has a sweet handle with with live active hands. Her jump shot looks comfortable and is rock solid Fundamentally sound. Clearly wherever she attends high school they are getting a 4 year impact player before D1 schools coming calling. Joslyn by week 10 will be a household name to all.
RIGHT AFTER FREE SHOOTING/ POINT GUARD SCHOOL TODAY…5.15PM
🔥Saturday Core Skills w/ Tiny Green – it's just DIFFERENT and a must for anyone trying to take your game to the next level 📈 @TinyGreenNBS
.
🎤Check out the closing speech from Tiny Green Saturday 📚 🏀 " do you want to take your game to next level , then be HERE Saturday‼️" pic.twitter.com/IwZgmo9bJa

— Hoop Group HQ (@HoopGroupHQ) January 9, 2023
CORE SKILLS MEETS EVERY SATURDAY….
---