Tomorrow Core Skill Winter two will kick off. Each year Core Skills brings players to the light that we know little about before their arrival. The fact of the matter is Core Skills has acted as a lunching pad for so many kids. It was not long ago a guard showed up that nobody knew and shocked everyone. Her name was Karmari Reynolds. She went on to win the FRESHMAN of THE YEAR. These days she is helping Manchester be one of the best teams in New Jersey. Destiny Adams as a 7th grader become a house hold name. This year nothing has changed and after tomorrow that list will no question grow.
TODAY I WILL GIVE seven 2022 PLAYERS…..and we will add  6 more after Core Skills tomorrow… this is a very deep class. We also have some talented players who have yet to arrive for the Saturday session. Lets hope they show up. The schools getting these players no question have hit the jackpot and are getting future stars. It no surprise just about everyone that has made our first 5 or 7 Core Skills watch list has gone on to play D1 basketball.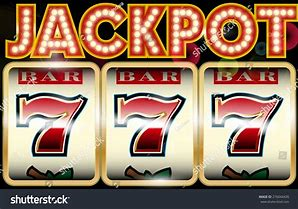 THE 2022 LUCKY SEVEN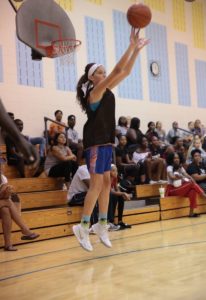 JUSTINE PISSOTT- 6'0″-  GUARD– When you talk about elite 8th graders, everything starts right here with Justine "socks" Pissott . She is the total package in terms of size, shooting, passing and ball handling. She will attend RBC next season and will be an impact from day one. Her shooting range is off the charts as are her passing skills and ball handling skills. Her ability to get players on skates and off balance is rare stuff for any age. She has the size to post up and no player her size can guard her away from the rim. If need be she can slide to the point. Now you know why EVERY BIG TIME program is involved in her recruiting. She has not played a high school game yet. But already has Division one offers on the table. She will be one of the most recruited players in Shore history before her playing days are over. Her work ethic is legendary and  the best these eyes has ever seen in all my years. She had 17 points against Manasquan in a fall game this year as a guest player. ..RBC HAS LANDED THE BIGGEST FISH OF ALL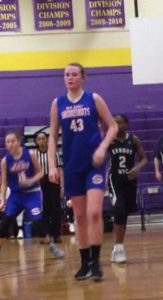 ALLY CARMAN- 6'4″-FORWARD– "the big smooth" will be the first true impact center to enter the shore in years. She has Power 5 offers on the table as I type. She is blessed with hands that caught any and everything. She already has jump hook, drop set with either hand and can not down the 18 foot jumper with her eyes closed. She will be a major force in the Shore Conference for years.  Her ability to run the floor makes her very special and more importantly she is not afraid to mix it up in the paint. She could one day be the toughest match up in the state. She is a totally gym, rare for post players…she will attend RBC.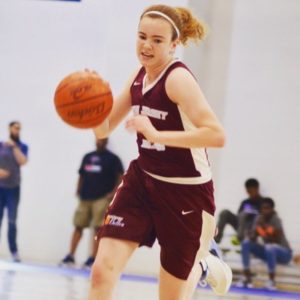 KYLIE CAPSHAW-5'8″- GUARD– This young lady one day may be one of the best IF NOT THE BEST PLAYER  in New Jersey. She right now has no weakness in her came that I can see. She has shown she can play with the best players in high school right now. This fall at NBS she flat out ripped the D1 high school  competition up. She has an IQ for ANY age that is off the charts. More scary is that she is 7th grade age wise. If she was a 7th grader, she would be the best 7th grader by a mile. She knocks down jumpers with remarkable consistency and her shot selection is off the charts. She moves without the ball better than any kid I have seen in recent years. Now throw in the fact she has one of the all time great attitudes and work ethic and you get absolute  greatness. Her ferocious  appetite for improve separates her from just about everyone. Her ability to beat opponents off the dribble is a sight for sore eyes these days. She also has that rare ability to score from the line or off the dribble with deadly accurate pull ups. She is a future big time D1 player. She has not decided where she will attend school.
MADISON ST. ROSE- 5'9″-SWING She is long and athletic and showed up at Core Skills for the first time last week. Lets hope she keeps showing up, she long as in mega long. She also has a sweet shooting stoke to go along with a handle that allows her to get to the rim with ease.. She is total murder in transition and her vision allows her to see teammates for dimes. Her length makes her a legit defender right now. It also allows her to be a big time rebounder from the guard spot. This is a future D1 player with a big time upside. She has not decided on a high school, but wherever she goes lets hope its a place where she will be challenged everyday. Because it will take her game to the next level.
GEORGIA HEINE- 5'10"- SWING– This could be the most improved 8th grader at Core Skills and more importantly she is getting better each day. She is long as in super long. She can punish little guards in the paint and at the rim. Now throw in her deadly shooting ability. She can grab the ball off the rim and lead the break. She will be an elite rebounding guard. She no question will be an impact player as at freshman at Manasquan. She also will one day wear a D1 one uniform. Her work ethic and willingness to compete make her a special baby….MANASQUAN GETS A FUTURE STUD.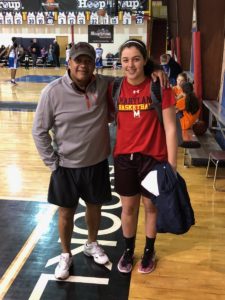 DOROTHY LOFFREDO- 5'9″- SWING- No player at Core Skills has been a bigger surprise. While everyone else on this list is know to me, she was not. That changed on the very first day at Core Skills as she won the Player of the day in consecutive weeks. Her toughness is off the charts and her competitive nature is end to none. She can knock down jumpers or post up in the lane. She is an elite finisher at the rim and her wonderful hands are the reason why…she will not drop a pass. She is a two way player and that is rare for players of her size. She is see's the floor and does more than just score points. She understand the value of moving, setting screens and rebounds on both sides of the backboard. This is a player that has seem to come out of nowhere and takes a back seat to know one. I LOVE EVERYTHING ABOUT THIS KID…..another MANASQUAN PICKUP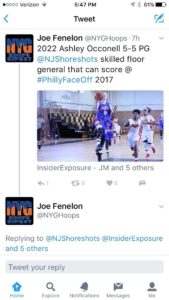 ASHLEY O'CONNOR-5'8″-GUARD– She is another player rolling into Core Skills that most do not know about. She is so athletic its scary and her quickness is off the charts. But here is what I like most about her, she get better it seems everyday.  She has displayed a nice jump shot both in transition and on kick outs. She  right now just may be the best on ball defender in the 2022 class. Her attitude makes her the perfect teammate. She also is  an elite ball handler and has the ability to change pace and direction against REAL TALENT. She will attend ST. JOHN VIANNEY  the best style of play for her speed and trapping skills. She one day will be a All Shore player.  Another player taking on the challenge of playing with and against the best…. learn the name folks. She has a big future and make no mistake, she will not disappoint.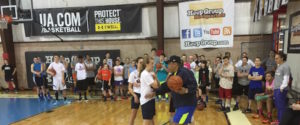 TRAINING UP DATES
CORE SKILLS SATURDAYS…There are spots available.
3rd-6th grade 9.am-10.30am
7th-10th grade 10.30-NOON
UP COMING
TOMORROW-  MORE  2022 PLAYERS
SUNDAY- FIVE  7TH GRADERS YOU MUST KNOW
PRESIDENTS DAY CLINIC FEB 19TH
NBS IS NOW ACCEPTING APPLICIATIONS FOR SPRING 2018 (go to our home page for times and dates)